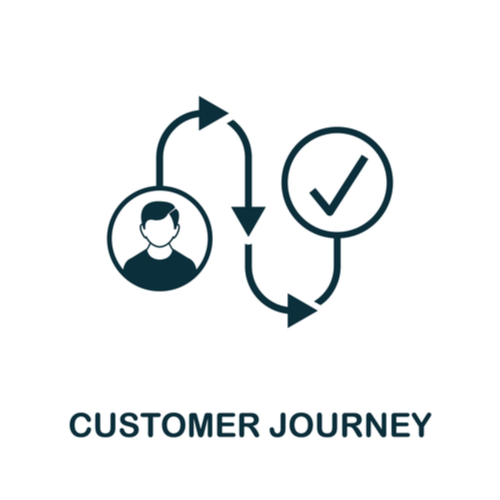 Customer Journey Optimisation
What is Online Customer Journey Optimisation?
Customer Journey Optimisation (CJO) is the process of mapping customer interactions throughout the online customer journey in order to ensure the content and communication shown across the multiple touch points are relevant. CJO improves the end-to-end user experience, increases conversions and drives customer loyalty.
The Benefits of Optimising Your Buyer's Journey

A big part of Customer Journey Optimisation is mapping out your user journey. This not only helps you understand how your customers transition through their online buying journey, but also how they interact with your brand and what their motives are. All of this is important for business success.
When you have all of those insights, improving your customer experience becomes much simpler.
There are many benefits to optimising your customer journey. Here are three of the most impactful ones:

Improve customer satisfaction – a significant benefit of CJO is its ability to help you identify user pain points. Identifying hurdles in your customer journey makes it easier for you to make improvements where your brand falls short of expectations. This makes for happier customers.

Market more efficiently – knowing the route prospects take in converting into paying customers will help you adapt your marketing strategy to each buyer's phase. This means that you can serve relevant content and appropriate messaging to prospects in each stage of their journey. Being able to market with greater accuracy, saves you the trouble of guesswork, trial and error, as well as unnecessary marketing spend wastage.

Increase conversions and profit – optimising your customer journey goes hand-in-hand with streamlining your sales funnel and removing barriers to conversion. This involves not only making it easier for your customers to engage with your brand, but also simplifying user interactions. This all contributes to getting more conversions from your marketing campaigns.
As you can see, optimising your user journey is a key part of Search Engine Marketing (SEM).
Need help in doing this? Get in touch.
How to Optimise your Customer Journey
Identify your target audience




Before you can start mapping and optimising your customer journey, you first have to ascertain who you are talking to.

Target audience may be dictated by age, income, interests, gender, location or a range of other factors. Depending on the products or services you sell, your target audience might be broad, or niche. For example, a clothing store will typically have a broad audience, since everyone wears clothing. Sports apparel vendors, on the other hand, have a more niche market, as they will only appeal to an audience with an interest in sport.

Either way, it's important to define your target audience as this will determine the messaging that will resonate with them, as well as the channels they prefer.

Using Google Analytics is one way of getting insights into who your target audience is. Looking at where your visitors are coming from (for example, social media, PPC ads or organic search) and what keywords they're using to find you, will shed light on their desires and
search intent, which will help you form a picture of who you are talking to.

Define your customer personas




Now that you have a big picture of who your target audience is, you want to colour the picture with more information. This is where buyer personas come in.

What are buyer personas?
A buyer persona (or customer persona) is an archetypal character/personality with the key traits of a segment of your target audience. It's somebody with all the traits of a real client of your business, combined with all the relevant information to inform your marketing strategy.
Personas are based on data-driven research, such as web analytics and market research. Using research data, you can identify patterns and commonalities to start defining your personas.

Some common metrics used to define buyer personas are:
• Demographics (age, income, marital status, location, gender)
• Identifiers (communication preferences, social media patterns, hobbies, interests, aspirations, etc.)
• Challenges (what problems do these people face? What serves as roadblock to success/happiness?)
• Solutions (What can your brand/business do to help the persona achieve their goals and overcome their challenges?)

Depending on your industry and business, you could have one or two personas, or as many as 10 or 15. It's important to remember that there is no set list of universal customer personas to choose from. This is because each business (no matter how competitive the industry) is unique. Likewise, buyer personas are unique to each business too.

So, instead of marketing to "middle-class men between the ages of 35 and 40", you would target Stanley, who is a 37-year-old aspiring chief communications officer in a medium-sized firm. You can further discuss Stanley's traits, such as his aspirations to complete his master's degree and achieve goals in order to be more valued in the company.

Defining customer personas plays a key part in your customer journey optimisation, as it's critical in helping you understand the motivations, attitudes, behaviours and desired outcomes of your customers. When combined with lifecycle stage (how far along a customer is in your buyer's journey), customer personas allow you to create highly targeted content.

Create a customer journey map




Your customers are unique and have different experiences (and pain points) with your brand than they do with others. This means that there is no one-size-fits-all method of creating a customer journey map.

The first thing you want to do in mapping out your customer journey is listing all the significant interactions your target audience have with your brand. Remember, these touch points are not limited to your website. They could also include your social media platforms, email newsletters, display ads on third-party websites, PPC remarketing ads, a phone call or word-of-mouth referrals from friends.

Each persona will likely have different motives and behaviours online, so it's important that you map out the customer journeys they're likely to take. For example, Stanley, the aspiring CFO may come to your website through a whitepaper on leadership that targets relevant keywords, whereas Wayne, the supply manager, might reach your website through an attention-grabbing PPC ad on software.

Using user journey mapping tools and templates, such as Miro, is a great way of simplifying the process. Aside from helping you visualise the omni-channel customer journey with the help of flow charts and diagrams, it allows you to better understand the reasoning behind your customers' choices. This is crucial in optimising their journey and meeting their needs. In listing all of these touch points, you'll quickly get an overview of the different routes customers take in reaching a conversion.

Craft relevant communication for every stage of the sales funnel




Many marketers make the mistake of only focusing on the top and bottom of the sales funnel (awareness and purchase). To enable the best customer journey, you need to align your content and marketing messages to every stage, including the middle part of the funnel (consideration). This is because the needs and motives of your prospects will differ, depending on whether they are in the awareness, consideration or purchase phase.

The awareness phase – during this phase, the goal is to increase brand awareness and attract potential customers. Content for the awareness phase should be crafted to reflect your company's values and provide upfront value without requiring commitment or applying sales pressure.

This is also the stage during which most prospects need to be made aware of their problem, especially if it's a low-awareness, low-irritation problem.

The types of content that are suitable for the awareness phase, are:

• Infographics – they are easy to digest, making them great for potential customers who have short attention spans. Using infographics smartly, you can show prospects that there are outcomes to their problem and present your product as one of the possible solutions. An added advantage is that they can be shared across multiple platforms very easily.

• Blog posts – a great way to attract customers in the awareness phase, is to find out what keywords your buyer personas are typing into Google, then create informative content around those. By continuously publishing useful content for your target audience, you can keep your brand in the back of their mind.
 
The consideration phase – during this phase the goal is to engage and educate. This is when your prospective clients are considering various resolutions to their initial problem, including your business's products or services. Since your target audience is still in an educational mind-set, they'll be looking for information that will enable them to make an intelligent, calculated and confident purchase. This is where you can provide in-depth information that will aid them in their decision-making process.

Some of the types of content that tie in perfectly with the consideration phase, are:
• Video content – videos have the benefit of being content-dense, yet they can be used to tell your brand story in an engaging and compelling manner.
• Cost calculators – budget is always important to decision-makers. Cost calculators can be used to help your audience make cost-effective decisions. You can also use it to show them how much they'll save when choosing your product.
• Research and reports – whitepapers, surveys and reports can help establish you as a thought leader in your industry, while providing deep insights into a topic. Since the consideration phase is ideal for generating leads, you can, for example, use research reports as downloadable assets that require prospects to provide their email addresses.
• Podcasts and webinars – this type of content is incredibly popular as they are informative, yet engaging – able to hold the buyer's attention for a few minutes.
• Information-based emails – this is another way of engaging your prospects and educating them about your products or service. Emails with useful information are effective in keeping your brand/business top of mind, so your prospects will consider you as an option down the line.

The purchase phase – during this phase the goal is to make a sale.  By this time, your potential customers have identified their choices and are now weighing up their options. This is where you need to provide the information on why they should choose your brand. Hence, your communication should focus on the benefits and unique selling proposition of your brand.
Some of the types of content that you can include in the consideration phase, are:

Case studies – by the time your prospective customers reach the purchase stage, they'll be interested in knowing about how you've helped others solve their problems or met their needs.

Testimonials – similar to case studies, these serve in promoting your brand's track record in satisfying customers.

PPC ads and landing pages – when prospective customers punch in your targeted keywords on search engines, they are basically raising their hand and saying they're interested in your product or service. Through highly targeted B2C or B2B paid search ads, coupled with well-optimised landing pages, you can put your brand in front of people when they are in a buying mindset.

Sales-driven emails – when someone has given you their email addresses, they are expecting communication from you. Hence, emails can be a highly effective tool in presenting compelling offers to your audience when they are receptive, in order to close a sale.

Remember, there are many variations to the types of content you can use for each of the buyer's journey stages. You can, for example, use blog posts or videos to support each of the customer journey stages. The topics you write about for each stage will, however, be quite different.

Improve your website's user experience




Optimising your customer journey is pointless if the experience they have is poor. Providing an improved user experience (UX) online is not only important in getting more conversions, it's also one of the seven SEO trends for 2022 that we've identified as being important for success.

These are some elements that hinder the user experience:
• Page speed – when it comes to UX and Search Experience Optimisation (SXO), page speed is a key metrics. A slow-loading page delivers a poor user experience and will drive visitors away.
• Mobile compatibility – 53% of mobile visitors leave a site when a page takes longer than three seconds to load, while poor mobile optimisation annoys 48% of users. This is why you need to ensure your site is mobile-friendly. Test your website in multiple devices – based on what your buyer personals are more likely to use – and see how easy it is to navigate the site.
• Data entry – people want to complete actions online as quickly as possible. Anything that slows the process can lead to users abandoning the data entry or checkout process. To avoid losing prospective customers at the point of conversion, it's key to ensure this action is seamless. Consider shortening long forms that require extensive data, or use auto-fill forms.

By ensuring your website provides a good experience, you can make the customer journey seamless, reduce bounce rates and increase conversions.

Complete the sales cycle by following up




Communication is arguably just as important after a customer has completed a purchase, than it is leading up to a sale.

To this end, you can, for example:
• Send out email newsletters and offers to converted customers.
• Request reviews to maintain a level of engagement and awareness with your audience.
• Retarget customers with remarketing PPC ads to encourage repeat purchases and advocacy of your brand.

Use web analytics tools, such as Google Analytics to analyse your website data and determine which stages of the customer's journey are lacking in performance – for example, those retaining the fewest users. By looking at key quality metrics, like bounce rate and average session duration, you'll see where improvements need to be made so you can keep optimising and improving.
Conclusion
By optimising your trail of content that leads your prospects through the buyer's journey, you can meet their needs in each of the customer journey stages. This is crucial in convincing your prospective customers to choose you.
As a savvy marketer, it's important to be wary of the mistake that so many brands make: To spend all of your time and energy putting purchase-stage content in front of people who aren't ready to make a purchase yet.
If you need professional assistance with customer journey management, we invite you to get in touch. Our team of specialists can help you attract high-value visitors, leads and customers to your business, who you'll be more likely to retain over time.