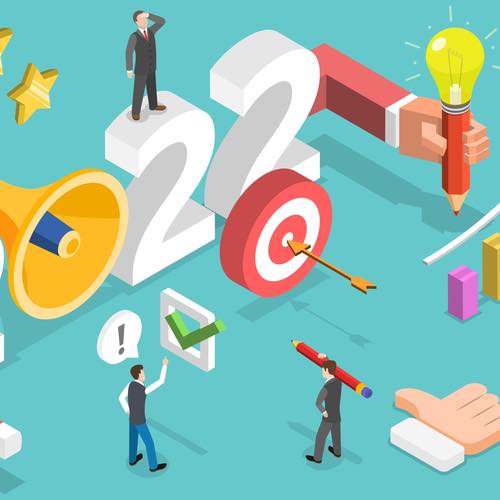 To help you keep up with the latest evolutions in organic search, and ensure you see positive SEO results in 2022, we've put together some of the top SEO trends that are expected to have the biggest impact going forward. Considering these trends will be important in running a successful SEO strategy in 2022 and knowing how to optimise for Google's most impactful algorithm updates.
Key Factors for SEO in 2022
Long-form content optimised for search intent
User experience (UX)
Content framework and internal linking
Accessibility in search
Diversion and inclusion in SEO
Conversational voice search
Expertise, authority, trust (E-A-T)
Long-form Content Optimised for Search Intent

Research is indicating that in 2022, content is going to be even more crucial to ranking for the right keywords. While quality content has always been at the heart of a great SEO strategy, topical depth will become more important in 2022, which means a higher focus on long-form content. 

Long-form Content Delivers on Several SEO Benefits, Including:

Higher website authority – valuable, in-depth content pieces help establish you as a trusted authority on a subject, which increases your site's E-A-T (Expertise, Authoritativeness and Trustworthiness).
More social sharing – long-form content enriched with detailed information persuades people to share it.
Higher online visibility – informative long content pieces of over 2000 words have been shown to rank better in SERPs. 
Better link building possibilities – in-depth pieces that users find valuable create more opportunities for backlinks.
Higher conversions – long-form content punctuated with call-to-actions has the potential to generate leads and ultimately conversions.

Aside from having topical depth, content pieces in 2022 should also be optimised for search intent. Search intent (or user intent) describes the purpose of an online search. This could be an answer to a question, or information on a product. There are four different types of search intent, all of which forms part of the online user journey.

4 Types of Search Intent

Navigational – this type of search intent is applicable to the Awareness phase of the user journey. Users are still uncertain on what to search for. They are not sure what things are called/referenced as.

Informational – is where users enter the Interest phase. They start researching and searches are more definitive.

Commercial – this type of search intent is where users are in the Decision phase of the user journey. They know the solution they are looking for and start comparing online options for a solution.
 
Transactional – this is during the final Action phase of the user journey. Users are ready to transact, purchase or subscribe. They are starting free trials/requesting demos, etc.



Thinking about your user journey and optimising content for the search intent of each phase will prove to be an important SEO strategy in 2022.

User Experience (UX)

Since Google has announced the Page Experience Update in 2021, Search Experience Optimisation (SXO) has become increasingly important. Google's Page Experience Update, which is effectively a UX update, measures how users experience their interaction with a web page beyond its pure information value. 

Google's Page Experience Update considers the following: 


• Mobile-first optimisation and design
• Core Web Vitals metrics
• Site security
• Interstitial behaviour with regards to pop-ups and ease of use
 
Since Google has rolled out mobile-first indexing, Mobile SEO has become a vital element in Search Experience Optimisation (SXO). And it's expected to become even more important in 2022. This is because on-page user experience is a direct ranking signal that Google considers when ranking a web page in the SERPs. 

The importance of user experience is becoming even more evident on Google platforms with:

• User Engagement metrics being introduced in GA4
• User Stickiness becoming a standard metric in Google Analytics

What does this mean for your 2022 SEO strategy?

The following can be done to improve your Core Web Vitals scores and optimise your mobile UX:

• Make sure your website has Accelerated Mobile Pages (AMP) operational
• Optimise images and videos
• Optimise CSS code
• Implement lazy loading
• Optimise JavaScript execution
• Speed up your server
• Provide dimensions for images and embeds

While a good page experience doesn't override the importance of having quality content and links, UX is expected to be an important 2022 SEO trend. Especially where highly competitive pages with similar quality content are contending for the number one spot in SERPs. Improving your Core Web Vitals score, optimising your mobile performance and improving page engagement will go a long way in boosting your SEO in 2022.


Content Framework and Internal Linking

Information architecture, internal linking and authority flow will prove to be a heavier ranking factor moving into 2022 as authority amongst websites and their pages becomes stronger. 

Cardinal Digital Marketing SEO Director and Search Engine Journal author, John McAlpin, is of the opinion that when it comes to SEO trends for 2022, topic optimisation should take precedence over keyword optimisation. 

McAlpin has observed that, "Websites that built their framework around creating a page for every keyword are starting to decline in performance, while websites with a well-organised content framework are showing continuous improvements."

What is a content framework? 

It simply means organising your content with a blueprint and strategy in mind. The aim is to have sensible content that is easy to navigate for both users and Google's automated page-crawling system. 

This is important because of semantic search. This is where Google aims to not only match search results with queried keywords, but determine the intent and contextual meaning to deliver results matching search intent.

Your content framework should go hand-in-hand with a keyword mapping strategy. Gone are the days of putting a keyword on every page and expecting Google to figure it out. Keywords should be mapped according to topic, and topics should be organised logically.

All of this should be supported by an internal linking strategy that gets authority flowing to the right pages from the right content. A sound content framework, driven by relevant topics, together with an authority-flowing internal linking strategy, could be a powerful strategic arrow in your SEO quiver in 2022. 

Not sure where to start? Leave it to our experts!

Accessibility in Search

SERP features have been around for a while, however their importance has been increasing year-on-year and increasingly affecting the top positions in SERPs. 

At the 2021 Google I/O Developer Conference, new Accessibility features and settings were introduced for Android, as well as ways to help developers create Android products for people with disabilities. These include Live Transcribe, Talkback, Live Caption, Sound Amplifier and more.

And it's not only Google placing accessibility features at the forefront. Bing has now become the third search engine to adopt the featured snippet in 2021. Accessibility features allow uses with disabilities to engage with search engine content in the following ways:
 
• Blindness/vision impaired users – voice search uses featured snippets to respond to search queries.
• Deaf/Hearing impaired users – annotations on videos allow users to read what is said in the featured video.
 
Search engines now place additional merit to having SERP features and structured data, rewarding pages with access to knowledge for all users with additional ranking and visibility. Based on this, it's expected that accessibility in search is going to be an important SEO trend in 2022.


Diversion and Inclusion in SEO

A new metric is entering into this accessibility cluster, which relates to language inclusivity. Becoming more politically and socially correct in executing content is gaining traction in the USA and UK and should be kept top of mind moving forward with content creation in 2022. 

When writing content, be mindful of language. Avoid using phrases like "ladies", "gentlemen", "ma'am", "sir", "girls", "guys", etc. Rather use inclusive terms like "friends", "folks", "everyone", etc. 



Conversational Voice Search

With Google's BERT (Bidirectional Encoder Representations from Transformers) algorithm update in 2019, the search giant improved its capability of understanding the relationship between words and search intent.

BERT enabled Google to process search queries through voice assistants, which allowed more conversational search. This evolution is continuing in 2022 with even greater advancements in conversational search.

In its steady move from keyword matching to semantic search with advancements in AI, Google will be pushing the boundaries of what its products can do in 2022. During Google's 2021 I/O Conference, the search giant has announced several new algorithms that would support search query and result processing. These include:

• Language Model for Dialogue Applications (LaMDA) – it assists with human-like speech modelling.
• Multitask Unified Model (MUM) –– a new natural language processing model developed for parsing human-level queries. It's said to be 1000 times more powerful than BERT with the ability to analyse video, images, as well as text from 75 languages in answering complex search queries.

Algorithm updates like these are evolving Google's processing ability of queries, allowing it to penetrate deeper into how humans communicate, intuitively. This answers back to how queries become more specialised and complex (long-tail queries). 

Back in 2017, long-tail queries that have never been typed into Google before accounted for 15% of searches daily. Although that number has probably gone down since, Google still deems long-tail queries important, hence its advancements in conversational search.

So what does this mean for SEO in 2022?

Based on these insights, it's clear that topics targeting long-tail keywords will become even more prominent in 2022, as Google's capability to process conversational voice search queries improves. This trend also highlights the importance of optimising for user questions going forward.


Expertise, Authority & Trust (E-A-T)

Expertise, Authority and Trust (EAT) has been a ranking factor for some time. It came to the forefront after the infamous Google algorithm update of August 2018, known as the Medic Update.

The concept of E-A-T originates from Google's Search Quality Evaluator Guidelines (SQEGs), which Google's team of human evaluators use to rate the quality of pages in SERPs. 

In the latter part of 2021, E-A-T has gained traction in search engines as a high-quality ranking factor, and it's expected to become even more important in 2022. 

What is E-A-T? It boils down to credibility, in other words, whether a website creates real value for the user. 

In 2022, E-A-T will continue being an important ranking factor. To improve your site's E-A-T, you can do the following:

• Get good backlinks to reputable sources
• Obtain great reviews 
• Back up claims with statistics and facts
• Include your authors' bios
• Include all the ways that people can get in touch with you 
Conclusion
Despite the ever-changing nature of SEO and search engine algorithms, organic traffic remains one of the most valuable and stable sources of customers and leads for businesses.
As we think about SEO trends for 2022, it's essential to adapt your strategy, recognising the need for a structured approach to SEO that accounts for a broad set of ranking factors.
We here at Robot-TXT are passionate about formulating SEO strategies for long-term success. Get in touch to find out how we can help your business achieve exponential growth with SEO in 2022.