Google Partner
As certified Google Partners, we are recognised for maximising campaign success for our clients, driving client growth by maintaining clients' campaigns, and demonstrating Google Ads skills and expertise with certifications.
Why work with a Google Partner?
Google Partners are experts
Google Partners stay up to date with the latest PPC information
Google Partners provide great service
Goole Partners have direct access to a dedicated Google agency team
Google Partners have access to beta features

SEMrush Certified Agency Partner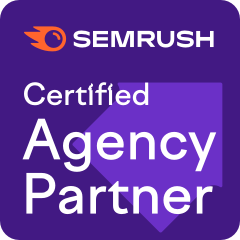 As a SEMrush Certified Partner Agency, our clients benefit from a set of multifunctional tools and reports that can increase online visibility and retain marketing ideas, giving you the extra edge for SEO, PPC, SMM and more. Based on your specific needs, here are some of the main reasons we believe SEMrush is one of the most popular digital marketing tools on the web.
Easily Monitor and Manage Organic Rankings
Develop Compelling and Creative PPC Campaigns
Take Content Marketing to the Next Level
Create Simplified Reports
Analyze & Track Social Media Effectiveness
Drive more traffic to your website with position tracking, traffic analysis, keyword research and market insights