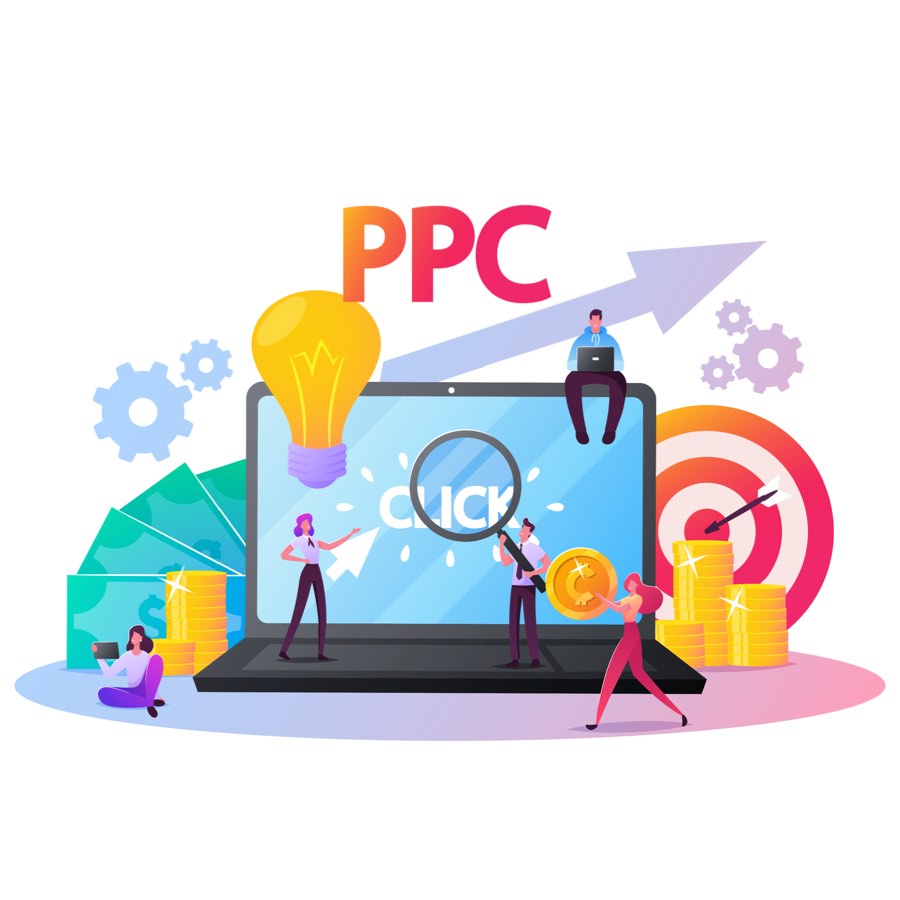 What Sets Robot-TXT's PPC Specialists Apart?
When it comes to our PPC Services, we make use of a cyclical "flywheel methodology". It's a results-driven work method that consists of three phases:
1. Discovery – during the initial stage, we establish your advertising goals.
2. Optimisation – we analyse your keywords and search terms, targeted locations and Google's account recommendations to tailor a PPC strategy that'll meet your business goals.
3. Analysis – we review the results and determine how to optimise your PPC campaigns further.
Why You Need a PPC Strategy
Any successful PPC campaign starts with a strategy. A strategy is key to clearly defining what your advertising goals are – and how to best accomplish this.
A PPC campaign can have a number of different goals. Often, PPC goals are obvious, but other times this may require more consideration with regards to the stage of the marketing funnel your audience is in.
Each of these PPC goals aligns with the basic sales funnel: awareness, consideration, and purchase.
Build brand awareness
Increase site traffic
Drive sales
Retarget users who've shown interest or made a purchase before
Your advertising goals with determine the rest of the elements of your PPC campaign – from your keywords, targeted platforms and bidding strategies to your ad copy and extensions.
How We Put Together Your PPC Strategy
Whether you are interested in PPC for business-to-business (B2B) or PPC for business-to-consumer (B2C), you need a solid strategy to guide your efforts.
Here are the steps we follow in building your PPC strategy.

We review Google's account recommendations
Google makes a number of recommendations on PPC accounts that can be useful in saving time and optimising ad spending. Each of Google's automated bidding strategies has its pros and cons. We review Google's recommendations against your advertising goals and decide which ones to accept.
There are three broad categories of optimisations:
Bid and budget recommendations
These can help you bid more efficiently with the following bidding strategies/goals:
Maximise clicks
Maximise conversions
Target cost per action (CPA)
Target return on ad spend (ROAS)
Target impression share
Enhanced cost per click (CPC)
Keyword and targeting recommendations
The following nine recommendations can help you reduce ad spend wastage, get more traffic, and weed out irrelevant keywords.
Add negative keywords
Add new keywords
Add phrase and broad match versions of your keywords
Create Dynamic Search Ads
Expand your reach with Google search partners
Remove conflicting negative keywords
Remove non-serving keywords
Remove redundant keywords
Use targeting expansion
Ads and extensions
These two recommendations can be applied for ads and extensions to further optimise your campaign:
Add responsive search ads
Use optimised ad rotation

We analyse targeted keywords
When it comes to paid search and/or display ads, it's not only important to target the most relevant keywords that are related to your product or service, but to target based on search intent. This means that the selected keywords you bid on, your ad copy and the landing page all need to match the position users are in your sales funnel – whether this is for the B2B marketing funnel or the B2C counterpart.
We analyse your keywords against these four main categories of search intent:
Informational — searchers want to learn more about something
Navigational — searchers want to get to a certain page or resource
Commercial investigation — searchers have the intention to buy in the (near) future but still need convincing
Transactional — searchers are ready to make a purchase

We analyse negative keywords
Negative keywords are words and phrases you don't want your ads to be shown for. Adding negative keywords in your paid search ad campaigns will ensure your ads only run against relevant queries, thereby eliminating views and clicks from irrelevant users. Including negative keywords in your PPC strategy will help improve click-through rate (CTR) from high-quality, relevant users, while reducing the number of wasted clicks.

We analyse your search terms
Search terms are the word or words a user types into Google when performing a search. By doing keyword research, we can uncover search terms your audience uses to look for products or services like yours, as well as the popularity and competitiveness (cost) of those terms.
By analysing this data, we can group search terms into themed campaigns, which helps us target the right keywords for each product/service.
Here are some of the types of keywords we can target:
Branded keywords (like company names).
Short-tail keywords (these are more generic and can many times be too broad, too competitive or ambiguous).
Transactional/commercial keywords (relevant for users who are researching products or services to purchase. Keywords may include specifications, place of origin, delivery costs, etc.)
Geo-targeting/locational keywords (related to a location and especially useful for businesses wanting to attract local customers to their stores).
Long-tail keywords (consist of three to four words and are typically highly focused and highly transactional. Long-tail keywords are less competitive than short-tail keywords but they have higher conversion rates).
Informational keywords (these are to educate the reader and may include facts or benefits).

We analyse your targeted locations
The locations you want to target will determine your targeted keywords. Location-based keyword research and geo-targeting keywords are extremely important for business owners who want to generate business locally. Using geo-targeting keywords, we can help you target a specific country, province, city or even neighbourhood.

We review ad copy and extensions
The goal of your paid search ads is to generate interest and spark action with a unique selling proposition that offers value – all pulled together with a strong call-to-action. Hence, your ad copy and extensions play an essential role in the success of your PPC campaigns.
We review your ad copy to ensure your ads are communicating your unique selling propositions effectively. We use PPC best practices, which include our five powerful PPC copywriting tips, to write compelling and relevant ad copy that'll earn more clicks.
The key to success here is providing Google with a variety of ad variations to rotate and test. To do this, we enable ad rotation, which will allow us to test different headlines, calls-to-action, extensions and more.

We review account historical performance
Historical data serves as a benchmark for future campaigns. Insights on how earlier PPC campaigns have performed will guide our strategy and provide a clear view of what to avoid and what to promote. This can be helpful in a number of ways, from keyword selection to targeting per device, location or time of day.

We provide recommendations for moving forward
Taking all of the above into account, we put together a PPC strategy based on your business goals. We make recommendations on keyword themes, key messaging, automated bidding strategies and ad extensions.
Once your campaigns are live, we review the results and determine how to optimise your PPC campaigns further and allot budgets.
If you're ready to develop an advanced PPC strategy for your business, contact us today. With our PPC strategy services, we can help you reach your business goals in the most cost-effective manner.