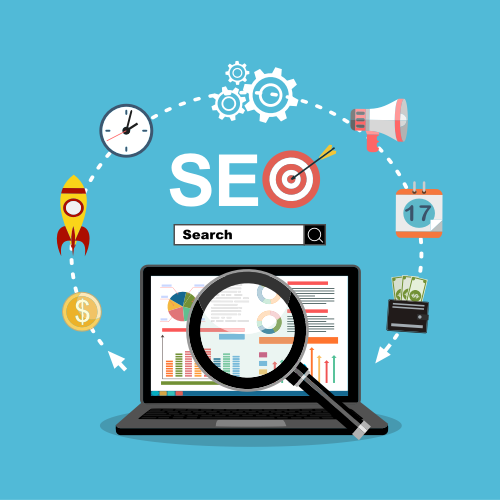 SEO as Part of Your Pharmaceutical Marketing Strategy
How SEO for pharma differs from other SEO
The importance of content in your pharmaceutical SEO strategy
SEO content checklist for pharma brands
Other SEO factors for pharma brands
Conclusion

How SEO for Pharma Differs from Other SEO
Search engine optimisation (SEO) for the pharmaceutical industry is different to that in other fields:
The majority of SEO for pharma revolves around very specific unbranded long-tail keywords. These are typically related to a particular product or condition.
Another point of difference is the target audience. It's often divided between patients and businesses (health care providers).
Talking to both business-to-consumer (B2C) and business-to-business (B2B) audiences about very specific topics requires a multi-layered approach. This places much emphasis on content creation, which should be done around custom keyword strategies for very specific audience segments and user journeys.
E-A-T also plays a crucial role in pharma SEO. This is because pharmaceutical web pages are categorised as YMYL (Your Money or Your Life) pages. Hence, credibility and trustworthiness are key.

The Importance of Content in Your Pharmaceutical SEO Strategy
Quality content plays a major role in any SEO strategy. But when it comes to Pharma SEO, long-form content pieces with topical depth are even more important.
Better online visibility:
Long informative content pieces have been shown to rank better in search engine results pages (SERPs), which will support your efforts in boosting your organic rankings.
More organic traffic:
When you rank better on SERPs, you'll attract more organic traffic to your website. This will give your company and its services better exposure.
Increase your E-A-T (Expertise, Authoritativeness and Trustworthiness):
The importance of E-A-T is twofold: Valuable, in-depth content pieces help to establish a business as a trusted authority and a thought leader in its industry, while it also supports your SEO efforts greatly.
Get more backlinks:
In-depth content pieces that users find valuable has the potential to gain more backlinks from other publishers. This is a vital part of your backlink strategy.
Generate more leads:
Long-form content punctuated with calls-to-action has the potential to generate more leads.
Increase conversions:
In-depth pieces keep its audience engaged for a longer period of time. The more time visitors spend on your site, the higher the goal conversion rate.

SEO Content Checklist for Pharma Brands
It's clear that intelligent content is at the top of the list of important SEO factors.
In-depth, High-quality Content
Useful, high-quality content is essential in any field. But it's especially important in pharma SEO. This is because a brand is often the primary source for specific information. A large part of your SEO strategy will therefore be based on content creation.
Below are some things to consider in the content creation process:
Establish the purpose of your content
There are three main pillars of search behavior:
Navigational
Transactional
Information-based
The latter makes up the majority of pharmaceutical search queries.
This means that the primary focus of a pharmaceutical SEO- and content marketing strategy should be on answering questions and informing the audience.
Having this insight is the first step to creating valuable content that the user will find engaging.
Identify topics
The next step is identifying relevant topics. It's important to remember that creating content based on random assumptions and be dangerous.
Key to identifying relevant topics is mapping out your customer journey. Understanding your patient and HCP journey will help you show the right content at the right stage, on the right platform.
To do this, map out the process that your target patient or HCP might go through during their user journey. This can include thoughts, emotions, and actions.
For example, for a patient, the healthcare journey might look like this:
Pre-diagnosis (research) phase: The patient is feeling curious, wondering what the symptoms could mean.
Diagnosis (research) phase: The patient is feeling worried, looking for solutions to control the symptoms.
Treatment (conversion) phase: The patient is feeling hopeful, considering treatment options.
Post-treatment (connection) phase: The patient is feeling empowered by support/information provided on living with the condition.
For a B2B audience, this journey might be a little different:
Awareness (awareness) phase: The B2B buyer is becoming aware of a problem/need within the organisation.
Interest (consideration) phase: The B2B buyer is researching your product/service and weighing the pros and cons over that of the competition.
Desire (evaluation) phase: The B2B buyer needs more in-depth information and needs to be guided towards a decision and action.
Purchase (action) phase: The B2B buyer is ready to commit and make a purchase.
Considering these phases and their motivations will help you identify relevant topics and craft your messaging to get the desired action.
Aside from user journey mapping, an SEO Content Gap Analysis can also be of great use. This can help in identifying topics that resonate with your target group and match their questions or interests.
Make it worth the read
You've found the topics you'd like to target. Next, you need to ensure the information in your written pieces is accurate, original and explored in depth.
Covering the topic from a different angle than your competitors will put you apart from competitor brands. It'll also give your audience added value and establish your brand as a thought leader.
Accuracy and trustworthiness is everything
Accurate information is even more important for pharmaceutical content. This is because it falls under YMYL (Your Money or Your Life) pages.
YMYL pages sell products or provide information or services that can impact people's happiness, health, financial stability or safety. Google scrutinises YMYL pages' content to a greater extent than ordinary pages. This makes fact-checking a crucial step in the content creation process for pharmaceutical brands.
Another important factor when it comes to online pharmaceutical content is E-A-T (Expertise, Authoritativeness and Trustworthiness).
As a service provider in the medical field, pharma brands need to build trust with their target audience.
And trustworthiness is just as important for SEO.
E-A-T has been a key SEO factor for years. But has since increased in importance in the organic ranking of pages.
E-A-T principles in a nutshell
Expertise – the author should have in-depth knowledge on the subject. (An added bonus is displaying their credentials.)
Authoritativeness – both the site and author should carry weight to deliver the content. In other words:

Do other industry experts recognise your brand or website?
Do experts cite your content?
Do other authoritative domains link to your content?

Trustworthiness – involving the content, the author and the domain.

Is the content accurate, user-friendly and helpful?
Is your website's contact information and business history readily available?
Does the brand or site have positive reviews?
Need help in checking all the SEO content boxes? Get in touch.

Other Important SEO Factors for Pharma Brands
High-quality content on its own is not enough. It needs to be supported by technical SEO elements that will influence your ranking in SERPs. Some of these are listed below.
Primary technical SEO factors
On-page keyword targeting
Metadata
User experience
Accessibility factors
On-page keyword targeting
Creating quality content for the user is one thing. However, you need to optimise it for search engines too. This is where SEO keyword research comes in.
The benefits of keyword research in pharma are twofold:
You can uncover the questions patients or HCPs are searching for online. This can guide you in your topic research.
As a key on-page SEO factor, it can make your pages appear higher on the search engine results pages (SERPs).
To get more granular insights, keyword research should be focused around a single topic/page. From this you'll get more general short-tail keywords, as well as higher-converting, specific long-tail keywords.
Once you've compiled a target keywords list for your topic, you need to implement it into your content.
Best practices for keyword usage:
Use keywords naturally, based on your user's search intent.
Avoid overusing keywords. Search engines can penalise keyword stuffing.
Use target keywords within the first 100 – 150 words of the article.
When implemented optimally, keywords can increase your online presence in the SERPs and lead to more organic traffic.
Metadata
As with all other types of industries, Metadata is a key factor for pharma SEO.
Metadata is information in the backend of your website that is read by search engines and web crawlers.
Search engines use the information contained in SEO metadata to:
Interpret and contextualise web page content
Serve information about the page in SERPs
Display rich featured snippets
Know which parts of your website to index and which to overlook
Metadata best practices
Header tags – wrap your page title in an H1 tag, sub-headings in H2 tags, etc. This helps search engines understand the page structure and hierarchy of information.
Alt text for images – enables search engines to read your images, index them and serve them in search results.
Keyword usage – incorporate keywords in your page's metadata. This includes the page title, main header, meta description and image alt text.
URL optimisation – keep it short and use your target keyword in your URL.
User experience factors
User experience (UX) best practices are there to make it easy for a user to navigate a website, to perform actions and to find what they need.
Following Google's 2021 Page Experience Update – one of Google's most impactful recent algorithm updates, UX has become even more important. Google now looks beyond a page's content and measures how users experience their interaction with the page.
When it comes to healthcare UX, empathy is the Holy Grail. Users need to feel that you understand their concerns and needs. To do this, create user personas and map user journeys. This will aid in creating a user-centric user experience based on who they are (whether patients, caregivers or HCPs) and how they go through the user journey.
Once you have a clear, well-categorised audience-based navigation, users will be able to find their topic of interest.
UX is not only important from an SEO perspective but it can affect sales and profitability too. A poor user experience will inevitably lead to an underperforming website.
Here are five key factors to consider in web your UX design:
Site architecture – the structure of your website and its content. Are products, services and blog topics categorised and grouped logically?
Internal linking – this is the way in which you organise and link your content pieces with one another. Internal links help users find other relevant content on your site. This is also important for SEO. Organising and linking your content pieces with one another, will help search engines understand your pages' authority flow.
Navigation – users should be able to navigate to different sections within the website with ease and find what they're looking for.
Site performance – is the site user friendly in terms of loading time, response time and errors?
Design – the visual style should be professional, uncluttered and aesthetically pleasing.
Accessibility factors
Science professionals are turning to the internet in search of information more and more every day. An incresing number of those searches happen from mobile devices. Recent statistics show that 54.61% of users browse on mobile devices, 42.63% use desktop and 2.76% use tablets.
Google has been favouring mobile-friendly sites for some time now. With the algorithm update of 2020, nicknamed Mobilegeddon, the company announced that they've "enabled mobile-first indexing for most currently crawled sites, and enabled it by default for all the new sites."
Mobile friendliness has a major impact on how well a website ranks, including pharmaceutical websites. That's why Mobile SEO and Search Experience Optimisation should be part to your overall SEO strategy.
Here are some checks to do in terms of mobile SEO:
Optimise site speed – page load speed is an important metric as it affects bounce rate (when the visitor leaves right away).
Mobile site design – make it easy for the user to interact. Tiny buttons and links, endless scrolling and unclear form fields are barriers to conversion and can result in abandonment.
Keep content concise – mobile users have less physical space to view and read content. The best practice is to shorten your content for your mobile site.
Optimise for voice search – according to research, half of all smartphone users use voice technology. One-third of those use it daily. You can optimise for mobile voice search with answer boxes and featured snippets.
Outbound links and backlinks
Google's algorithms have become more advanced in identifying quality content and rewarding websites for it. However, SERP rankings remain, to a great extend, a popularity game.
When other websites mention your brand or link to your content, Google interprets your content as potentially important. It's even better when these are higher authority websites.
Pharmaceutical brands have an opportunity to show up in authoritative sites such as journals, medical sites and national organisations.
Here are a few ways you can facilitate backlinks from authoritative sites:
Use press releases and interviews to share your knowledge, research and new discoveries. Share informational fact sheets they can publish on their website.
If you link to their website, inform them (they may link back to you).
Use related external (outbound) links in your content to offer more context. This helps search engines contextualise your page's topic and shows Google that your page is a hub of quality information.
Use social media to leverage new content.

Conclusion 
When it comes to Pharma SEO, intelligent, relevant and optimised content that is based on your target audience journey can be of great value. It will go a long way in generating organic traffic, building brand awareness, generating more business leads and engaging your target audience. Support this with key technical SEO factors, and you can expect to see a gradual improvement in your organic visibility.
It's important to approach your SEO strategy with your healthcare providers or target patients' motivations in mind. This way you'll create information-rich, relevant content that will lead to measurable results.
Want to find out more about our SEO services? Get in touch.