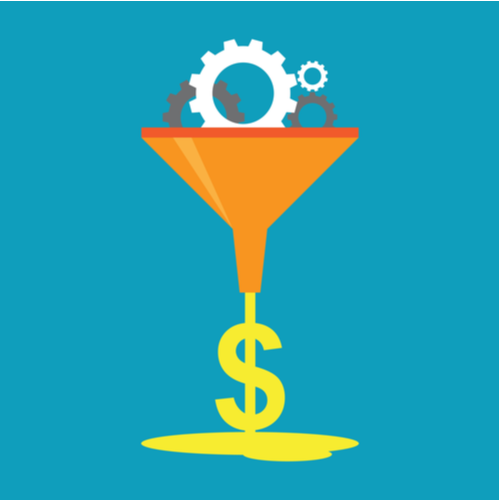 B2B Lead Generation through PPC 
What is PPC Lead Generation?
PPC lead generation, or PPC lead gen, is the practice of acquiring leads who have shown interest in your products or service. These prospects are attracted using any pay-per-click advertising channel, such as Google Ads. In digital marketing, this typically involves collecting a visitor's contact information via a web form.
 
The goal is to guide these potential customers through the buyer's journey to the end of the sales funnel where they make a purchase.
While Google Ads remain the most popular PPC lead generation platform, Bing Ads should not be overlooked. Having an audience with a higher household income, Bing PPC ads can potentially be highly profitable, especially if you are marketing to a more educated audience between the ages of 55 and 64.
The Benefits of PPC B2B Lead Generation
Many people think that PPC is only for e-commerce websites, while PPC is actually a highly effective channel for business-to-business companies doing online lead generation.  It's a great way of maximising growth and revenue. According to SEMrush research, 67% of companies use lead generation as the only metric to determine content success. 

Here are some of the benefits of using pay-per-click advertising to gather B2B leads:
• 89% of B2B researchers use the Internet during the research process. By making use of PPC advertising to gather business-to-business leads, you are casting your net where the odds of capturing valuable leads are in your favour.
• PPC has a myriad targeting methods. This allows you to narrow a large audience pool down to those who match your criteria.
• Using targeting methods, you can drive traffic from high-quality prospects, who will become high-value customers.
• With more high-value customers, you can boost your revenue, grow your business and increase the lifetime value of each customer.
• Lead generation can reveal insights about your audience you weren't aware of. For example, you may be getting engagement from companies you weren't considering, which will allow you to expand your market.
B2B vs. B2C Lead Generation
Business-to-business (B2B) companies provide products or services to other businesses. Business-to-consumer (B2C) refers to companies that sell directly to individual consumers

When it comes to lead generation, there are key differences between the two. Because you're targeting other businesses in B2B lead generation, the audiences are significantly smaller than with B2C audiences where you are targeting a mass market. As a result, B2B keyword search volumes are much lower in than in the B2C space.

Since you're targeting a unique subset of the overall population – a very niche market – B2B lead gen requires precision targeting.

Another key difference is that the B2B sales cycle is generally longer. In fact, it's often three to six months, or more, than in B2C. This means that your lead generation ROI will often only come months down the line.
 
However, in the B2B world, the value of one lead is much higher and you can generate a bigger return on investment.
Top B2B Lead Generation Strategies
If you want to increase your business-to-business sales, you'll need to think strategically about your lead generation process. Here are some of the top lead gen strategies to use :

• Pay-per-click (PPC) advertising platforms like Google Ads can help B2B companies reach a highly targeted audience in a relatively short period of time. While you have to pay for clicks, you don't have to have a massive budged in order to get quality leads.

• Search engine optimisation (SEO) is another great way of getting leads. Although this is a long-term strategy, it's an essential part to any company's overall marketing plan. By optimising your website for organic searches, you can build a sustainable flow of free traffic.
Another advantage of SEO is that, when done correctly, it can improve your credibility and authority. One of the key aspects of SEO is sharing valuable long-form content that's optimised for search intent. I will help position you as a thought leader in the industry and grow your website's E-A-T (Expertise, Authoritativeness and Trustworthiness), which, in turn, will grow your online presence, your following and revenue.

• A third B2B lead generation strategy to consider is LinkedIn. It's a great performing lead gen platform in terms of the quality of leads you can attract, as you can reach out to the decision-makers of other companies directly. A great way of converting potential customers into leads is offering something unique and valuable, which CXOs and other high-level professionals would be interested in.
Pay-Per-Click vs. Search Engine Optimisation
PPC and SEO are the two most popular digital marketing tactics to drive visitors to your site. And there's an on-going debate about which channel is best.
 
While in-depth blog posts and SEO can help you generate more leads over time (and they should be an important part in your digital marketing strategy), B2B paid search gives you almost immediate results. With PPC, you pay a fee every time someone clicks on your ad, which takes them to your website.
 
Search engine optimisation, on the other hand, is about optimising your website technically and creating SEO content. This helps your site in ranking well in SERPs for your target keywords over time, which will drive free organic traffic to your site.
While you'll get faster results with PPC, it does come at a cost, whereas SEO takes time, but traffic is free.
So, when it comes to PPC vs. SEO lead generation, it's more about finding the right balance between the two, than choosing one or the other. When you get the balance right, you'll get the best results in the shortest time without breaking the bank.
7 Results-Driven Strategies for PPC B2B Lead Generation
Let's have a look at ways of getting the best results in your PPC lead generation campaigns.
Know your audience




In order to capture the attention of qualified leads, you need to use the right messaging. And to do this, you have to know who you are speaking to.

Contrary to what is widely believed, Google research has shown that nearly half of all B2B researchers are millennials. It's easy to see why making assumptions about who your target audience is could be dangerous.

Another insight this study revealed is that the ecosystem of influencers around the B2B research process has changed over the past few years. B2B researchers who are not always in the C-suite (executive-level managers) have been shown to make more B2B purchase decisions.

Google's research has shown that while 64% of the C-suite still have final sign off, almost a quarter (24%) of the non-C-suite also do. What's interesting, is that the latter group has the biggest influence. A staggering 81% of non-C-suiters have a say in B2B purchase decisions.

This is not to say that you should focus your entire B2B lead generation campaign on millennials. However, to get the most from your lead gen PPC ads, it's a good idea to create buyer personas and craft your marketing communication to tie in with each audience segment. This will go a long way in capturing more leads who are more likely to convert.

By defining your audience you will also eliminate search terms that are superficially related to your offering, and identify those with relevant search intent.

Use non-branded keywords




The keywords you choose for your B2B PPC lead generation campaigns can have a big impact on results. When selecting keywords, it's easy to fall into the trap of targeting branded keywords – whether it's your own brand, or those of your competitors.

Another interesting insight that Google's research brought to light is that 71% of B2B researchers start their online research with a generic search. This means they are looking for products or services within a field, not a specific brand or company.

To appeal to prospects in the initial stages of the B2B buyer's journey, focus your keyword strategy on non-branded terms.

Use USPs in your ad copy




A PPC ad that stands out from the other advertisers has the best chance to draw potential customers to your site. In order to do this, include USP (unique selling points) in your ad copy that are truly unique to your business.

For example, instead of saying "Experienced SEO Specialist", try "Over 20 Years' Experience".

USPs help to distinguish you from your competitors and show prospects what you offer which others cannot.

Optimise your landing page




When search users click on a PPC ad, they want to know that the landing page will have the product or service that they are looking for. This is why optimising your landing page to your ad is so important.

PPC Optimisation involves a number of things. When it comes to the landing page, you need to make sure that the title on your landing page matches the language used in your PPC ad.

A relevant landing page not only reassures users that they are in the right place, but also helps to improve your PPC ad's quality score . A higher quality score will help you earn more clicks at a lower cost.

Only ask for the information you need




While it may be tempting to create a multi-step lead generation form that requires the person's full name, phone number, email, location, job title, etc. it may work against you.

Forms with multiple sections have a higher chance of scaring prospects off. A simpler form reduces the odds of people dropping out after filling in just one field.

Use a call-to-action that adds value




Prospects who fill out a lead gen form need direction to know what to do next, which is why a call-to-action (CTA) is such an important element.

When adding a CTA, think beyond the traditional "Buy Now!" or "Click Here". We live in an age where consumers are bombarded with marketing messages. Try a less aggressive alternative that adds value, like "Download Free", "Watch Now" or "Get Insights".

Offer your leads something of value




Google's research has shown that on average, B2B researchers do 12 searches before they engage on a specific brand's site. What's more, those involved in the B2B buying process are already 57% on the way down the path to a decision before they'll actually perform an action on your site.

How does this affect your B2B PPC lead gen strategy?

For prospects at the top of the sales funnel just starting their research, it makes no sense to offer a deal with a hard-selling CTA. The best way to capture these leads is by sharing something of value that will aid their decision-making process and guide them through the buyer's journey.

This can be anything, from free access to a webinar, a market research study, news and industry insights, a white paper, a product demo or an e-book.
Conclusion
Acquiring leads is essential to the sustainability of your business.
Robot-TXT's team of PPC specialists know all the nuances and strategies to generating B2B leads with PPC campaigns. We've worked wonders for our clients, and we'll do the same for you! Get in touch to find out more.