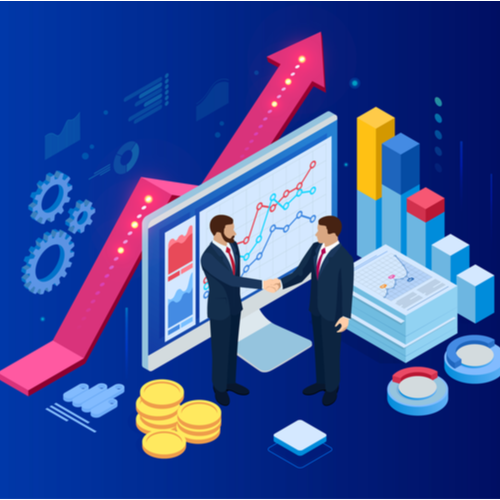 B2B Conversion Rate Optimisation for PPC Advertising
What is PPC Conversion Rate?
PPC conversion rate is the percentage of users who perform the desired action (convert) after clicking on your pay-per-click ads. Depending on your PPC goals, a conversion may be a purchase, a completed contact form, a request for a free trial, or any other desired action.
 
Think of it as the process of analysing the user experience and understanding what drives, persuades and stops your users in the conversion process.
What is PPC Conversion Rate Optimisation?
PPC conversion rate optimisation (CRO) is the practice of improving your pay-per-click ads' performance and landing pages with the aim of increasing the percentage of users who click on your ads and perform the desired action on the landing page. Through PPC optimisation, you can win real estate on Google Search and earn more clicks at a lower price.
The Benefits of PPC Conversion Rate Optimisation
CRO from a PPC metrics perspective is just as important as conversion rate optimisation for SEO.
3 Benefits of applying CRO processes to improve your B2B PPC performance:

• Well performing PPC ads have a higher conversion rate and lower CPCs (cost-per-click) because of improved Quality Score.
• Higher conversion rate means lower CPA (cost per acquisition).
• When applying CRO processes, you'll see that it is not always necessary to increase advertising spend in order to obtain better results.
Why PPC Conversion Rate Optimisation is Key to B2B Lead Generation
PPC is a great way of generating B2B leads and driving new business. According to Google's U.S. Economic Impact Report for 2020, Google has helped drive over 2 billion direct connections for businesses, every month. That includes phone calls, requests for directions, messages, bookings and reviews for American businesses.

Moreover, the report showed that Google Search, Google Play, YouTube and Google advertising products have helped provide more than $426 billion of economic activity for 2 million U.S. businesses, non-profits, creators, publishers, and developers.

Google's Chief Economist, Hal Varian, has estimated that businesses make an average of $2 in revenue for every $1 they spend on Google Ads. He has based his estimate of the observed cost-per-click activity across a large sample of their advertisers. To learn more, you can download Varian's study.
 
There's no doubt that there is massive potential in the economic value provided by Google Ads for businesses. However, CRO forms an important part in making sure you get the most from this platform.
How to Drastically Improve Your B2B PPC Conversion Rates
Selling to a business decision maker isn't that different from selling to a consumer. They're both people after all.

The big difference is that businesses often have more than one decision maker. As CXOs and other high-level professionals, these decision makers are likely more savvy in how they spend business money and won't fall for weak offers as easily.
So how can CRO improve the performance of your business-to-business PPC campaigns?
While CRO touches more on landing page optimisation, you need to look at the bigger picture to get the best results on your PPC campaigns. This means having a holistic approach by addressing all three of these key elements:

• Your targeting
• Your PPC ad copy
• Your landing page

While precise targeting can help you narrow down your audience, and great ad copy can improve your click-through-rate (CTR), having a conversion-rate-optimised landing page can enhance your overall conversion rate. Together, these three elements are crucial for the success of your B2B PPC campaigns.
If you're looking to increase your B2B conversions, here's a list of things to consider.
Target high-quality leads




Casting a wide net could result in a more expensive, less profitable B2B PPC campaign. By ensuring your Google paid ads are targeting the right people, your conversion rate can jump, without changing anything else.

So how can you funnel more high-quality leads into your B2B paid search campaigns?

By segmenting your ad campaigns into several groups.

Many businesses make the mistake of setting up PPC campaigns or ad groups for each product or service they offer, without considering the different ways in which their target audience is searching for the solutions they offer.

In order to attract more high-quality leads, you need to segment your PPC campaign into as many groups as possible.

For example, by each:
• Main feature
• Benefit
• Sub-category
• Target industry
• Geographic location

Let's say, for example, you have a digital marketing agency. You can segment your PPC campaigns into the following sub-categories: search engine optimisation, pay-per-click services, social media management, etc.

Feature: WordPress SEO, Bing ads management, Google Ads account audit, social media campaigns.

Benefit: Custom SEO plans for WordPress sites; targeting audiences with more buying power; reveal hidden issues that are lowering your PPC ads' profitability; increase social media engagement and shares.

Target industry examples: law firms, financial research services, healthcare industry.

Geographic location examples: London law firms, New York financial research, Vancouver pharmaceuticals.
Once you have identified the segments you want to target, you can set up your ad campaign with the necessary assets:

• Keywords – identify keywords related to the associated segment
• Ads – ad copy crafted for that specific segment
• Landing Pages – customised with content only relating to that segment

Setting up your B2B PPC campaigns in this way, allows you to focus your efforts. This will result in better quality leads that are more likely to convert.

Craft your ad copy for your audience




If you want to capture the attention and interest of your target audience, you need to craft PPC copy that will speak to them.
 
When it comes to PPC copywriting secrets for writing high-performing ads, there are a number of key best practices to follow. Here are some of the most important tips in writing copy for your B2B PPC ads:

2.1 Talk about benefits, not features.
B2B prospects aren't interested in the features of a product or service. They want to know how it will benefit them, or the company they work for. They are seeking out your products or service because they need a solution to a problem.
 
The best way to get their attention is to show them that you understand their problem, and can solve it.
 
For example, instead of talking about the feature, "fast service", focus on how that will benefit the person, how they'll have more time to focus on sales.

2.2 Craft Your Offer
The nature of your offer will depend on the buyer's phase of your targeted prospect. For B2B lead generation where your target audience is still at the top of the sales funnel, you want to offer them something of value that will aid their decision making process. This can be anything, from a market research study, an e-book or free access to a webinar, to news and industry insights, a white paper or a free product demo.

For prospects who are already near the end of the buyer's journey and ready to commit, see if you can sweeten the deal. Consider changing the pricing, incentives or product amounts to achieve better conversion. A small decrease in price can lead to higher overall profit.

Optimise your PPC landing page for your target audience




There's no use in putting all that effort into targeting the right people and getting them to click on your ad with compelling copy, when they don't perform the desired action on your landing page.
 
The third step to successful B2B PPC campaigns is optimising your landing page for conversions.
 
But how do you know if your landing page needs CRO? A big tell-tale sign is when your PPC ads are yielding a high CTR (above 2%) but a low conversion rate (below 2.70%).
 
Seeing this trend in your metrics will typically indicate that your ads are appealing to people and they are clicking on your ads, but for some reason, once they are on the landing page, they are not converting.

This is where CRO comes in. There are a couple of best practices in optimising your PPC landing page. The effectiveness of a landing page is determined by things such as ease of navigation for the user, the usefulness and relevance of the information provided on the page, and how many links are on the page.

Here are some key best practices to follow in optimising your PPC landing page.

3.1 Match your landing page content to your PPC ad
One thing that really annoys people clicking on a Google Search ad is reaching a landing page that does not deliver on the ad's promise. That's why it's key to ensure your PPC landing page content matches the ad.

This means that:
• The keywords used in the ad should also be used in the landing page.
• Match the headline of your pay-per-click ad to the headline of your landing page.
• Deliver on the offer made in the ad. If you are targeting users looking for a "free SEO audit" don't send users to a "10 ways to improve your on-site SEO" blog article. Although the page could be relevant and has a call-to-action, it's not what the user was looking for when they clicked on your ad.
• Put your offer near the top of the page – users clicked on the ad for a reason and they want to get to that quickly.

3.2 Make your CTA's highly visible and clear
The call-to-action on your PPC landing page is an important element. It's the gateway to conversion.
 
Many times, the call to action is too far down, hidden or not clear enough. To optimise your landing page, follow these CTA best practices:
 
• Move your call to action higher up on the page for more clicks.
• Make sure it's clearly visible – it must be big and bright enough to draw the eye.
• Ensure it's clear what you want the user to do. Choose the right wording to guide the user towards conversion.
 
3.3 Make your PPC landing page mobile-friendly
As smartphones are becoming more widely used in online searches, neglecting mobile can seriously hurt the success of your PPC campaigns. Treat your mobile landing page with as much care and attention as you do desktop.

Bear in mind that your desktop landing page design might differ from that in mobile viewing. For example, where you use a form on a desktop, you may opt for a click to call button on mobile. Alternatively, shorten your long inquiry form to a few simple questions on mobile and then follow up afterwards.
 
3.4 Limit outgoing links
Outgoing links on a landing page are exit points that can easily distract the user from converting. Although there are various opinions around this, many industry experts argue that best practice in PPC landing pages is limiting outgoing links. And that includes the "useless footer links", according to Ubounce's Eric Sloan.

Megan Marrs from WordStream argues that you should keep careful note of all pathways entering and leaving your landing page. By limiting exit points, you can "funnel visitors down a desired pathway, and if links serve as points of departure from the funnel, they should be used sparingly."

Kissmetrics' Beginner's Guide to Landing Pages recommends steering away from your website's usual site navigation: "The only clickable links (on the landing page) should be your call to action, and possibly a link to more information for those who are undecided."
Conclusion
PPC advertising allows businesses across all sectors to be more discoverable and visible to digital buyers. It can be a great tool in your B2B marketing arsenal. Keep in mind, the ultimate goal of running business-to-business PPC advertising campaigns, is to drive people to convert. Investing in CRO for your PPC campaigns can go a long way in lowering ad spend wastage and increasing your business' ROI.
If you need our PPC specialists to help you increase conversions, we invite you to get in touch.