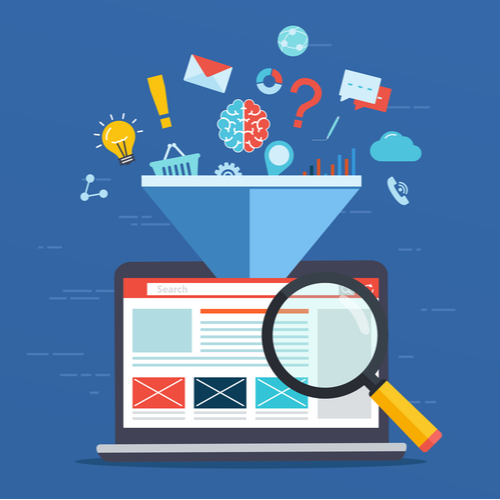 More About Upper Funnel Marketing
What is Upper Funnel Marketing?
Upper funnel marketing, also known as top-of-funnel (TOFU) marketing, is aimed at attracting leads and raising awareness and interest in your business or brand.
 
The upper part of the B2B marketing funnel is the first stage of the customer journey. This is where your prospects are becoming aware of a problem and actively seeking solutions. Hence, the main objectives of upper funnel marketing are to educate prospects about your company and to present ways in which you can solve their problems.
 
The initial points of contact in the upper funnel must be accessible enough to appeal to a wide audience, yet specific enough to draw in the right target audience. Upper funnel marketing is a delicate balance and must be achieved in order to maximise return on investment (ROI) on lead generation.
The Importance of Top-of-Funnel Marketing
Getting your top-of-funnel marketing right, is key to optimising your digital customer journey. Upper funnel marketing is the foundation of your digital marketing process. The more leads you generate at the top of your sales funnel, the more potential customers you can turn into warm leads, and nurture into paying customers.

Need help in generating leads? Get in touch.
Eight Upper Funnel Marketing Tactics
There are a number of strategies to build a successful upper funnel marketing campaign. Below are some.
Search Engine Optimisation (SEO)




SEO is an essential component of any successful digital marketing campaign – and it's especially valuable when it comes to brand awareness at the top of the marketing funnel.
 
A strong SEO strategy will ensure that prospects can find you organically in search engines when they type in search phrases and keywords that are related to your product or service.
 
A sound SEO strategy, whether it's B2B or B2C, will include some, or all of the below elements:
 
Digital strategy and maturity review
SEO website audit
Technical SEO
SEO competitor analysis
SEO keyword research
SEO content gap analysis
Search experience optimisation (SXO) 
Onsite/offsite link analysis
Link architecture optimisation
Content optimisation
SEO copywriting
Local SEO
International SEO
 
Aside from optimising your web pages to rank for your target keywords, you should also focus on building internal links on your website and linking to other authoritative sites.

Blog posts




Creating relevant, useful blog content is a proven strategy for raising awareness in a top-of-the-funnel campaign. Valuable content that educates your potential clients on who you are and what you have to offer, will also establish you as a thought leader and will help build trust.
 
When you rank well for long-tail keywords that are relevant to the pain points your prospects are experiencing, you can capture more leads who are searching for what you have to offer.
 
By analysing your web analytics, you can determine what searches your target audience is performing, and the questions they are asking that are relevant to your products or services. These insights will guide you in your blog topic research.
 
Through SEO copywriting, you can create content that targets the right keywords and that makes your prospects feel like you understand their needs and challenges, and that you are the expert who can deliver solutions.

E-books and white papers




Market research in the form of e-books or white papers is a powerful way to capture awareness in the marketing funnel's upper region. Research can be used as gated content in exchange for personal information like an email address. This way, you are not only demonstrating thought leadership in your prospect's specific area of interest, but also generating quality leads that you can guide to the next phase of the sales funnel.

Videos and podcasts




Online video and podcasts are extremely popular as a top-of-funnel marketing tactic since you can educate your audience while engaging them. Videos and podcasts can be hosted on a platform like YouTube, or on your own website. An added advantage is that you can repurpose your video content across multiple marketing campaigns to get even more mileage.

Infographics




Like videos and podcasts, infographics are easy to digest, making them ideal for prospects who have short attention spans. Infographics are great for showing potential customers outcomes to their problem and present your product as one of the possible solutions, with the added bonus that they can be shared across multiple platforms very easily.

Guest blogging




The practice of publishing articles on other sites is a great addition to your inbound strategy in the upper marketing funnel. Guest blogging can increase reach in your target market and help you fill the top of your funnel with fresh leads while securing much-needed backlinks to your site.

PPC advertising




Paid advertising is a proven strategy for getting near-immediate results in your a top-of-the-funnel marketing campaign. This is true, whether you're a large multi-national B2B corporate organisation or an entrepreneurial venture capital start-up.
 
With a tailored PPC strategy, you can create low-cost and high-impact advertising on search engines that will allow you to reach relevant audiences at a lower cost-per-click (CPC).

Social media




By publishing engaging and useful social media content, you can build a strong following over time. The more followers you have, the bigger the pool of prospects you can reach on a daily basis.

Paid social media campaigns, such as lead generation adverts on Facebook or LinkedIn, are great ways of capturing leads. Here, you can use e-books, white papers and infographics as incentive for prospects to give you their details.

To optimise your social media lead generation campaigns, look at the type of content that gets the most engagement and align future content to match those needs.
Conclusion
By integrating top-of-the-funnel tactics in to your current digital marketing strategy, you can grow brand awareness, build authority online and generate more leads for your sales funnel, which will eventually lead to more business.
If you need assistance with top-of-funnel marketing, reach out to discuss your goals with our specialists. We can help you get the most exposure at the lowest cost. Whether you want to focus on SEO and content marketing, or run a PPC lead generation campaign, we can help you attract high-value leads who'll be more likely to convert into paying customers.