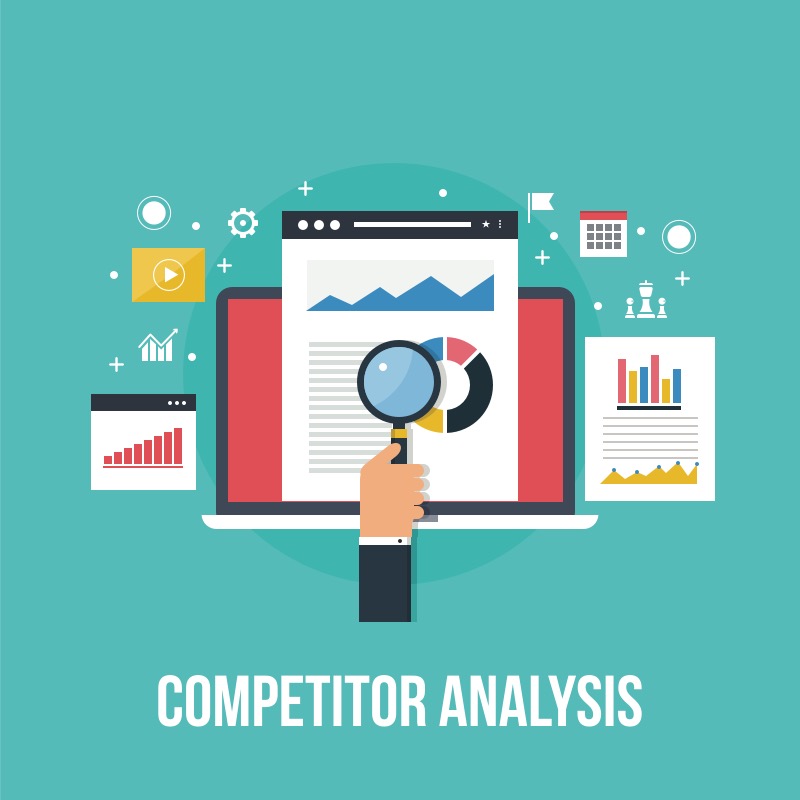 What Sets Robot-TXT's PPC Specialists Apart?
When it comes to our PPC Services, we make use of a cyclical "flywheel methodology". It's a results-driven work method that consists of three phases:
Discovery – this is the investigatory stage where we review your PPC competitors and the keywords they are using.
Optimisation – based on our findings, we refine your keyword list, narrow down your targeting to key locations and make budget forecasts and recommendations.
Analysis – we look at how your PPC campaigns have performed against key metrics and report on the results. We then return to the Discovery phase to determine where we can further optimise.
How You Can Benefit From PPC Competitor Analysis
To withstand the competitive PPC landscape, you not only have to optimise your PPC ad account, but also analyse your competitors.
Pay-per-click competitor analysis, one of our PPC services, is essential in understanding of your competitors' strengths and weaknesses in comparison to your own. This information is useful in finding a gap in the market.
Pay-per-click competitor analysis is important because:
It will help you recognise how you can enhance your own PPC strategy and out-do your competition.
It will give you insights into niche, un-tapped – and often cheaper – keywords you can target.
It will result in a higher conversion rate and return on ad spend (ROAS).
What We Include in the PPC Competitor Analysis
Chances are your competitors are bidding on many of the keywords you are targeting. But by doing PPC competitor analysis, we can help you come out on top.
Here are the main points we focus on in our PPC competitor analysis:

You supply a list of competitors
Our starting point is obtaining a list of the websites you consider to be your competitors – this is done for benchmarking purposes.

We review your list against actual digital competitors
Using a suite of paid, licensed tools, we crawl the web to uncover a full list of your online competitors. We compare this against your supplied list to get a bigger picture of your PPC landscape and your competition.

We compare supplied vs. actual competitor keywords
We review your competitor's top-performing keywords by search volume and compare them to your list of keywords. This way, we can ensure you're not missing out on any potentially profitable keywords.
By analysing competitor keywords, we also get a better understanding of users' search intent and how your competitors are benefiting from it. Using these insights, we can better plot your PPC strategy to capitalise on your competitors' weaknesses and minimise the challenges presented by their strengths.

We refine your keyword list
Our PPC competitor analysis goes deeper than just establishing who your competitors are and the keywords they're targeting. Analysing the data, we can identify opportunities in keywords that are similar to your target keywords but haven't yet been targeted.
We refine your keyword list for your PPC campaign by:
Finding related terms and phrases
Identifying niche topics
Uncovering long-tail question keywords

We look at what works and what doesn't work for your competitors
Using our PPC competitor analysis tools, we dig into your competitors' data to uncover their marketing strategies. This spans from keyword selection and target audience, to ad copy examples and landing page quality. By looking at their best- and worst-performing metrics, we gain insights that will inform and strengthen your PPC strategy.

We narrow targeting to key focused locations
Geo-targeting, or local PPC, is a PPC strategy that is designed to target an audience within a specific area. It plays a paramount role when it comes to creating highly targeted, customised PPC campaigns.
Our rank tracking tools allow us to track keyword rankings based on any location, across desktop and mobile. In finding high-performing keywords for the target audience in your area, you'll get more traffic and business from nearby.

We supply recommendations and forecasted budgets
Taking all of our data-driven insights into account, we make recommendations based on your business goals and budget. This includes a cost estimate to ensure you get the best possible value for your advertising spending while staying within budget.
If you want to deploy more competitive PPC marketing campaigns, contact us. With an in-depth PPC competitor analysis, we can map your competitive landscape more strategically and optimise your PPC campaigns more effectively.