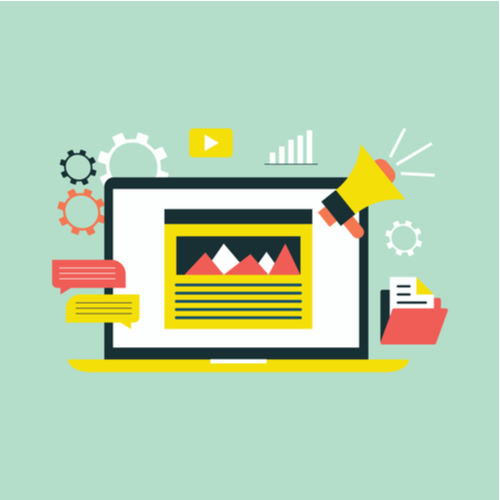 What Sets Robot-TXT's PPC Specialists Apart?
 At Robot-TXT, we create and carefully manage PPC remarketing ads to achieve maximum clicks, brand awareness and sales at the lowest possible rate. We do this by making use of a cyclical "flywheel methodology" – a results-driven work method that consists of three phases:
1. Discovery – this is the investigatory stage where we learn everything there is to know about your business and your site. This may include analytics on your website, such as the pages with the most visitors, products with the most cart abandonments, your sales funnel, data on previous PPC ad campaigns, etc. Using this information, we formulate a PPC remarketing strategy.
2. Optimisation – we deploy your PPC remarketing campaigns, monitor performance and make adjustments to improve performance according to what the data tells us.
3. Analysis – we report on how your PPC remarketing campaigns performed against key metrics and then return to the Discovery phase to determine what we can do to keep improving ROI.
What is Remarketing?

Remarketing (also known as retargeting) is a digital advertising strategy that promotes your business to users who have previously interacted with your site or mobile app, or who have shown an interest in a product that is similar to yours.

You can remarket to users across various channels, from social media platforms like Instagram or Facebook and Google's Display Network to video-sharing sites like YouTube. PPC remarketing specifically refers to search ads strategically displayed at the top and bottom of search engine results pages (SERPs).

The great thing about PPC retargeting ads is that you only pay when people click on your ads (hence the term "pay-per-click"). When done right, PPC retargeting can progress your leads through the buyers journey and bridge gaps in your marketing funnel, bringing in a huge ROI for your advertising efforts.

Our PPC specialists have years' experience in profitable PPC remarketing campaigns. We can help you turn qualified leads into paying customers at the best possible rate.
Why Use PPC Retargeting Ads?
 Whether you're looking to promote awareness of your brand, increase eCommerce sales or drive hot lead submissions, remarketing can be a powerful strategic component of your advertising mix. Below are a few benefits of using PPC remarketing:

Nearly immediate results – PPC retargeting ads can start bringing in qualified leads and conversions within minutes of launch.

Well-timed targeting – ads are displayed to "hot" prospects at the most critical time – when your service or products are still top-of-mind and when your audience is actively searching for products or services like yours on search engines. This is the phase during which they are most likely to convert.

Focused advertising – PPC retargeting ads are hyper-targeted, for example, we may create a remarketing list for people who've added a specific item to their shopping cart but didn't complete a transaction. Personalised ads with relevant offers and messaging always have better results.

Cost-effective pricing – the nature of PPC search remarketing ads allows us to create high-performing campaigns with automated, real-time bidding. The optimal bid for the person viewing your ad is automatically calculated, which helps your ads win the ad auction at the best possible price.

If you'd like to run PPC retargeting ad campaigns with maximum ROI, contact us for a free proposal. Our PPC experts will help you confidently invest your money into beneficial channels so your business can earn more from the web.
Key Elements in Optimising PPC Retargeting Ads
 Robot-TXT's team of dedicated PPC experts follow a proven process dependent on six key elements in running PPC retargeting ad campaigns.


Data – the starting point of any PPC retargeting campaign is analysing the metrics that matter most to your business. This may include:

• Gaps in your sales funnel
• Your visit-to-lead ratio
• Your lead-to-sale ratio
• Product pages with conversion drop-offs

We also perform a Google Ads Account Audit to evaluate the effectiveness of your account and address any issues that can negatively impact the profitability of your campaigns.

Strategy – The key insights from our data analysis informs your PPC retargeting strategy, which can be broken down as follows:

Objective, for example, increasing sales
How to segment your website visitors into separate audiences
What to test when remarketing

Targeting – we identify the key user groups to target. There are a number of ways to target your audiences, some of which include:

• Based on the product page visited
• Based on visiting a certain page of your checkout process
• Based on not visiting a certain page (like a "confirmation" or "thank-you" page)
• Based on the number of pages visited
• Demographic targeting
• Geographic targeting

Creative – we create compelling personalised ads that speak to your audience. Our targeting tactics allow us to tailor your ads' messaging to your audience's search intent, interests and behaviour.

Monitoring – we monitor how your campaigns are performing, where your ads are showing and what price you're paying. By tracking the metrics that advance your business and by closely monitoring key performance indicators (KPIs), we can achieve a higher ROI.

Adjustments – we optimise your PPC ad campaign based on data-backed insights. We make adjustments to personalise the experience for different users and align ads to their interests and behaviour. This helps improve click through rate (CTR) and overall conversions.
If you need an SEM agency, Robot-TXT is your answer to creating the most profitable PPC remarketing campaigns possible. Having executed hundreds of successful pay-per-click campaigns, our PPC specialists can help you win conversions and stimulate revenue at the lowest possible rate. Contact us today to get a free PPC remarketing ad proposal.