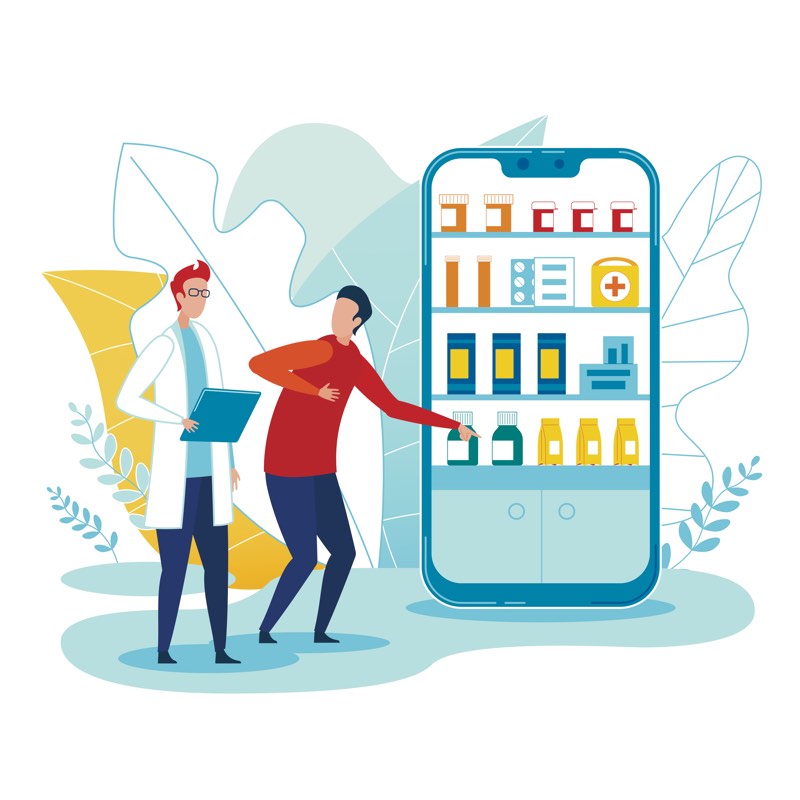 SEO in 2023

Pharma SEO Trend 1: SERP Features
Most web searches in the pharmaceutical field are informational searches. Google serves a range of rich search engine results page (SERP) features for informational searches.
Rich snippets are displayed at the top of results pages directly answering the search query. These SERP features provide additional information beyond the meta title, meta description and URL.
Since these search results are richer in information and visually more appealing, they're more likely to be clicked on. This can help improve your click-through rate, which may indirectly benefit your Google rankings.
Some of the most common SERP features are:
The knowledge panel
Featured snippets
Image pack
Local pack
Video
Shopping results
Sitelinks
People Also Ask
Top Stories
For 2023, SERP features are an important SEO trend to consider due to the growing phenomenon of "no-click searches". This is when users are finding all the information they need in search engine results without having to click on a website link.
How are SERP features beneficial to pharma SEO?
SERP features, such as featured snippets, are great for pharmaceutical websites, due to the information-rich nature of pharma content. Blog articles, for example, can be optimised to give specific answers to a question-based search query. The answer would then be displayed on the SERP in a special block above the organic search results.
By optimising content for featured snippets, pharmaceutical companies can ensure that their content stands out and is easily accessible to viewers. Even in the case of a "no-click" search, brands appearing in featured snippets still have visibility, which increases awareness.
How do you optimise for featured snippets or rich snippets?
Featured snippets are made possible by structured data, also known as schema markup, or microdata. It's a type of code that makes it easier for search engines to interpret and understand your web content.
The FAQ rich snippet, one of Google's enhanced search snippets, includes questions covered on the linked page. Pharma brands can optimise for a FAQ rich snippet by providing clear answers to their audience's most frequently asked questions and using long-tail keywords to answer these. Out of the 9 types of keywords needed for SEO, long-tail keywords are among the least competitive ones, and easier to rank for due to their specific nature.
Having content displayed as featured snippets does a lot for a brand's visibility in SERPs. But to make the most of this feature, it's important to include relevant supporting rich content such as visuals, video or infographics. These will entice the reader to click through and arrive at your site.
If you haven't yet, it's worth considering SERP features in your SEO strategy for 2023. Especially with many visual experience improvements expected from Google in 2023.

Pharma SEO Trend 2: Voice Search
Featured snippets bring us to our next pharma SEO trend for 2023: Voice search.
What's the link?
Aside from serving your content as a rich result, featured snippets make your content available as audio search results. This is especially helpful for visually impaired users using Google Assistant, or those searching by voice on mobile.
Voice search has been one of the fastest-growing technologies over the last decade, and it's expected to continue developing this year.
Voice-enabled search is changing the way users search for things on the Internet. An increasing number of consumers are using voice to search for local businesses, research products or make buying decisions.
To illustrate its importance, Juniper Research predicted that voice assistant transaction values are expected to grow by over 320% by 2023.
This makes optimising for voice search particularly noteworthy in terms of an SEO trend for 2023.
Here are some of the ways you can optimise for voice search:
Create content around common questions
Create a FAQ page
Improve your mobile experience
Local SEO – optimise for local search results
Use conversational long-tail keywords
Use schema markup to provide context
Want to find out more about our pharma SEO services? Get in touch.

Pharma SEO Trend 3: Increased Use of Video
With artificial intelligence, voice transcription and other search engine algorithm advancements, video is becoming key in SEO- and content marketing strategies. Going into 2023 and beyond, it's expected that video content is going to become increasingly predominant.
In the pharmaceutical industry where professionals are often pressed for time, video is an ideal format to communicate complex concepts in an easy-to-consume, engaging manner.
Pharma brands are already adopting video marketing quite rapidly. It's proving to be an effective strategy to help grow brand awareness and educate their audience.
In support of this, a Wyzowl report found the following:
Video has helped 94% of marketers increase their understanding of a product or service.
88% of respondents said that watching a brand's video has convinced them to buy a product or service.
How long should video content be?
Despite the growing popularity of short reels on platforms such as Instagram and TikTok, long-form video content is the fastest-growing among all video categories. Since 2019, uploads for videos between 30 and 60 minutes have nearly tripled.
Here are 9 ways in which video can be used as part of your pharma content strategy:
Company introduction videos to let your audience get to know your brand better.
Explainer videos that break down a complicated concept.
Story-based disease awareness videos that drive home a powerful message.
Expert interviews that can help establish your brand as an authoritative thought leader.
Collaboration videos with industry influencers to help get more brand exposure.
Documentaries that can help educate viewers on a specific disease.
Solution awareness videos with calls-to-action to drive participation in the wider public.
Testimonial videos to help sell products and services.

Pharma SEO Trend 4: Create and Publish More Useful Content
Content created for the purpose of ranking well in search engines, as opposed to serving humans, has recently been a hot topic. Google has responded to "search engine-first content" that ranks well with their recent helpful content update. It's a machine-learning algorithm created with the aim to promote helpful websites with authentic and useful content.
What exactly is "useful content"?
Our SEO content checklist for pharma brands covers the most important boxes that pharma content needs to tick.
In broad strokes, it means that:
Content needs to have a clear purpose that ties in with one of the three pillars of search behaviour – navigational, transactional or information-based.
Content topics need to be mapped around your customer journey. In other words, make sure you address relevant needs and questions in each phase of your marketing journey – whether this is for patients or a B2B audience.
Adhere to E-A-T principles by ensuring the information in your written pieces is accurate, original and explored in depth.

SEO Predictions for 2023
The Economic Climate Could Put More Focus on SEO
2022 has been a tough year economically and marketing budgets are usually the first to be cut.
Where will these budget reductions leave SEO in 2023?
Our prediction is that more brands and businesses will focus on this "free" marketing channel. Search engine optimisation is one of the most cost-effective ways to maintain profitability during a recession.
Lemuel Park from BrightEdge explains:
"Despite market fluctuations, search continues to be a channel that has grown over 20 years. As traditional and paid media costs rise, SEO has become the go-to marketing channel that provides the most profitable return on investment."
Investing in organic search marketing instead of simply focusing on the 'now' will be key for pharmaceutical companies to attract more organic traffic. Not only will it future-proof revenue during an economic downturn; it will also provide sustainable, long-term results for future branding and business success.
Using Search Data to Inform Strategic Business Decisions
Search provides a huge data set about how users landed on, and interacted with a page. But aside from telling you how well a page is optimised and performing, this data can provide other important strategic insights for marketers.
Markus Klöschen from Searchmetrics had the following 'wild card' prediction in Econsultancy's SEO trends and predictions for 2023 article in terms of search data.
"I think we will start to see search data being used not just for optimising website search performance, but also for its ability to give companies a better all-round understanding of their customers and their markets."
By aggregating and analysing the searches people make, pharma companies will be able to answer questions that may aid strategic decision-making. These may include insights on the demand for a specific product, and how the demand varies by region and over time. Or new features customers are looking for in products.

Conclusion
The pharmaceutical industry is massive. In the United States alone, it accounts for a staggering $1,072 billion per year. This means that as a contender in this highly competitive industry, you have plenty of room to grow.
If you want to grow your website's organic traffic and expand within the industry, it's key to keep your search marketing strategy in line with what's happening in the world of SEO. That's what our search marketing team is there for.
Get in touch and let us develop an on-trend pharmaceutical SEO strategy that'll let your company reach new heights in 2023. Or click the link to find out more about our pharma SEO services.