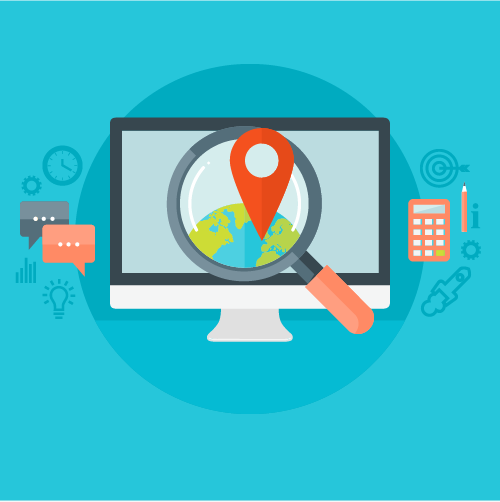 Estimated reading time: 9 minutes
Optimising your site for different countries will mean that your website content will need to change and evolve. However, before you even begin thinking about keyword research and localising your content, you need to consider the technical setup of your website – and that starts with deciding on a domain strategy.
Skip to the relevant section
Four Domain Strategies for International SEO
If you want to create a truly international website that targets specific countries and languages, you need to decide on a domain strategy that is best suited for your business.
Depending on the size and structure of your business, as well as your resources, your domain strategy could be any one of the following:
A country code top-level domain or ccTLD
A subdomain
A subdirectory or subfolder
A gTLD with language parameters
Why a Domain Strategy is a Critical Component to International SEO
Optimising your website for international users goes beyond simply changing your site language. Search engines need to understand which countries you're targeting, which languages your site is using and which version of your website should be delivered in search results for different users. You need to be certain that users from your primary country won't accidentally land on a translated version of the website that they don't understand.
And it's not just the user you need to be mindful of. Not having a domain strategy in place could damage your search presence, especially if your translations begin to outrank your primary content.
By giving a clear structure to your website, you will not only give search engines the signals they need to correctly index and interpret your content, but you will also provide your international visitors with the best user experience.
This is why it's important to think about the structure of your website, and its domain in particular, when targeting more than one country.
Each domain strategy has its own pros and cons. In this article, we'll look at four options, their benefits and drawbacks, so you can find the best domain strategy for your individual situation. If you need guidance in deciding which way to go, feel free to speak to us.  
Choosing a Country Code Top-Level Domain or ccTLD

Country code top-level domains (ccTLDs) are specific to a country, for example, the ".us" in www.mydomain.us for the United States, the ".uk" in www.mydomain.uk for the United Kingdom, etc. 

Country code top-level domains are the single strongest way to signal to search engines and users that the site is specifically targeted to a certain country or region. For this reason, many companies that operate in several countries build their International SEO domain strategy around ccTLDs. 

It's important to note, however, that ccTLDs do NOT specify a certain language.

Pros of ccTLDs
•  A ccTLD domain name structure suggests to search engines that your site is targeting a specific country, which helps with your organic rankings in that country. Google has stated that it uses ccTLDs to determine geotargeting.

•  It's obvious in search results that your site is targeted to a specific country and visitors can clearly see that this site is meant for them, which helps to build brand trust in target locations and improve click-through rate.

•  In many countries, customers prefer a locally based website.

•  In some markets, local ccTLDs perform better than non-localised domains. In extreme cases, such as in China, only local ccTLDs are displayed in search results – the popular search engine, Baidu, only shows Chinese ccTLDs.

Cons of ccTLDs
•  When you launch into a new market with a new domain, you have to start from scratch with no domain history, domain authority or links. As a result, it may take some time before search engines view the site as a trustworthy and authoritative site to rank well in search results.

•  ccTLDs signal to Google to rank your site in a particular country, meaning it might not rank in other nations using the same language – so a website with a .fr domain will not be identified by Google as one that can also serve French-speaking customers in Switzerland, for example.

•  If your website has a language selection dropdown menu on all pages, your website will have many external links. This can lead to your backlink profile being dominated by links from your own sites, meaning that any other backlinks from high-authority sites you've managed to create, won't be as powerful.

•  Domain registration costs could be high – for example, a .pr domain for Puerto Rico, costs about £800 a year. If you are in 20 countries you need 20 ccTLDs! 

•  SEO optimisations on one site won't benefit all sites, as they are all separate websites, so you'll need more time and resources for that. 

To sum up, ccTLDs are best suited for already well-known, well-established brands with large audiences in their target countries. You also need to have the resources to set up and maintain ccTLDs, especially with regards to content and SEO.

Need help in deciding which domain strategy is best suited to your business? Talk to us.


Choosing a Subdomain

This is popular technique for many international websites. Subdomains add the country specification to the beginning of the domain URL, for example, uk.mydomain.com. This strategy only works when the parent website is a .com domain.

Pros of subdomains
•  Your main domain will transfer domain authority to each subdomain.

•  It's easier to manage and optimise your website with one domain and various subdomains.

•  This is the default structure for some CMS tools, making it simple and cost-effective to target international markets.

•  Subdomains have some connection to the current SEO authority of the main website, meaning they will be seen as trustworthy by search engines, which can aid SEO performance when launching in a new country.

Cons of subdomains

•  As with ccTLDs, links to subdomains from language drop-downs are considered external links, which could again compromise your backlink profile.

•  Without a ccTLD, search engines wouldn't automatically associate your website with the country you're targeting. However, this can be solved using the international targeting tool in Search Console. For example, if you had a subfolder aimed at the German market, we could submit www.mydomain.com/de as a property and make the international targeting "German".

•  Users may not associate your site with their country and recognise the domain, therefore trust and click-through rates may be affected.

•  You run the risk of internal cannibalisation – this is when different international pages compete with each other in search results, making it difficult to get the right landing page to rank in the relevant country's search.

To reach international audiences online, it's essential that your website is optimised for each of your target audiences. If you need the assistance of our experienced SEO team, please get in touch.


Choosing a Subdirectory

Subdirectories (or subfolders) are identified by the "/us" in www.mydomain/us. Subdirectories can be added to any primary domain for specific languages or countries, but for this to work effectively, the site needs to be on a generic top-level domain such as .com, and not a local ccTLD.

Pros of subdirectories
•  SEO optimisation performed on one part of the domain will benefit all the country subdirectories as it's one site.

•  When creating a new subdirectory for a country, you are inheriting the authority of your original website so, you're not starting from scratch when expanding to new territories.

•  Links between subdirectories for different countries are seen as internal links, not external. This helps your backlink profile, as it will be made up predominantly of links from other websites.

•  It's a cost-effective approach as you wouldn't have to splash out on hosting and registration costs for each domain.

•  Less labour intensive – you only have to maintain a single website with several languages on it, not separate websites with several languages.

Cons of subdirectories
•  The URL displayed in search results will not clearly indicate that the country subdirectory is specifically for users in that country. Searchers may assume that www.mydomain.com/uk/ is a page about your products in the UK rather than a page specifically aimed at users living in the UK.

•  Unlike ccTLDs, search engines do not automatically associate subdirectories with the target country, so it may be harder to acquire traffic from that region. However, as with subdomains, you can use Search Console's international targeting tool to get around this. 

•  Subdirectories can also run the risk of internal cannibalisation. This is because search engines usually only feature one subdirectory from a site in their search engine results pages (SERPs), so different international versions may end up competing with each other for the same search terms, particularly if the languages overlap.

•  You need to manually optimise each page – automatic optimisation settings in your CMS could cause your beautifully translated website for the French market to have a default English title tag and meta description on every page.

•  It's complex to host your various language websites in your target regions. Typically when companies want to host locally, they use subdomains or ccTLDs.

In short, subdirectories are best suited for businesses that have fewer resources and that want to keep their maintenance costs low. Also, if you have a well established website you can benefit from an already built-out link profile and site authority.


Choosing a gTLD with Language Parameters

By adding a language parameter (hreflangs, or language tags) to a gTLD (generic top-level domain), you can target your content to users speaking a certain language. Language tags tell Google which language you are using on a specific page, so the search engine can serve that result to users searching in that language. 

Language parameters appear after the question mark at the end of the URL, for example, the end part in yoursite.com?lang=en-us indicates that this website targets users that speak American English.

Pros of gTLDs with language parameters
•  It's reasonably easy to implement and you can automate it to a large extent.


Cons of gTLDs with language parameters
•  Can cause issues with URL differentiation and content duplication.

•  Not visually appealing.

•  Gives little country-specific authority to the website.

•  Geotargeting in Google Search Console is not possible.

When incorrectly configured, URL language parameters can cause a range of issues, from creating duplicate content to keyword cannibalisation and wasting precious crawl budget. Most experts recommend against this method when it comes to International SEO.

In Conclusion
Optimising your site for different regions and languages will help you target international users effectively and appear higher up on regional search engine results. If you need guidance in choosing the right domain strategy for your business, speak to us, we have the expertise to boost your international SEO success using best practices.