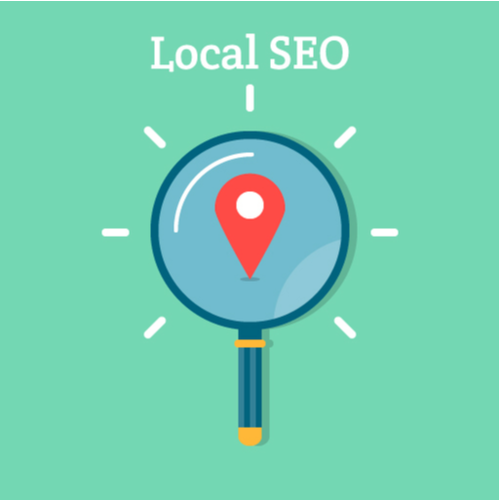 In this article, we will look at 11 ways we are improving your Local SEO:
Address Mobile SEO
Perform a Local SEO Audit
Claim and optimise Google My Business
Obtain and manage reviews
Build local citations
Optimise on-page SEO
Create location pages
Improve internal linking structure
Get backlinks
Optimise for voice search
Track local rankings
Why is Local SEO Important?
Local SEO is an essential part to any SEO strategy, since such a large percentage (46%) of online searches have a local intent. This means that potential customers are actively searching for services like yours within your service area, as you are reading this.

Needless to say, if you boost your Local SEO, your business will be the one they find and support.

By optimising your website for local searches, you will:
• Increase your online visibility to customers nearby.
• Increase organic traffic to your website and earn more qualified leads.
• Outrank more of your local competitors.
• Help mobile users easily find your business in search engines, directories and through social media channels.
• Ensure your business is found on Google Maps and through other navigational apps.
How We Optimise Your Website for Local SEO
1. Address Mobile SEO – before we start optimising your site for local searches, we need to get the basics right. That means making sure your website is optimised for mobile visitors. This is important, as 61% of mobile searchers are more likely to contact a local business if they have a mobile-friendly site.
To see how well your site is optimised for mobile, you can use Google's Mobile-Friendly Test tool.

2. Perform a Local SEO Audit – a comprehensive SEO Site Audit lets us see where your website stands and what we need to work on to achieve your Local SEO goals. We look at the following:

• Has your Google My Business (GMB) profile been claimed and is the information correct?
• Is Google able to crawl and index your website and does your site have any errors that could hinder indexing?
• Does your site accommodate all the on-page SEO elements that help ranking and is your metadata optimised?
• Are all of your citations correct in the top business directories?
• How does your site match up with your local competitors' in terms of inbound links, content, design, and positioning?
• How well is your website performing overall?

3. Claim and optimise Google My Business – claiming and optimising your Google My Business listing is arguably the most important part of Local SEO. When it comes to local search ranking, GMB is one of the top factors for both organic results and "snack pack" results (the boxed area on the first results page for local searches).

What is Google My Business?
GMB is a free tool for businesses to create a business profile and manage their online presence across Google, including Search and Maps.

Once we've claimed and verified your GMB listing, we optimise your listing further by:

• Uploading photos of your premises with location metadata
• Adding more categories
• Listing your opening hours
• Listing any individual services you offer
• Adding any additional phone numbers

Although Google has the majority market share, it is worth optimising for Bing Places (Bing's equivalent to GMB) and Apple Maps too.

Put your Local SEO in the capable hands of our SEO specialists. Contact us today for a tailored costing for your business.

4. Obtain and manage reviews – positive reviews will not only help you develop the internet reputation you need to instil trust in consumers, it will also improve your business's visibility.
Once your business is listed on GMB and a few other relevant directories, you will start getting reviews from your clients. However, this may be slow at first. Creating a review acquisition strategy is a great way of earning positive reviews for your business. This may include the following tactics:

• Actively encouraging your clients to leave a review. It could be a simple banner on your website, a signage in your store, a follow-up email or even a card attached to the delivery.
• On your website's location pages, showcase links to your third-party review profiles, or create a separate page on your website just for that purpose.
• Train staff to mention how much a review would be appreciated. Staff members can use their discretion to make this feel natural and not forced. For example, a sales clerk may mention how helpful it would be if the customer would consider leaving a review as "we're trying to get the word out to our neighbours".
• Manage negative reviews professionally – in a way that will assure future customers of your professionalism, honesty and excellent customer care.

Remember, the in-store experience you provide customers will play a major role in the number and sentiment of your reviews, so it pays to deliver the best customer experience possible.

5. Build local citations – citations are online mentions of your business, which contain your business name, address and phone number, collectively known as NAP (Name, Address, Phone).

When it comes to citations, we do two things:

1. Review existing citations and make sure they are correct, complete and consistent with your GMB information.
2. Build more relevant citations.

We build both structured (usually on business directories, social profiles, etc.) and unstructured citations (typically in blog posts, on newspaper websites or on business blogs).

6. Optimise on-page SEO – this include the "traditional" elements, like:

• Keyword in your H1 header
• Keyword in title tags
• Keyword in URL
• Short URLs
• Enticing meta description featuring keywords

We also look at adding relevant schema markup for rich featured snippets in search results. Schema markup is additional code that gives Google context about your business/website and helps the search engine better understand (and display) the data on your website.

7. Create location pages – if you serve multiple cities or areas, we have to make sure you rank in each of those locations. To achieve this, we set up local landing pages for each of your stores.

Location pages provide visitors with business information on a specific store/branch, such as name, address, phone number, store hours, parking information, promotions, testimonials from happy customers and, of course, a Google Map.

8. Improve internal linking structure – optimising your internal linking structure will boost your SEO rankings, as it supports website navigation, assists with information architecture and website hierarchy, and distributes page authority and ranking power among pages.

9. Get backlinks – inbound links (links on other people's websites pointing back to your website) are an incredibly powerful way of boosting your local SEO. Backlinks tell Google you're a legitimate business and increase your domain authority.

There are a number of ways to get inbound links, such as:

• Sponsorships or partnerships, e.g. hosting a community event or promoting something local you love.
• Guest blog posting – offering useful content, e.g. a plumbing company can blog about ways to save water or tips on how to care for plants with soft water.

10. Optimise for voice search – in 2019, Emarketer reported that approximately one-third of the U.S. population uses voice search features. This number is expected to grow, from 117.7 million in 2020 to 122.7 million users in 2021, representing 42.2%.

As smart devices become even more popular – especially in local searches, optimising content for voice assistants will become an increasingly important aspect of Local SEO.

Some of the things we look at in doing this include optimising your content for Rich Answers, using conversational language, targeting long-tail keywords, improving your website's loading time, Mobile SEO and leveraging your Google My Business listings.

11. Track local rankings – after your Local SEO has been completed, it's time to find out how your rankings have improved in your service areas. We make use of a number of paid and licensed tools to track how your pages are shown to your local audience. The insights gained allow us to identify areas of improvement so we can continue optimising your site for local search terms.
What Sets Robot-TXT's Local SEO Apart?
Having optimised many sites for local search, we have a proven SEO methodology, which includes three steps:

1. Discover – during the investigatory stage, we do an SEO Site Audit, which reveals the areas we need to focus on. The information gathered is used to create a Local SEO strategy.

2. Optimise – we put your strategy into action, focusing on all the factors that influence Local SEO – from mobile optimisation, your Google My Business listing and local citations, to link building.

3. Analyse – we analyse your new local-friendly site and measure its SEO performance on an on-going basis. We provide you with SEO reports that outline improvements and areas that still need attention. This takes us back to the Discovery phase.
Final Thoughts
Neglecting to focus on Local SEO could potentially be costing you actual customers who are finding your competitors instead!
If you want better keyword rankings, better visibility in SERPs and more local organic traffic for search terms related to your area, contact us today. We can improve your rankings, drive new visitors to your website and get more feet through your stores with our Local SEO services.