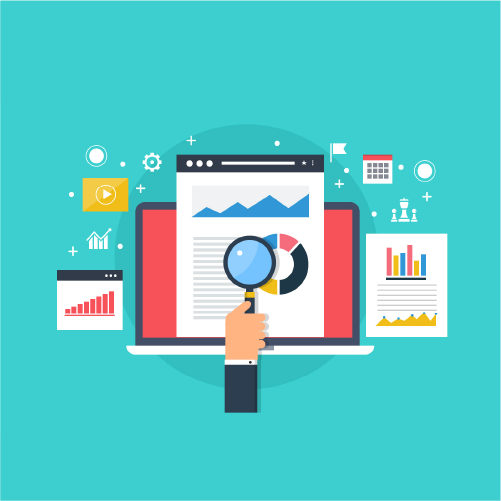 Let our team of SEO and website analysts provide you with insights into your competitors' SEO and online marketing strategy. We'll help you improve your search engine optimisation campaign to outrank your competitors.
What Sets Robot-TXT's Team of SEO Experts Apart?
At Robot-TXT we make use of a proven "flywheel methodology". This cyclical, results-driven work method consists of three phases:
Discover – this is the investigatory stage of our SEO process where we gather information about your business's online presence, your competitors, keywords and content gaps.
Optimise – using the insights gathered in our Competitor Analysis, we develop a strategy for you to outsmart your competitors and strengthen your organic search rankings for keywords that mean the most to your business.
Analyse – we measure improvements in your organic rankings and your rankings relative to your main competitors. We report on our findings and then return to the Discovery phase to determine what can be done to keep improving your rankings.
Why Competitor Analysis is Key?
Why is SEO Competitor Analysis Important?
Competitive Analysis can be used as a roadmap for what you need to do to outperform your competitors and improve your organic search rankings.
What are the benefits of SEO Competitor Analysis
SEO competitor analysis can provide insights into identifying the following:
• Who your main online competitors are
• Where your competitors appear in search engine results
• Which keywords your competitors are targeting
• Which keywords you should be targeting
• Content gaps on your website
• Popular topics for content creation
• The best backlinks to generate high authority links to your website
Steps to Running SEO Competitor Analysis
4 Quick Steps to SEO Competitor Analysis:
Identify Your Main Competitors

Once we have completed your Keyword Research and compiled a list of primary keywords, we can start with SEO Competitor Analysis. We use paid and licensed tools to identify your main competitors.
SEMrush, for example, offers six main Competitor Analysis reports:
• Organic Competitors Report (drawing data from shared organic keyword rankings)
• Advertising Competitors Report (drawing data from shared paid keyword rankings)
• Backlinks Competitors Report (drawing data from shared backlinks)
• Position Tracking Competitors Discovery (drawing data from a custom list of target keywords)
• PLA Competitors Report (drawing data from shared Google Shopping keyword rankings)
• Market Explorer (drawing data from common website categories and audience interest)

Select Pages For Comparison

Once we've identified your competitors, the next step is to compare your business's site to theirs. The best way to do this is to select pages from their site for comparison that are similar to pages you have. This helps us make a fair comparison between your online presence and theirs.

Perform A Keyword Gap Analysis

Keyword Gap Analysis helps us in identifying keywords that drive traffic to your competitors but that you are missing. These keywords can help you reach new traffic and obtain valuable leads. The keywords identified can either be implemented into your existing pages or we can create new custom content for your website to address the keywords. Filling gaps in your content is a great way for you to expand your business's reach and outrank competitors.

Analyse Your Competitors' Content

Quality content is one of the top influencing factors in SEO, since Google ranks sites higher that provide content that is relevant to a user's search and adheres to Google's quality guidelines. Analysing your competitors' content will help us create better content for your own site. We do this by performing a full SEO Content Gap Analysis, looking at the topics your competitors cover and the content pieces and topics that are missing on your site. Competitor Analysis is a great way to help you expand your business, outsmart your competitors and strengthen your position in the digital realm. Learn from your competitors' strengths and exploit their weaknesses. Contact us and start your competitive analysis strategy today.