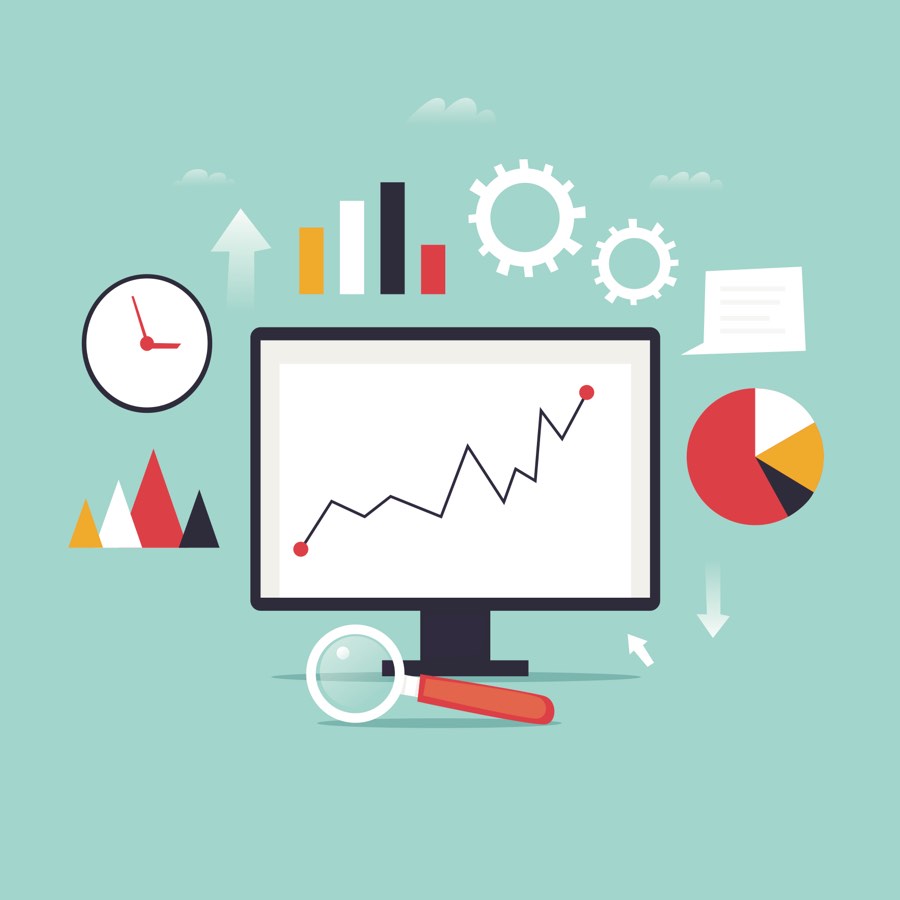 What Sets Robot-TXT's PPC Specialists Apart?
When it comes to our PPC Services, we make use of a cyclical "flywheel methodology". It's a results-driven work method that consists of three phases:
Discovery – during the initial stage, we lay the groundwork by connecting your Google Ads and Analytics accounts.
Optimisation – we connect conversion tags, import conversions into Google Ads and assign weighted values to each conversion added.
Analysis – we create a performance report that outlines your most meaningful Google Ads metrics, analyse the results and use the insights to further optimise.
The Importance of Analytics and Reporting in PPC
Analytics and reporting are crucial. If you don't know how users have interacted with your ad and landing page, it's very hard to assess their effectiveness and the value you're getting from your ad spend.
PPC reports allow you to:
See which ads are more profitable and put more budget behind those.
See how different audiences engage with your ads and refine your ad targeting accordingly.
Gain enough data on your customer life cycle to be able to segment your database and personalise your ads for each marketing funnel phase.
Create PPC remarketing lists to advertise to people who've already visited your site.
Want to run effective PPC campaigns with data-driven insights? Get in touch and let's get started with a Google Ads Account Audit.
How We Analyse and Report on Your PPC Campaigns
Whether you are interested in PPC for business-to-business (B2B) or PPC for business-to-consumer (B2C), you need to know how your PPC campaigns perform. This will allow you to make informed decisions when optimising them and ensure you're getting the best return on ad spend.
We do this by following these steps:

We connect Google Ads and Analytics (Universal and GA4)
The first step in setting up your PPC account for reporting is linking your Google Ads account to your Google Analytics account. Using the combined data of these tools, we'll get more granular data. Not only will we be able to see how users interact with your PPC ads (ad impressions and clicks), but we'll also see how they complete the goals on your site.

We connect the Google Ads conversion tag
Google Ads conversion tags track what happens after a customer clicks on your ads. This may be anything you've set as a goal – whether it's a purchase, whitepaper download, newsletter signup, a phone call, or an app download. When a customer completes an action that you've defined as valuable, the data on these customer actions are automatically drawn into your Google Ads reports.

We connect the conversion linker tag in Google Tag Manager
Conversion linker tags help measure click data (conversions) effectively. We deploy a conversion linker tag on your ads' landing page so that when a site visitor takes an action that we've tagged as a conversion, that conversion can be associated with the click that brought the visitors to your site.

We import conversions into the Google Ads platform
Importing your Google Analytics conversions into Google Ads allows us to see your Google Analytics conversion events as conversion actions in Google Ads.
By importing conversions, we can:
Access conversion data related to your Google Ads clicks.
Enable Smart Bidding – one of Google's automated bidding strategies, to optimise bids with the goal of increasing conversions and lowering costs.

We assign weighted values to each conversion added
With conversion tracking, we can assign different values to each conversion. This is important since some conversions are worth more to your business than others.
A weighted value is the average value of a particular conversion, which is calculated by taking different levels of relevance and importance in relation to your business into account. By assigning weighted values to each of your Google Ads conversions, we're able to see the total value driven by your advertising. This, in turn, allows us to identify and focus on high-value conversions.
We use Google's conversion value rules to apply a multiplication factor to conversion values that relate to your business. We can also adjust values for conversions based on geographic location, device and audiences in real-time.

We create a PPC report and analyse the metrics
The data of your Google Ads is presented in an easy-to-digest report, containing a performance dashboard with the most important metrics viewable at a glance.
We analyse this data to get a better understanding of your audience, your ad and landing page performance, and ROI. Using this information, we can make informed decisions on how to further optimise your next campaign.
Analytics and reporting are a vital part of PPC campaigns. If you'd like to run effective, data-driven paid search and display campaigns, contact us. With our PPC analytics and reporting services, we can help you get a higher ROI on your pay-per-click campaigns.