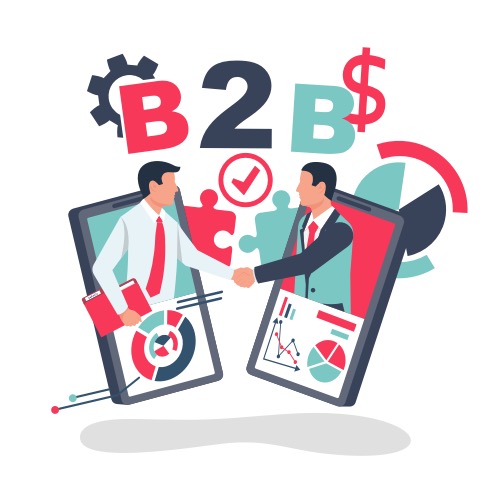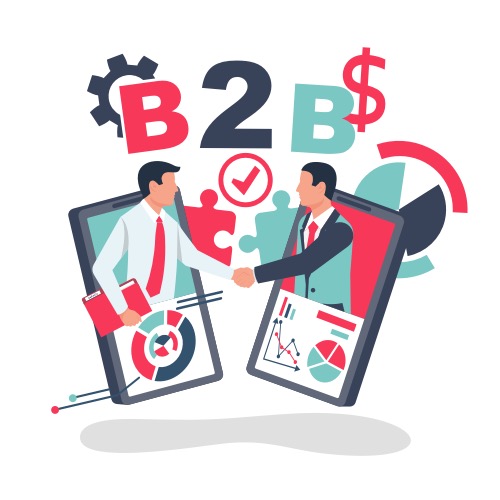 More About B2B Paid Search
• What is business-to-business paid search?
• How do B2B market characteristics relate to PPC?
• The benefits of B2B PPC marketing
• 5 Results-driven B2B PPC tips
• Conclusion
How Do B2B Market Characteristics Relate to PPC?
PPC advertising is a very effective marketing avenue, but it's especially useful for B2B companies. This is because businesses often have fewer direct engagement channels than B2C.
PPC is an effective way to generate B2B leads because it allows businesses to target their advertising to people who are already interested in what they have to offer. However, with B2B, as opposed to B2C, the primary goal is to reach the executive leaders and crucial decision-makers within your target industry.
What is Business-to-Business Paid Search?
Business-to-business paid search refers to pay-per-click (PPC) advertising on search engine results pages such as Google and Bing. This form of digital marketing allows businesses to target and bid on certain keywords in order to appear at the top of search results when users type in those targeted keywords.
What makes this form of advertising so effective, is the fact that the ads are served to people who are actively searching for a business, product or service that's related to your business. An added advantage is that paid search ads work on a pay-per-click model, meaning you only pay when someone clicks on your ad.
Essentially, pay-per-click ads allow B2B companies to target the exact target audience they want to attract in their niche industries, at a more reasonable price.
The Benefits of B2B PPC Marketing
If you are looking for a type of advertising that won't drain your marketing budget but will produce excellent results, PPC marketing is an excellent avenue. It's flexible and can give you online results in a matter of days. Here are some of the main benefits you can see from a B2B PPC advertising campaign.
Increase visibility where it matters
Traditional advertising media such as newspapers and magazines allow businesses to advertise nationally to a mass market, from which you typically only get a small percentage of quality leads or business.
One of the biggest benefits of PPC marketing is that you can give your business better exposure where it matters. Through careful targeting, you can ensure that you only reach relevant, in-market B2B audiences, which means less ad budget wastage and a higher ROI.
PPC is inexpensive for businesses of all sizes
PPC campaigns are relatively inexpensive, which makes them accessible to all types of businesses – whether you are an entrepreneurial venture capital start-up or a large multi-national enterprise. And since you are only targeting an audience that is most likely to respond to your advertising, your PPC budget can go much further.
You are on a level playing field with competitors
When it comes to traditional advertising media, small businesses have always had a hard time competing with bigger brands in terms of marketing. After all, most large businesses have internal marketing teams with large monthly marketing budgets, often larger than what most small businesses spend in a year.
With PPC advertising, the playing field is more level, since the success of a campaign does not only rely on budget, but also on relevance and ad quality, for example. This means that, with careful keyword selection and smart bidding strategies, small businesses can potentially get just as much exposure as the larger business.
Want to learn how to get the best performance from your B2B PPC ads? Discover our 5 PPC copywriting secrets for high-performing ads.
Real-time tracking and optimisation
With PPC ads you can see clicks in real-time, allowing you to not only track the success of the campaign but to optimise it on the go for more conversions and better results.
By looking at metrics such as the most clicked keywords, or the types of ads generating the most clicks, you can optimise your strategy for more conversions (B2B PPC conversion rate optimisation). This will allow you to increase:
The percentage of users who click on your ads, and
Who perform the desired action after clicking on your PPC ads.
Depending on your PPC goals, a conversion may be a completed contact form, a request for a free trial or a purchase. By tracking and optimising your PPC campaigns, you can win real estate on Google Search and earn more clicks at a lower price.
Near-immediate results
Unlike most traditional marketing media, a pay-per-click campaign will deliver results in a relatively short period of time. Businesses can generate leads and get conversions in a matter of days.
Need help in planning a PPC strategy that will deliver real results? Get in touch.
5 Results-Driven B2B PPC Tips
B2B PPC marketing is all about generating leads cost-effectively, closing more deals and ultimately boosting your business' profitability. That's why it's important to have the right B2B PPC strategy in place so you can get the most of your advertising spend. Here are our top four PPC tips for B2B companies:
Conclusion
Pay-per-click advertising can be a great way to generate leads for B2B companies. It's important to remember, however, that the leads generated may not be ready to purchase immediately. That's why you should have a solid lead nurturing strategy in place to guide leads from the top of the sales funnel, through the middle of the funnel, and towards the bottom of the marketing funnel where they'll be ready to convert.
If you want us to skyrocket your digital marketing results, reach out to find out more about our high-impact, cost-effecting PPC advertising methods. We can help you establish dominance for industry-related keywords and get your business in front of the right audience.