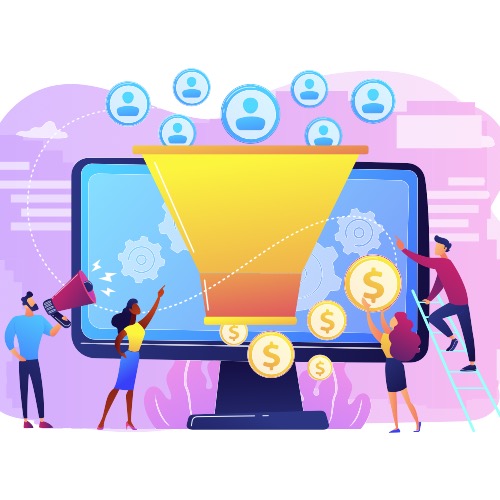 More About Bottom-Funnel Marketing
What is Bottom-Funnel Marketing?
Bottom-funnel marketing, also known as lower-funnel marketing, or bottom-of-the-funnel (BOFU) marketing, follows on from middle-funnel marketing and is aligned with the purchase, or decision stage of the buyer's journey. Marketing activities late in the funnel consist of decision-enabling content designed to confirm the buyer's choice and validate their purchase.
Aimed to support the decision-making process, lower-funnel, action-based marketing content is the bridge between mid-funnel concepts geared to evoke desire, and the final purchase. Bottom-of-the-funnel marketing is a key piece of your digital marketing strategy as it's essential – not only in closing the deal, but in making the buyer feel good about their purchase.
The Importance of Bottom-of-Funnel Marketing
By the time a prospect nears the end of the buyer's journey, they've already become aware of their problem and your brand/business at the top of the marketing funnel, have considered the pros and cons of various solutions, and narrowed their choices down in the middle of the sales funnel. Now, in the lower part of the funnel, it's time to guide your audience towards making a purchase with persuasive and product-focused content.
To illustrate the importance of bottom-of-funnel marketing, think about it this way: The results and ROI of the marketing efforts poured into the top- and mid-funnel, essentially come down to the success of your bottom-of-the-funnel marketing content. The tactics you employ in the lower part of the funnel can be the determining factor on whether that nurtured lead converts into a paying customer.
It's therefore crucially important that your bottom-funnel communication is as deterrent- and friction-free as possible, while fully supporting the decision-making and purchase process.
Incorporating a lower-funnel marketing strategy into your overall digital marketing plan, is key to optimising your digital customer journey for conversions – whether it's for a B2C or B2B Marketing Funnel.
Need help in optimising your lower-funnel marketing? Get in touch.
6 Results-Driven Lower-Funnel Marketing Tactics
You have taken your prospects on a journey through the early stages of awareness and interest, and the subsequent desire phase. Now, your potential buyers will complete the journey in the final stage where intent and evaluation, ideally end in a purchase.
At this stage, your pool of prospects is considerably smaller than in the upper section of the sales funnel, yet they are significantly more qualified to convert into paying customers.
Failing to maintain a convincing trail of communication and a consistent flow of messaging towards the bottom of the sales funnel may lead to the loss of potential leads, in other words, new business. Hence, it's important to close the sales loop by using the right tactics that will convince your prospects to choose you over the competition.
The following lower-funnel marketing strategies can ensure that the bottom of your sales funnel works well in closing that all-important sale:
PPC remarketing ads


Setting aside a budget for paid advertising in the lower end of the sales funnel is a smart, strategic move. PPC remarketing (also known as retargeting) search ads enable you to reach customers you know have previously interacted with your website or mobile app, and have expressed interest. PPC remarketing is a powerful way of closing a sale, as retargeting audiences are much more likely to convert.

If you need a team of specialists to help you create and manage PPC remarketing ads to achieve maximum clicks, brand awareness and sales at the lowest possible rate, get in touch.

Live product demonstrations


Taking your prospects through your products or services at execution level with the aid of audio-visual media, will help make them feel comfortable while evaluating your product. Live product demonstrations should ideally cover all solution points and possible reservations or pain points. In order to drive home the value of your offering, it's a great strategy to include case studies or testimonials.

Web conference Q&As


The more questions from prospective clients you can answer, the higher the chance of converting them into loyal customers. Q&A sessions in the form of web conferences are a great follow-up to live product demonstrations or webinars. Here, you can use the main talking points of the previous interaction as starting point before taking on questions and going into more detail.

It's a good idea to record the session so that any unanswered question can be covered later, or the session can be shared and analysed internally. To make the web session more productive and interactive, use screen sharing options, online whiteboards, and other collaborative features of your web conferencing tool.

Promo codes


A narrowed-down audience at the bottom of the sales funnel is in a buying mindset. Hence, offering them a discount on a product or service they're already considering, may be just the tactic to persuade some of them to convert. For example, if your web analytics show that a potential customer has visited your website and added an item to the cart without checking out, you could get the sale by sending them an email with a discount code on that product.

Sales representatives


While B2C customers may never interact with a sales person to complete a transaction, B2B companies typically work with sales representatives in the lower end of the funnel. This is especially effective for leads who have specific questions.

The one-on-one attention offered by a sales person goes a long way in putting specific inquiries and concerns to bed that could convince a hot lead to convert.

Emails


Email-marketing campaigns can take a number of formats. For the bottom of the funnel, emails should be focused on making a sale. This is where you can share limited-time promotional offers or discount codes in order to persuade your audience to convert.
Lower-funnel emails can also be used to address specific pain points that you've uncovered with post-demo surveys in the middle part of the sales funnel.

It's important to note that the customer journey doesn't end once you've converted a prospect. The fifth phase in the B2B marketing funnel is loyalty. This means that you need to continue communicating with your customer in order to ensure you retain their business. Aside from the all-important welcome email that acknowledges them as a new customer, you need to keep your customers' interest alive through regular communication. Whether it is an email with useful information that clicks through to a relevant blog article, an upsell- or special promotional offer, or an announcement of a new product or service.
Conclusion
By incorporating top-of-funnel marketing tactics, mid-funnel marketing, and bottom-funnel communication into your overall digital marketing strategy, you can be more relevant to your customers, develop a fuller picture of your marketing's overall effectiveness, and generate more value from your marketing spend.
The bottom of the sales funnel is the last chance to make a final impression on your prospects before they make a decision. Since the competition to get the sale is fierce at this stage, and you often don't have much time to convince your prospects, it's crucial to nail your lower-funnel marketing.
If you need assistance with bottom-of-the-funnel marketing, reach out to discuss your goals. We can help you convince your prospects to choose you over the competition and grow your business.