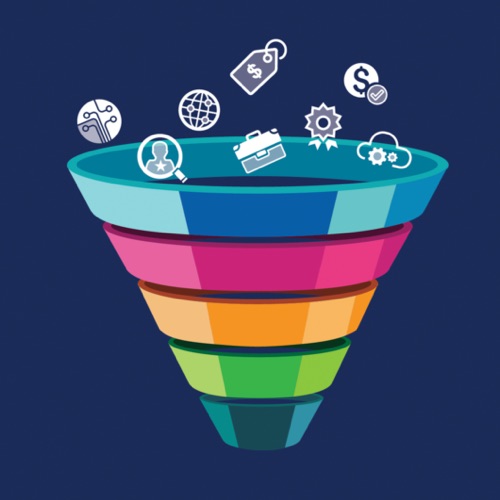 More About Mid-Funnel Marketing
• What is middle funnel marketing?
• The importance of middle-of-funnel marketing
• 10 Mid-funnel marketing tactics
• Conclusion
What is Middle Funnel Marketing?
Middle funnel marketing, also known as middle-of-funnel (MOFU) marketing, follows on from upper funnel marketing and is aimed at establishing extended engagement and trust-based relationships with your captured leads.
The middle part of the B2B marketing funnel aligns with the interest (consideration) and desire (evaluation) stage of the customer journey. This is where your prospects start weighing up the pros and cons of using your product or service over that of the competition. Hence, the main objective of middle funnel marketing is to nurture your leads by communicating your competitive advantage, in order to convince them to choose your product.
Mid-funnel, solution-based marketing content supports research and evaluation. It's the bridge between high-level concepts geared to raise awareness in the upper part of the buyer's funnel, and the final purchase. Middle-of-the-funnel marketing is a key piece of your digital marketing strategy as it aligns your prospects' needs with your offerings while building trust.
The Importance of Middle-of-Funnel Marketing
Digital marketing has traditionally been siloed into the upper and lower part of the consumer journey. This means that the middle part of the funnel – the point when consumers are exploring and evaluating their buying options – has often been overlooked.
Inspired by research into the "messy middle" of the purchase journey, Google discovered that they could attribute 16 times more sales to the previously underused channels in the mid-funnel.
Incorporating a middle-of-funnel marketing strategy into your overall digital marketing plan, is key to optimising your digital customer journey.

Need help in optimising your mid-funnel marketing? Get in touch.
10 Mid-Funnel Marketing Tactics
Mid-funnel marketing occurs after your target audience has become aware of your brand. At this stage, your leads have been engaging with your content and are curious about what you have to offer.
Now that your prospects are interested and willing to learn more about your business, it's time to serve them content with a little more meat on the bone. Here, the aim is to provide your prospects with more in-depth information around their specific area of interest, and about the value they'll receive when they become paying customers. This way, your prospects will see you as the expert in your niche that can provide the optimal solution to their problems.
Mid-funnel content is usually educational, entertaining, interactive, and highly targeted.
Here are a number of strategies to build a successful middle funnel marketing campaign:
How-to articles and instructional content


Now that your prospects have seen your website and read your blog posts in the upper part of the marketing funnel, they need further proof that your business is trustworthy. An excellent way to do that is through instructional and educational content that establishes your business as an expert in your niche.

When it comes to educational content, it's best practice to include relevant outbound links to high-authority sources. Aside from helping you establish credibility and gain your prospects' trust, this is also important for SEO and in building your website's E-A-T (Expertise, Authoritativeness and Trustworthiness).

Examples of instructional type of content you can include in your middle funnel marketing campaigns are:
• FAQs
• Fact sheets
• Checklists
• How-to videos
• Podcasts

In essence, you can use anything that helps answer your prospects' questions. Content that falls within this category builds trust and guides your prospects further down the sales funnel.

White papers and research reports


Although often also used as upper funnel marketing tools, white papers are very effective mid-funnel marketing assets, especially when they're used as gated content. Giving your prospects access to valuable information in return for their email address, lands them a spot on your mailing list. In addition, in-depth white papers do a great job of positioning your company as an authoritative and credible player in your industry.

Case studies and customer testimonials


Today's customers have a lot of information at their fingertips. If they've never heard of your brand or business, they'll likely search for social proof to see if your product or service delivers on its promise.

Case studies and customer testimonials are great ways of reassuring potential customers about the quality of your offering. These can be published on your website, or included in your mid-funnel email marketing campaigns. This way, your hot leads will be able to make informed decisions about their purchase.

Google reviews


This strategy ties in with the one above. Google reviews are another great way of providing proof of the quality of your service. Building up a good rating on Google reviews takes time. One way to speed up the process is to reach out to your existing customer base and ask them to rate your products or services on Google.

Product comparisons


At this stage of the buyer's funnel, your prospects are most likely convinced they need a product, but they're unsure about which one they should get. This is why they'll want to evaluate and research similar products or services in your niche to ensure that they're getting the best value for money.

You can embrace this behaviour by aligning your content with your users' search intent with the help of product comparison articles. Focus on features, price and value, and highlight why your offering is best. This approach will help you move your prospects to the bottom of the marketing funnel.

Product guides


This type of marketing collateral is an excellent way to resolve potential doubts or concerns before your customer makes the final purchase decision. Product guides list essential product details that help buyers make a purchase decision, such as product descriptions and features, availability and price. You can also include ratings and reviews – this will give your prospect a complete picture of what they're getting.

While honesty and transparency are key, you're still in control of your content. Therefore, ensure you highlight your strengths and emphasise your unique value proposition.

Cost calculators


This is a great mid-marketing sales tool as it helps your potential customer determine the best option from a cost perspective. Cost calculators are especially useful in the B2B marketing funnel where expenditures tend to be larger and purchases are more calculated and often subject to approvals.

Webinars or events


Your potential customer will most likely read blog articles, white papers and case studies, all of which are excellent mid-funnel marketing strategies. However, they might need a more personal approach to drive home the sale. Webinars or events – where an actual human validates their wants and needs – can make them feel understood.

When used as mid-funnel marketing content, webinars are typically short video sessions that walk the viewer through a pain point they're experiencing, with the final few minutes utilised as the sales pitch.

Webinars are also great for getting experts in your field to share in-depth industry research and insights. This is the type of content that can help establish you as a thought leader.
Another great way of utilising webinars is for product demos. Here, you can give your audience a walk-through of your software, for example, and talk about its various functions.

Emails


If you have captured your prospects' email addresses through gated content in the upper part of your sales funnel, now is the time to nurture your potential customers with targeted emails.

Mid-funnel email campaigns can take a number of formats. You can, for example, send out social proof themed emails with customer testimonials, or you can create curated product emails.

Keep in mind that middle-of-the-funnel emails should not be focused on making a sale. If you push your products too hard, you run the risk of recipients unsubscribing. This is where a softer approach will work, like seasonally-themed collections or lists of bestsellers. Ultimately, the aim is to give your audience helpful guidance and useful information rather than urging them to buy.

Free demos


Are often offered for complex software-as-a-service (SaaS) products that people need to try out to truly understand. Allowing your prospects to try your product out before spending money on it, is an excellent way of alleviating their concerns and showing them your product's specific features that can solve their unique pain points.

You can make the most of this marketing strategy by sending out reminder messages before the demo, and after the demo, as well as additional communication with useful information, testimonials, case studies, helpful links and other content that will remove any barriers to buying.
Conclusion
Effective mid-funnel marketing can make or break your buyer's journey. Generating leads and pushing hard-sell messages is simply not going to lead to high-quality customers. This is why it's important to implement highly targeted middle-of-the-funnel marketing tactics that build trust and convince your leads that your product or service is the best solution for their needs.
If you need assistance with mid-funnel marketing, reach out to discuss your goals with our specialists. We can help you nurture your leads and get the to the stage where they're ready to convert.