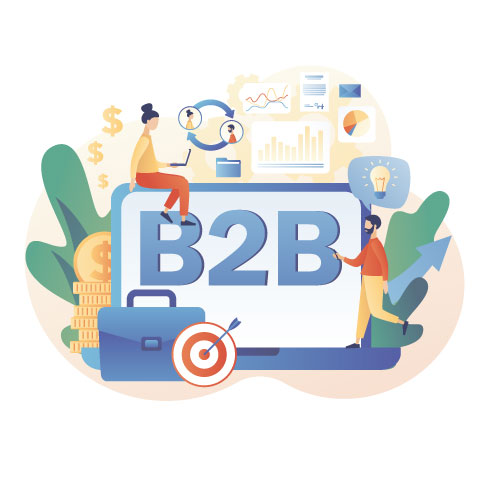 B2B SEO Trends for 2023
SEO Trend 1: AI-Generated Content
Artificial intelligence (AI) has revolutionised many industries, and it is increasingly being used in content creation and SEO. There is a dynamic synergy between SEO and AI . B2B companies can leverage AI-powered tools to generate content ideas, optimise headlines, and even create basic content drafts.
While AI can assist in streamlining content creation processes, it's important to maintain human oversight. This will ensure that the content aligns with the company's brand voice and objectives.
SEO Trend 2: Voice Search
According to research conducted by Oberlo, 50% of the US population use voice search daily. The same research shows that 71% prefer voice search to typing.
Juniper Research predicted that voice assistant transaction values are expected to grow by over 320% by 2023.
This makes optimising for voice search particularly noteworthy in terms of an SEO trend for 2023.
To stay ahead of the curve, B2B companies need to optimise their content for voice search queries in 2023.
You can achieve this by:
Using conversational language in content
Using localised long-tail keywords
Answering specific questions related to their industry
Voice search optimisation can help businesses capture a larger audience and improve their visibility in search engine results pages (SERPs).
SEO Trend 3: Visual Search
Visual search is another emerging trend that B2B companies should pay attention to. Internet users can now upload pictures directly in Google searches. This eliminates the need to know the product name when looking for specific items.
Visual content should be optimised with descriptive alt tags, relevant captions, and schema markup (also known as structured data). This can improve visibility in image search results and attract potential B2B customers.
Businesses can also leverage other visual elements such as infographics and videos. Optimise YouTube videos by using keywords in file names, titles, descriptions and tags.
SEO Trend 4: Mobile Optimisation
Mobile SEO has been a crucial SEO factor for several years, and it continues to be a priority in 2023.
The majority of internet users access content through mobile devices. In fact, a Google research report from 2017 has indicated that 50% of B2B search queries were made on smartphones. It was expected that the figure would grow to 70% by 2020. That figure is likely even higher by now.
B2B companies must ensure their websites are mobile-friendly. But what does this mean?
Mobile pages should load quickly and provide a seamless user experience. Websites should have a mobile version with large buttons, clear form fields and limited content.
This optimisation is essential not only for user engagement but also to align with search engine algorithms. Google now prioritises mobile-friendly websites in their rankings. Mobile optimisation not only increases on-page engagement but also contributes to higher search engine rankings.
SEO Trend 5: Content Clusters
Creating and optimising content clusters, or topic clusters, is an effective strategy for building topical authority and improving SEO performance. B2B companies can optimise content in pillars that covers a broad topic. Pillar content can then be developed with supporting content that dives deeper into specific subtopics.
By interlinking these related pieces of content and employing various types of content strategies, businesses can signal their expertise and relevance to search engines. This comprehensive approach to content optimisation will ultimately help to improve their rankings.
SEO Trend 6: Google E-E-A-T
E-A-T (Expertise, Authoritativeness and Trustworthiness) has been key in the organic ranking of pages for quite some time. But it has become even more important with Google's recent update to their Quality Rater Guidelines (QRG) for search. They have introduced "Experience" in the popular acronym, now referred to as E-E-A-T.
What does this mean for B2B SEO in 2023 and beyond?
Now more than ever, B2B companies need to establish themselves as authoritative and trustworthy sources in their respective industries. They can do this by consistently producing informative, well-researched, high-quality content that illustrates their expertise. This way, they can enhance their credibility, which will ultimately positively impact their search engine rankings.
SEO Trend 7: Structured Data
Structured data plays a vital role in enhancing search visibility and improving click-through rates. Structured data is what lets content appear as featured snippets in search results.
Featured snippets, referred to as "Position Zero" results, appear in a concise boxed format between the top paid ads and the first organic search results.
Featured snippets typically include "how-to" guides, brief definitions, and numbered lists. If your webpage offers valuable structured content that aligns with commonly searched queries, it stands a good chance of being featured.
B2B companies can leverage schema markup to provide search engines with additional context about their content. This may include product details, pricing, ratings, and reviews.
By implementing structured data, businesses can enhance the visibility of their listings in SERPs, making them more appealing to potential B2B customers.
Conclusion
B2B companies need to stay updated with the latest SEO trends to position themselves as industry leaders and achieve long-term success in the dynamic world of digital marketing. By embracing these SEO trends, businesses can enhance their online visibility, attract relevant traffic, and generate quality leads. If you want to find out more about our B2B SEO services, get in touch. Or explore our SEO packages to see the value we can deliver for your business