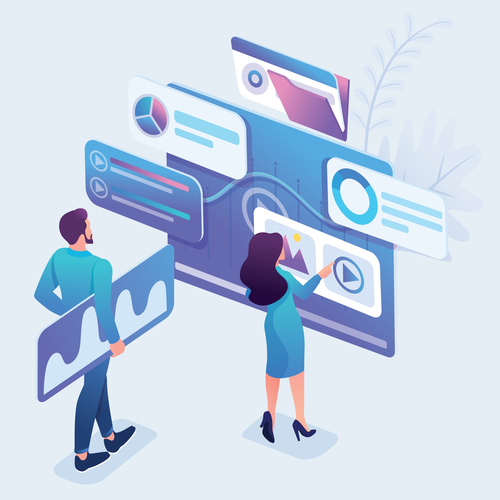 Contact us today and let us provide you with high-quality content that appeals to your target audience and that's optimised for search engines.
What is SEO Copywriting?
SEO copywriting is about creating compelling and valuable content that targets specific keywords your audience uses when searching for products or services like yours. SEO content should answer your target audience's questions and offer insights to relevant topics. This increases the authority and relevance of your content and improves its ranking potential in search engines for your targeted keywords.
What Sets Robot-TXT's SEO Copywriting Process Apart?
 At Robot-TXT we make use of a proven "flywheel methodology". This cyclical, results-driven work method consists of three phases:

1. Discover – this is the investigatory stage of our SEO copywriting process where we get to know your business and evaluate your online presence. Keyword Research uncovers the phrases and keywords you should be ranking for, while a Content Gap Analysis helps identify topics that are sure to attract the right audience and improve your keyword rankings.

2. Optimise – using the data from our Discovery phase, we develop a content strategy around key topics and create fresh content for your site that will draw and delight new visitors and improve your site's authority.

3. Analyse – we measure and report on your organic rankings and traffic. Using this data as a guide, we return to the Discovery phase to continue finding new ways of improving your SEO performance through quality content.
Why is SEO Copywriting Important?

Boost your search rankings – along with a combination of other tactics, SEO content can help you claim more prominent spots in search engine results pages (SERPS). This is important since these spots claim the majority of attention and clicks.

Gain credibility and authority – informative, well-written content pieces make your website more trustworthy and professional. This type of content not only attracts more users, but also has the potential of acquiring backlinks (incoming hyperlinks from other web pages) from people who want to reference your articles.

Save money – over time, great content can help boost your organic search rankings, which means you'll be getting more free traffic and won't have to spend so much on paid advertising to attain qualified visitors who are ready to convert.
Best Practices when Creating SEO Content

We implement SEO best practices throughout our content creation process with the aim of pushing your content to Google's top search results and increasing your traffic.
Keyword research

The first step to creating quality content for your site is finding keywords that are both relevant to your offering and that are used by people searching for products or services like yours. SEO Keyword Research helps us identify search terms that are going to produce engagement, leads and sales.

Content Gap Analysis

After we've identified the keywords and phrases you should be ranking for, we need to ascertain whether there are any relevant topics that your website isn't addressing. A Content Gap Analysis guides us in creating a content plan that will ensure the information and articles on your site are formed around the right topics.

Offer a unique perspective on topics

With so many sites that compete for your target audience's attention, it's important for you to offer a unique angle on the topics you are covering. In order to do this, we research and review competitor pieces and find ways to make your piece not only different, but also better. By offering eye-catching and interesting content, you will not only build a loyal following with visitors that keep coming back for more, but also have the potential to earn valuable backlinks to your articles.

On-going content creation

Creating and publishing high-quality content on a regular basis is an important part of any SEO strategy. This is because Google values freshness as a ranking factor. To ensure that your content is aligned to current search trends, we can tailor an on-going content strategy for your business. This is a highly effective way of growing audience engagement, developing your brand presence and driving sales by being highly visible in organic search results.
Aside from writing new content, we can also attain additional SEO wins by updating out-dated pages with new keywords and information.
SEO Copywriting is no doubt a sound investment for your online business. High-quality content ranks better in Google, connects with customers, builds trust with your audience, generates leads and improves conversions. Contact us to find out more about our professional SEO copywriting services.