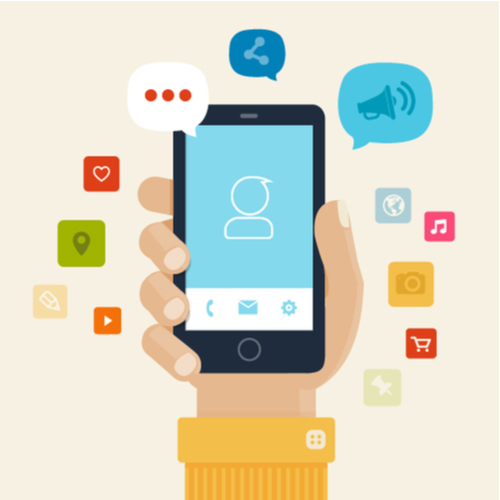 What is Mobile SEO?
Mobile SEO is the process of improving the experience of visitors who access your website from mobile devices such as smartphones and tablets. This process helps websites rank higher in search engine results pages (SERPs), which increases organic traffic.

Google is already favouring mobile-friendly sites. In July 2020 the search engine giant announced that they've "enabled mobile-first indexing for most currently crawled sites, and enabled it by default for all the new sites." The algorithm update, nicknamed Mobilegeddon, will undoubtedly have a major impact on sites not optimised for mobile going forward. If you have not invested in Mobile SEO yet, now is the time to do so.
What Sets Robot-TXT's Mobile Search Engine Optimisation Process Apart?
We've done Mobile SEO on many sites, so we know what steps need to be taken to improve your mobile-friendly score. We follow a proven SEO methodology, which includes three steps:

1. Discover – in order to determine what modifications need to be made to your site, we start with an SEO Site Audit. Based upon our findings, we'll develop an SEO strategy to improve mobile user experience and boost your search engine rankings.

2. Optimise – we put your SEO strategy into action. Our SEO specialists consider all of the factors that influence user experience on mobile, from optimising images, leveraging browser caching, reducing redirects, rewriting code to reduce file size, to site design and structured data.

3. Analyse – we analyse your new mobile-friendly site and measure its SEO performance on an on-going basis. SEO reports provide a benchmark for success, help us measure improvements and identify areas that still need attention. This takes us back to the Discovery phase.
Why is Mobile SEO Important?
Mobile optimisation not only ensures better visibility in SERPs, it also ensures a quality mobile user experience by taking elements like site design, site structure and page speed into consideration.

Here are some of the reasons why Mobile SEO is such a crucial part of your SEO strategy:

More users use their mobile devices when searching online – recent statistics show that 54.61% of users use mobile when browsing online, while 42.63% use desktop and 2.76% use tablets. With the great ease of use and portability of mobiles and smartphones, mobile usage is only bound to increase. The only way to be competitive in your market is to ensure your site caters to the millions of mobile users.

Online experience influences your brand image – the importance of a positive user experience on mobile cannot be ignored. People who have a negative experience on mobile are 62% less likely to purchase goods or services from that site in future. Offering a seamless mobile experience is a sure way of increasing brand trust and ensuring continued loyalty and support.

Mobile eCommerce is up and expected to continue growing – according to estimates, retail eCommerce sales reached $2.3 trillion in 2017 with the mobile share accounting for 58.9%. In 2021, mobile eCommerce is expected to make up 72.9% of eCommerce sales, which is almost three-quarters. If you have your content and store optimised for mobile, users who are shopping for products or services like yours will find your business more easily and be more likely to become customers.
How We Optimise for Mobile
Improve site speed – page load speed is an incredibly important metric in Mobile SEO as it affects bounce rate (when the visitor leaves right away). According to Google research, the probability of a bounce increases by 32% when loading times increase from one to three seconds. A loading time of five seconds can push that probability as high as 90%.

To ensure your mobile users don't get impatient and leave right away, we improve your site speed by:
• Reducing redirects
• Compressing and optimising images
• Caching your web pages and enabling browser caching
• Minifying CSS, JavaScript and HTML (rewriting code to reduce file size)
• Leveraging a content delivery network (CDN)
• Eliminating unnecessary plugins

Mobile site design – many mobile users will simply abandon a site because they're out of time or patience. Tiny buttons and links, endless scrolling and unclear form fields can create friction – a barrier to conversion, which often results in abandonment.

Instead of simply compressing and slightly rearranging your content, we approach Mobile SEO by designing with the mobile user in mind. This means designing your entire experience for smaller screens and the way in which users navigate sites on their mobile devices. In doing this, we address elements that don't consider the path of the user's finger, such as things that are too big, too small, too close together and so on.

Structured data – also known as featured snippets, often appear above the paid and organic results on a Google SERP. A rich snippet is a piece of HTML code that gives search engines more context about a page, which allows it to serve a richer search result that's visually pleasing to the user. Rich snippets on SERPs are more informative for users compared to regular search results and therefore gain more clicks.

Concise content – since a user has less physical space when searching with mobile devices, the best practice is to have your content as concise as possible. With thoughtful SEO Copywriting, we ensure your mobile content is to the point without sacrificing important information.

Getting ready for voice search – voice search is the future of mobile SEO. According to research, half of all smartphone users use voice technology, and one-third of those use it daily. One of the ways in which we optimise for mobile voice search is to optimise for answer boxes and featured snippets.
Mobile SEO is an essential part of any successful online business. Mobile-friendly sites rank better in Google, offer a better user experience, build trust with audiences and bring in more conversions. Contact us to find out how our Mobile SEO services can help your business get the most from the growing massive mobile search market.