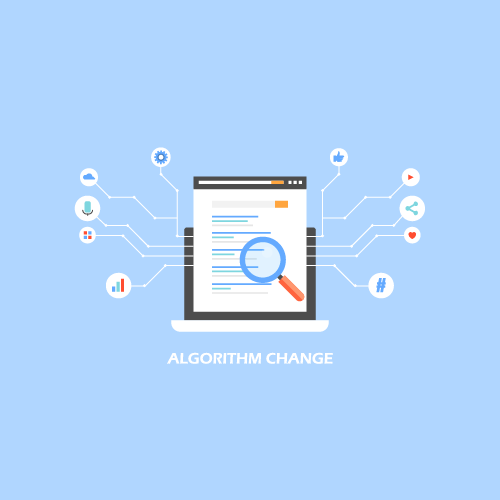 Estimated reading time: 11 minutes
In this post, we will be looking at 11 of the most critical Google algorithm updates of the past decade. We will look into why these updates were introduced, why they are important and what needs to be done to adjust your website SEO accordingly.
Skip to the relevant section
What are Google Algorithms?
Google's search engine algorithms make up Google's ranking systems. The ranking systems determine the search results users see when they type a query into Google.

Google ranking systems are designed to sort through billions of webpages in Google's Search index to find the most relevant and useful results in a fraction of a second. These search results are presented in a way that helps users find what they're looking for.

To give users the most relevant, useful information, search algorithms look at many factors, some of which include:

• The words of the user's query
• Relevance and usability of pages
• Expertise of sources
• The user's location and settings

The weight applied to each factor varies depending on the nature of the search query. For queries about current news topics, the freshness of the content plays a bigger role than it does for dictionary definitions, for example.
Google's algorithms are updated constantly. This is why optimising on-page SEO, off-page SEO, and technical SEO on an on-going basis is crucial for businesses and marketers wanting to rank well, and keep ranking well in organic search results. Need the experts to handle this for you? Enquire about our SEO Services.

Let's look at the most impactful algorithm updates over the last decade.
The Google Panda Update
Date: February 2011

How it works:
Google's Panda update rewards high-quality content that's unique by giving web pages an internal quality score according to how a person might respond to a piece of content.

Elements that the Google Panda update penalises:
• Duplicate, plagiarised or thin content
• Content farms
• User-generated spam
• Keyword stuffing
• Websites with high ad-to-content ratios

How to optimise for Google Panda:
• Run regular site checks for duplicated content, thin content and keyword stuffing, using paid and licensed tools.
• Rewrite low-quality content, using proper grammar, syntax and language.
• Create unique content that offers value to visitors.
• For eCommerce sites where duplicate content is an issue, use canonical URLs. These indicate to Google which version of each page should be prioritised in the search engine results pages (SERPs).
The Google Penguin Update
Date: April 2012

How it works:
The Google Penguin update was designed to penalise black-hat link building techniques. Google defines black-hat link building techniques as "techniques that don't benefit users, where the intent is to look for shortcuts or loopholes that would rank pages higher than they deserve to be ranked".

Before the Penguin update, link volume, whether high quality or low quality, was an important factor in SERP rankings. With the Penguin update, Google aimed to better understand how websites were earning their links. This way, sites are only rewarded for high-quality, trustworthy and relevant backlinks.

The Google Penguin update penalises black-hat link building techniques such as:
• Spam links
• Link directories
• Keyword-stuffed anchor text in inbound links

How to optimise for Google Penguin:
• Monitor your link profile's growth and run regular audits with a backlink checker.
• Add malicious links to a disavow file and submit the file to Google's Disavow Links Tool.
• Follow white-hat link building techniques.
The Google Hummingbird Update
Date: August 2013

How it works:
The aim of the Hummingbird update was to better understand the context of search terms, rather than just taking specific terms at face value.

The Hummingbird algorithm update uses natural language processing that relies on latent semantic indexing and synonyms, to interpret queries and produce high-quality search results that match searcher intent.

How to optimise for Google Hummingbird:
• Expand SEO Keyword Research to include broader phrasing, and similar terms.
• Use tools such as Answer The Public to identify commonly asked questions and expand context accordingly.
• Create conceptual content, as opposed to content that is simply keyword-driven.
• Conduct SEO Competitor Analysis to see what related keywords and search terms your competitors are targeting.
• Use Google Related Searches, Google Related Questions, and Google Autocomplete suggestions to analyse related search terms.
The Google Pigeon Update
Date: July 2014 (USA) / December 2014 (UK, Canada, Australia)

How it works:
Google released the Pigeon update to better align the local search algorithms with the core algorithm. The aim of Pigeon was to treat local search the same as traditional organic search. This, while considering searcher location when displaying SERP results. This meant that users could start searching terms like "best lawyer near me" in both Google Search and Google Maps and get the same search results.

How to optimise for Google Pigeon:
• Register your business with Google My Business. This will allow you to manage how your business information appears on Google SERPs and give your business more visibility for local searches.
• Leverage off-page and on-page SEO tactics to improve Local SEO. This will ensure Google recognises your business's location and other local ranking factors.
• Ensure your location information is consistent across all your web assets. These may include your website, social media accounts, business directory listings, etc.

Want to increase your organic search rankings for local search? Get in touch.
Google Mobilegeddon
Date: April 2015

How it works:
Nicknamed "Mobilegeddon", the Google Mobile update was yet another effort by Google to continue providing the best possible search experience for its users. This update officially added mobile-friendliness as one of Google's ranking signals. Mobile-friendly websites were prioritised on mobile SERPs, while mobile-unfriendly sites were either penalised or removed from the SERPs altogether.

The Google Mobile algorithm update only affected SERP rankings on mobile devices. But since this update, Google has implemented mobile-first indexing. Now, the mobile-friendliness of sites impacts how they rank for every query – whether on mobile or desktop.

How to optimise sites for Mobilegeddon:
• Check your website's Core Web Vitals score and optimise accordingly.
• Do Mobile SEO, focusing on elements such as page speed, usability and structured data
Google RankBrain
Date: October 2015

How it works:
The release of RankBrain took the SEO world by storm. Google regards RankBrain as one of the tree most important ranking factors (along with content and links). It uses artificial intelligence to enhance search results. What makes RankBrain different is, it does not just improve results for the current query. Over time, the algorithm improves search results as it learns about relevancy and searcher intent.

Many SEO experts believe that RankBrain ranks search results according to how users interact with the results. This is probably why your search results page looks different when you search for the same term multiple times.

How to optimise for RankBrain:
• RankBrain requires much of the same optimisations as Hummingbird.
• Spend time to understand what your audience likes to read and create engaging content around those topics.
• Embed videos, images, gifs or any other media content that can help increase engagement.
• Build your website's reputation by obtaining quality backlinks.
• Share your content on social media for greater engagement.
• Focus on the quality of the content instead of keyword density. RankBrain is capable of linking related keywords like "dessert" and "sweet dish". This means that articles might rank for queries related to the core keyword too.
• Increase your click-through rates (CTR) by optimising page titles and meta descriptions. A higher CTR is important for your website's quality score as it lets Google know that your content is relevant.
Google Mobile-First Indexing
Date: December 2017

How it works:
At the end of 2017, Google announced that it would start rolling out mobile-first indexing. Historically, Google's crawling systems have typically indexed the desktop version of a page's content. But as mobile users increased,
Google wanted to prioritise user experience on mobile devices. With the Mobile-first indexing update, Google started crawling and indexing the mobile version of pages (instead of the desktop version) using the smartphone agent.

While this update mainly affects how websites are indexed (as opposed to how they are ranked), Mobile-first indexing still affects organic rankings down the line.

How to optimise for Mobile-first indexing:
• Optimise your site for mobile users using Accelerated Mobile Pages (AMP) markup.
• Implement structured data on both your desktop and mobile versions.
• Use the same metadata on both (mobile and desktop) versions of your site.
• Verify both versions of your site in Google Search Console. This ensures you have access to data and messages for both versions.
• Ensure that your mobile site and desktop site contain the same content. If your mobile site has less content than your desktop site and your site is enabled for mobile-first indexing, you run the risk of traffic loss. This is because Google can't get as much information from your pages.
Google Medic Update
Date: August 2018

How it works:
This update got its nickname from the disproportionate effect it had on sites in the health and wellness industries or Your Money, Your Life (YMYL) pages.

YMYL pages are based around topics that can potentially impact the future health, happiness or wealth of users. These could include shopping or financial transaction pages, pages with medical or legal information, news articles or more.

The Medic update was a push from Google to help improve the identification of high-authority sites with expert content.

How to optimise YMYL sites for the Google Medic update:
Optimising websites for Google's Medic update revolves around "Expertise-Authoritativeness-Trustworthiness" or "E-A-T" for short. This is a concept that comes from Google's Search Quality Rater guidelines. To address these, the following steps can be taken:

• Make sure your site has helpful contact information and customer service pages to improve the trust of your page.
• Improve your online reputation through gaining more positive reviews from customers.
• Continue to create unique content that provides value to your visitors.
• Increase your site's authority by gaining backlinks from other high-quality websites in your industry.
• Create author profiles of the people who write your content and link to any important URLs that can verify their expertise.

Need help with increasing the authority of your website? Get in touch.
Google BERT Natural Language Processing Update
Date: October 2019

How it works:
The aim of the Google BERT (Bidirectional Encoder Representations from Transformers) update was to better understand the language in which people search.

Similar to RankBrain, the update allows Google to understand more of the context and nuance in search queries, while relying less on the use of phrasing or prepositions to clarify questions.

How to optimise for Google BERT:
• Simplify language, keep the tone conversational and avoid overly formal, technical or flowery phrases.
• Optimise on-page SEO elements such as title tags, meta descriptions, H1 and H2 tags, URL structures and alt text for images and videos.
Google Core Update May 2020
Date: May 2020

How it works:
Some of the industries that were most affected by this update include travel, real estate, health, pets and animals, and people and society. Even sites with high domain authority got affected, including Spotify, LinkedIn and New York Post. What's interesting is that many sites that had been updating old content on a daily basis saw an increase in organic traffic. This leads us to an insight that Google placed a high value on fresh content with this update.

How to optimise for the Google Core Update of May 2020:
• Update and improve thin content.
• Fix duplicate tags and meta descriptions.
Google Core Update June/July 2021
Date: June/July 2021

How it works:
Google has announced a two-part Core Update for 2021. The first part – the June 2021 Core Update – began on the 2nd of June, which was followed by the July 2021 Core Update. Websites with thin content, as well as YMYL websites, have been typically negatively affected by this update. It seems that this new update might be focusing more on classic SEO factors, domain age and backlinks. This is why many 'old' pages have been experiencing a boost.

How to optimise for the Google Core Update of June/July 2021:
• The focus is on creating original, quality content that offers valuable information to visitors.
• Use headlines and page titles that provide a descriptive, helpful summary of the content.
• Make sure the content displays well on all devices.
• Make sure the content is error-free and well researched.
• Make sure the content provides added value, compared to competitors' content on similar topics.
Conclusion 
SEO is about providing a better user experience than your competitors. If that's your core focus, you'll find that you'll rank better in SERPs than your competition in the long run.
Need help with SEO? Get in touch. Our SEO specialists keep a finger on the pulse of Google's Core Algorithm updates. We know what needs to be done to give your users a great experience and improve your website's organic rankings in SERPs.