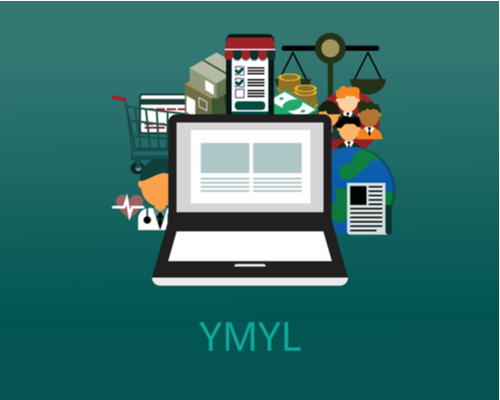 So how do you go about creating search-engine-optimised content for YMYL pages? Here are a number of tips that can be helpful when writing SEO copy for YMYL websites:
Skip to the Relevant Section
Estimated reading time: 4 minutes
What is YMYL?
YMYL (Your Money or Your Life) is how Google refers to web pages that could have real-world effects on users. In other words, content that could have a negative impact on the quality of people's lives if the information contained therein is incorrect.

Google provides the following types of topics as examples of YMYL content:
• News and current events – these may cover topics such as politics, business, technology and science.
• Government, law and civics – topics around legal issues such as divorce, creating a will, child custody, adoption, or content around voting, social services, etc.
• Finance – advice on retirement, investments, taxes, loans, etc. Google pays particular attention to pages that allow people to make a purchase or transfer money online.
• Health and safety – these topics may include medical advice, information on drugs, emergency preparedness, hospitals, the level of danger of an activity, etc.
• Groups of people – any information relating to ethnicity, nationality, race, religion, sexuality, gender identity, etc.
• Shopping – web pages that provide services related to research, particularly those that allow users to make purchases.
• Other – nutrition and fitness, choosing a collage, finding a job, housing information, etc.
When was YMYL First Introduced?
The concept of YMYL content was first introduced when Google released its Search Quality Evaluator Guidelines (SQEG) in 2015.

These guidelines are what Google's human quality raters use to evaluate websites and SERPs. Google's SQEG's contain three golden measures on how web pages are evaluated and how they differentiate low-quality content from high-quality content:

• YMYL (Your Money or Your Life)
• E-A-T (Expertise, Authoritativeness, Trustworthiness), or Page Quality
• Beneficial Purpose
Why Are YMYL Signals So Important?
Google takes YMYL content very seriously because the stakes are so high for this type of content. An YMYL page with inaccurate, deceptive or untruthful advice or information could affect people's lives and livelihood. This can directly impact the user's health, happiness, safety or financial stability.

This is why YMYL content should always be written by experts with the relevant expertise needed.
How Does Google Rank YMYL Content?
Google ranks YMYL content differently than non-YMYL content. In a 2019 white paper titled "How Google Fights Disinformation", Google explained their approach:

"Where our algorithms detect that a user's query relates to a 'YMYL' topic, we will give more weight in our ranking systems to factors like our understanding of the authoritativeness, expertise, or trustworthiness of the pages we present in response."

To adhere to strict standards of trustworthiness and safety, Google scrutinises YMYL content more closely for quality and accuracy. Because of this, it may be more difficult to rank well for YMYL queries.
What does this mean for brands or businesses that cover YMYL topics?

The topics you cover and the keywords you try to rank for should be considered carefully. This will depend on your brand, industry, and goals.

Ultimately, Google is focussed on providing the most trustworthy and relevant search results to their users. So when it comes to YMYL content, the pages that rank well are always up-to-date, factually accurate and helpful.

If you need help with creating high-quality content, we invite you to get in touch.
What is the Correlation Between YMYL and E-A-T?
Where YMYL is based largely on the quality and subject matter of a website or its pages, E-A-T covers three factors that Google uses to measure how much trust it should place in a website. These three factors are Expertise, Authoritativeness and Trustworthiness.

The concept of E-A-T is also defined in Google's Search Quality Evaluator Guidelines. Some topics require higher E-A-T than others. But when it comes to YMYL pages, high E-A-T is an absolute necessity.

Learning how to write E-A-T-friendly content for Google SEO will mean better performance for your YMYL site.
Conclusion
When it comes to YMYL signals, it's important that the content on your site is accurate and trustworthy.
If you need expertise in creating high-quality content for your YMYL pages, we invite you to speak to one of our SEO experts. We can help you set your website up for long-term SEO success.