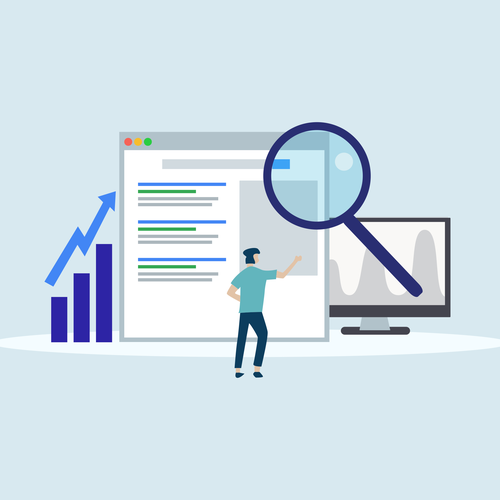 Whether you're looking to optimise your existing PPC advertising or create new a Bing Ads campaign, the PPC specialists at Robot-TXT are ready to help. We specialise in every aspect of Bing Ads management, from planning and tracking setup to content creation and more. We will drive targeted, ready-to-convert traffic to your website.
What Sets Robot-TXT's Bing PPC Specialists Apart?
 At Robot-TXT we make use of a cyclical "flywheel methodology". It's a results-driven work method that consists of three phases:

1. Discovery – this is the investigatory stage where we learn everything there is to know about your business. This could include online performance, competitors, your sales funnel, missing data etc.

2. Optimisation – we tailor your Bing Ads campaigns based on your sales funnel. This is important, since the buyer's phase of your potential customer will determine the messaging of your PPC ads.Awareness – the user becomes aware of the need for a particular service or product.
Research – the user begins researching the desired product. (This phase is great for brand awareness and content articles.)
Intent – the user is ready to make a purchase. Understanding this phase is critical in ensuring your Bing PPC campaigns end up in front of the people who are most likely to convert.

3. Analysis – we look at how we performed against key metrics and report on our findings. We then return to the Discovery phase to determine where we can improve.
Why Use Bing Ads?
 
A sizeable market share – although Google is the search engine marketing leader, Bing still accounts for a large share of the market. It's the second-largest search engine in the US, and, according to Alexa rankings, one of the 50 most visited sites on the Internet. If you are only advertising on Google, you are missing out on approximately 17% of the search engine market on Bing!

A large network – Bing PPC ads are not only displayed on Bing search engine results, but also on Yahoo! and Microsoft Network Partners. Collectively, this network has 9.6 billion searches per month, which is no small number.

It's audience's buying power – research has shown that one-third of the Bing Ads audience has a household income of $100,000/R1,427,264 or more. The Bing audience is also more likely to spend more than other search engine audiences. Bing PPC ads can potentially be highly profitable, especially if you are marketing to an older, more educated audience between the ages of 55 and 64.

Unique advertising features – while Bing's advertising products are similar to Google's, they do offer features Google does not, like ad extensions. Multi-image extensions, for example, allow you to add visual elements to your ad, while structured snippet extensions highlight extra products and services. This is a great resource for retailer or eCommerce websites looking to generate more leads and sales.

If you lack the time, expertise and tools required to run profitable PPC campaigns, contact us to enquire about our Bing Ads Management services. Robot-TXT's PPC professionals will take advantage of the less competitive market on Bing so your business can gain the upper hand in generating leads and retaining active customers.
Robot-TXT has a team of dedicated PPC specialists with years of experience in planning, managing and optimising Bing Ads campaigns in a wide range of industries.
How to Optimise Bing Ads Campaigns
Understanding of your business

Our PPC specialists learn every aspect of your business including:

• Your sales funnel
• Your visit-to-lead ratio
• Your lead-to-sale ratio
• Your competitors
• Your highest-performing keywords
• Your profit margins for each product and service sold

Our understanding of these elements, combined with Keyword Research data, allows us to set bids appropriately and achieve the optimal cost per lead.

Eye-catching design, compelling copy

We design attention-grabbing ad creative with persuasive, keyword-rich copy that suits your brand, speaks to your audience and dominates search engines.

Real-time monitoring and optimisation

We monitor and analyse the performance of your Bing Ads campaign in real-time to find out where we can improve. Fine-tuning your campaigns continuously ensures a high click-through-rate (CTR) and conversion rate (CVR) for your business.
Our desire to make your business our own, combined with years of Bing PPC management experience equals a cost-effective form of advertising with tremendous reach and potential.
If you need a Bing advertising agency, Robot-TXT is your answer to creating the most effective campaigns possible. Contact us to get a free Bing Ads proposal. Our PPC specialists will work closely with your team from the beginning to the end to maximise the profitability of your Bing Ads campaigns.