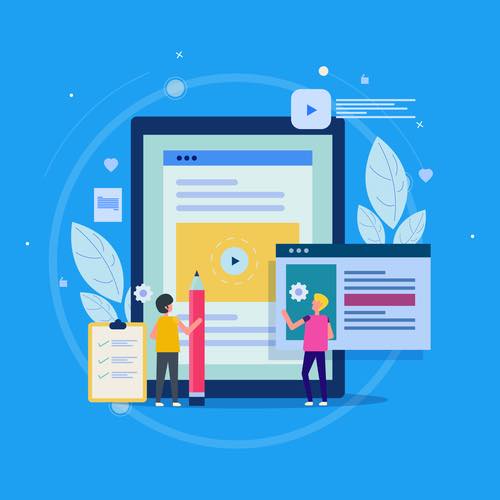 Content Framework and Internal Linking – a Major SEO Trend in 2022
What are Content Frameworks?
A content framework (also referred to as your website information architecture) is an organised blueprint of the information you want to have on your website. The way in which you organise and link your content pieces, underpins your pages' authority flow.

A content framework is applicable to your website's main content, e.g. home, about, services pages, etc. However, it's also relevant when it comes to your website blog.

Drawing up a content framework for your blog is important. This is because, when planned strategically, your website blog can speak to customers in each phase of your sales funnel. It can be a powerful tool in attracting, engaging and converting customers throughout the customer journey.
Why is it Important to Have a Content Framework in 2022?
Having a content framework, together with a sound internal linking structure, is one of the 7 SEO trends we're focusing on for 2022.

In our 2022 SEO trends article, we've predicted that information architecture, internal linking and authority flow will play a significant role in your 2022 SEO strategy. This is as authority amongst competing websites and their pages becomes stronger. 

This insight is backed up by Cardinal Digital Marketing SEO Director and Search Engine Journal author, John McAlpin. McAlpin argues that when it comes to SEO trends for 2022, topic optimisation should be prioritised over keyword optimisation.

He has observed: "Websites that built their framework around creating a page for every keyword are starting to decline in performance, while websites with a well-organised content framework are showing continuous improvements."

Why is information architecture an important SEO trend for 2022? Part of the answer is semantic search. 

Following Google's BERT update in 2019, the search engine aims to not only match search results with queried keywords. It aims to determine the intent and contextual meaning of each search query in order to deliver results matching the user's search intent.

So, by organising information in a well laid out hierarchical order, and highlighting relevance with internal links between content pieces, you can help search engines better understand the context of your content and the relationship of respective pieces. 

All of this supports the endeavours of search engines like Google to serve better search results that are matching search intent.

But there's yet another reason why having a content framework is important. It functions as a guide, or roadmap, that enables you to consistently publish quality content. 

Quality content is the single most important factor in building your website's Expertise, Authoritativeness and Trustworthiness (E-A-T) – the seventh SEO trend on our 2022 list. 

E-A-T is directly linked to your audience recognising you as a trusted source. And since trust is hard to win and easy to lose, it's important to deliver quality in everything you publish.

Not sure where to start? Leave it to our SEO experts!
How to Build a Strong Content Framework for Your Website




Let's look at how to create a content framework that not only supports, but supercharges your SEO strategy for 2022.

1. Define your editorial standards – editorial standards, or goals, define what "quality content" means to your organisation. Defining your editorial standards removes ambiguity and sets a benchmark for content creators when creating SEO content.  

To give you an idea of what this means, here are a list of content standards we regard as important:
Comprehensiveness – ideally, visitors shouldn't have to read another post on a given topic. If written well, your content piece will provide all the information to satisfy the reader and answer their questions. 

Comprehensive content means longer pieces, which ties in with the first trend on our list of SEO Trends for 2022: long-form content that's optimised for search intent. 

Relevancy – there's no point in spending money on creating a piece of content if your target audience does not care about the topic. In order to be relevant as a business, you need to produce content that's relevant to your audience. 


Keyword mapping strategy – content should satisfy both your users, as well as search engines. And this means doing SEO Keyword Research.  

The key here is to find keywords that cover the topic you are writing about, rather than simply aiming to rank for random single keywords.

This goes back to McAlpin's remark that topic optimisation should take precedence over keyword optimisation. Hence, all your keywords chosen, should tie in with the topic.

Accuracy – we cannot emphasise the importance of this editorial standard enough. All the facts and information in a piece of content should be true and accurate. This requires thorough research.

Accuracy is not only important when it comes to your site's Expertise, Authoritativeness and Trustworthiness (E-A-T). It's especially crucial with YMYL (Your Money Your Life) pages that could have real-world effects on users. This is applicable to content in the finance; news and current events; government, law and civics; and health and safety sectors.

Tone of voice – to build your brand identity through content, you need to stick to a consistent tone of voice. Defining your brand's tone of voice means getting to know your audience. Your brand voice has to relate to the people you are talking to. It's also important to let your brand's values come through in the way that you speak. 

Describe your brand in three words and use that as a starting point in finding what you stand for and how you want to come across. 

Now that we've covered editorial standards, let's look at the second step in building a content framework.

Create topic clusters



Developing depth to your content in the form of topic clusters is one of the big emerging SEO trends for 2022.

What are topic clusters?

A topic cluster is a grouping of related pages that collectively covers a broad subject area. The pages within a content cluster provide contextual support for each other. 

Topic clusters are organised in silos with the main, or hub page at the top and supporting pages below.

There are several steps involved in creating a topic cluster. 

Creating a topic clusters starts with identifying a hub page, which will form the top of the silo. 

You can identify a hub page with the following characteristics:
A hub page is the main page for particular topic.
Hub pages often target broad keywords with high search volume. 
These types of pages drive the most valuable traffic. 

Any related pages covering topics that branch off from the hub page will add depth to the cluster as supporting/secondary content.

To use and example of a topic cluster, our 7 SEO trends for 2022 article would be a hub page, with the individual pages that cover each of the seven trends being the secondary layer of supporting content. Each of those pages will also link to more granular information, forming the third layer of the silo.

While existing content can be organised in silos, new content should be planned to follow the same hierarchical structure. And in order to do that, you need to research and plan your topics strategically.

Research and plan your topics




Creating topic clusters involve many hours so you want to ensure it's time well spent. So, before you start creating SEO content, you have to research and plan your topics. 

Topics are built on insights into your target audience. To help you find topics that address specific needs, it helps to create different buyer personas. Buyer personas can help you better understand the needs of your customers, allowing you to do a more efficient job of appealing to those specific wants. 

Another great way of finding topics is through SEO Content Gap Analysis. This will help you fill in the gaps in your content so that more potential buyers can find you and stay on your website for longer. It can also help you avoid pursuing leads who are not suited to your business.

When researching topics, consider the following:
Is it relevant to your audience and relevant to what your business offers?
Is there sufficient search volume for the topic?
Is the topic trending?

When planning content, also think strategically about where you can incorporate multimedia elements. Rich media formats like video and infographics add an additional layer to your content, which makes it more engaging. 

Another advantage of including multimedia into your articles is the fact that Google is working towards serving more visual and query-refining search results with their Multi Unified Model (MUM) algorithm. By including optimised video and images, you can maximise your potential and opportunities to rank for relevant search terms.

Create a sound internal linking structure




Once you have mapped out your topic clusters and published content that covers relevant topics, you need to take your SEO efforts one step further. strengthen their relationship by means of internal linking.

The pages in a topic cluster have a strong relationship with one another. This allows one to create a strong internal linking framework, which helps users (and search engines) find your content.

An added benefit is that having a wealth of authoritative content woven together by internal links is a great way to illustrate your expertise within your field. 

What are internal links? Internal links point from one page to another on your own site. 

Here's why you want to think strategically when it comes to internal links: 
Using internal links will allow Google to regularly discover new content. 
Internal links establish a contextual link between two pages. When used correctly, internal links send a signal to search engines that page A is related to page B. 
A sound internal linking strategy helps to pass authority between your website's pages and ultimately improve rankings. This is determined by an algorithm known as PageRank. 


How does PageRank work? 
If, for example, page A on your site has external links from authoritative sites pointing to it, it will have built up a PageRank score. This authority can then be passed on to page B by way of internal links.

Identifying these "power pages" on your site can help you make the most of the authority coming in, and eventually improve your rankings.
 
There are several best practices in creating an internal linking structure. It boils down to referencing supporting content in your topic cluster.
 
Remember, supporting pages need to link back to the hub page. This helps establish topical relevance and signals that the main page is the most authoritative source.  
Conclusion
Organic traffic remains one of the most valuable sources of leads and customers for businesses. A content framework supported by a sound internal linking structure will be an important part of your SEO strategy in 2022. Remember, rather than targeting high-volume keywords, concentrate on finding the right topics and build your keywords around those.
If you need help in creating an SEO strategy that addresses your individual business needs, get in touch.