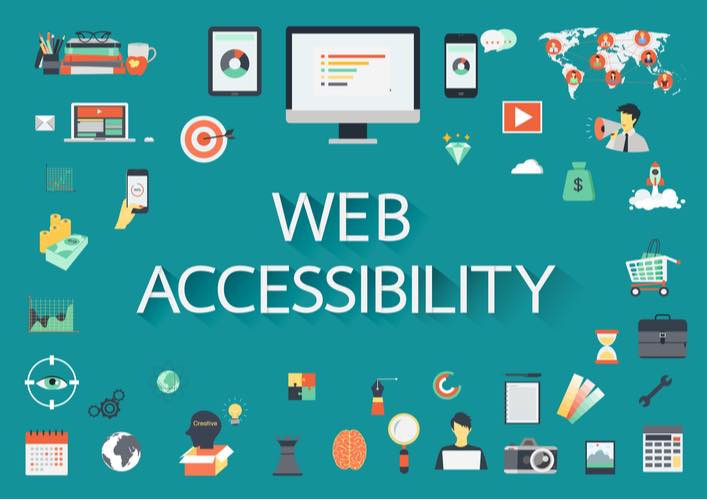 Web Accessibility – an Important SEO Trend in 2022
What is Web Accessibility?
Web accessibility, also referred to as eAccessibility, is the inclusive practice of ensuring that all people can access and interact with websites on the World Wide Web.
 
These people may have:
 
–       Physical disabilities
–       Situational disabilities or
–       Socio-economic restrictions on bandwidth and speed
 
An accessible website is designed to make navigation simpler for those with disabilities and socio-economic restrictions. 
 
Here are two examples of how accessibility features allow uses to engage with search engine content:
 
•      Blindness/vision impaired users – voice search results use featured snippets to respond to voice search queries.
•      Deaf/Hearing impaired users – annotations on videos enable users to read what is said in the featured video.
Why Your Website Needs to Be Accessible to Everyone
Website accessibility is key in building a more inclusive online environment for the digital community. It ensures everyone can experience and enjoy content on the World Wide Web.
 
In fact, accommodating everyone's needs and creating an inclusive experience for every user is considered so important that governments around the world are publishing accessibility requirements. The United Kingdom, for example has a section devoted to why making your public sector website or mobile app accessible is important.
 
Google has also published accessibility guides and resources to help developers in creating websites that everyone can use. At the 2021 Google I/O Developer Conference, new Accessibility features and settings were introduced for Android, together with new ways to help developers create Android products for people with disabilities. This highlights the importance search engines place on web accessibility.
 
In short: making your website content accessible to everyone is not only important due to ethical reasons. It's also important from a business perspective, as you can reach a broader audience.
 
Not sure where to start? Leave it to our SEO experts!
How Does SEO and Web Accessibility Work Together?
On-page SEO best practices and web accessibility guidelines overlap on various aspects.
 
Part of this is because of the similarities between assistive technologies (AT), such as screen readers, and search engine crawlers. Although these technologies are able to read the content of a page, they need extra technical help to understand it to ultimately serve it in the most user-friendly way possible.
 
When implemented correctly, web accessibility features can boost your SEO efforts and improve your site's organic search rankings.
How to Make Your Website Accessible to Everyone
One way we think about high-quality web user experience (UX) is to gage whether users can navigate the site without having to think about it.
 
When implementing web accessibility features, one should aim for a similar level of intuitiveness. That comes from established best practices such as:
Use a simple, efficient, intuitive web design




– think about user experience (UX) when designing your website. Never sacrifice UX for creative designs that are different from the norm.
 
–       Your logo should be positioned on the top left and linked to the homepage
–       Left-align your body copy text
–       Use responsive designs for viewing on mobile devices
–       Ensure pages load quickly, especially mobile pages
 
These UX features directly relate to web accessibility:
–       Straightforward navigation helps users with cognitive impairments.
–       Legible text helps users with visual impairments.
–       Quick load times benefit users who have no access to high-speed WiFi.

While these best practices will go a long way in improving your site's accessibility, there are SEO benefits too:
 
With the launch of Google's Core Web Vitals, and the recent shift towards Search Experience Optimisation, it was made clear that websites with a better user experience will be rewarded in SERPs.  

How does this benefit SEO?
In short: The UX features necessary to enhance web accessibility will ultimately benefit your organic search rankings.
 
While user experience isn't necessarily considered one single ranking factor, many of the factors that affect UX have an impact on SEO.

Use title tags to describe the content of the page




– title tags fall under your website metadata. While they are not visible on the page itself, they are present on two important locations:
–      The search engine results page 
–      The tab at the top of your web browser
 
Title tags are important in web accessibility for a simple reason: They're often the first element of the web page that screen readers read out to users. It's therefore critical that the title tag accurately describes the content of the page.
 
As an example: Accessibility best practices dictate that a page selling Intel laptops should be titled "Intel laptops from Company X," not "Collaborate from Anywhere". 
 
How does this benefit SEO?
Well-optimised, clear, descriptive title tags benefit SEO too. It's one of the primary areas where you can incorporate your target keyword for the page.
 
Using title tags to accurately describe the page content will also benefit search intent. Accurate title tags help users find relevant information that matches their search query.

Use a good header structure to establish content hierarchy




– another type of website metadata, header tags are there to define hierarchical structure of the information on a web page.
 
A thoughtful header structure adds to a good web UX for users relying on a screen reader. It allows them to skip through headers and find the section they want to read.
 
A good header structure entails the following:
 
–       Follows a logical sequence
–       Does not skip sections (e.g. an "H3 does not directly follow an H1)
–       Describes the content below it accurately
 
How does this benefit SEO?
In terms of SEO, using a logical header structure is hugely beneficial. According to Google's SEO starter guide, they want content to be broken up into logical chunks or divisions, and header tags  helps you achieve this.
 
Need someone to take care of this for you? Leave it to our SEO specialists!

Use alt text to describe images




– alt text (or the alternative text tag) is one of the most important accessibility features.
 
The Web Content Accessibility Guidelines (WCAG) stipulate that:
"non-text content that is presented to the user has a text alternative that serves the equivalent purpose."
 
Like other types of metadata, alt text is placed within the back-end of your website. It's read aloud by screen reader technology to provide visually impaired users with context about images.
 
Like page titles, alt text needs to be accurate. When writing alt text, think about how you would describe the image. For example, a Mojito recipe image can be described as "Mojito cocktail with mint leaves", rather than "Shop online alcohol specials on rum".
 
How does this benefit SEO?
Search engines can't "see" images. Alt text is a way around that. As a vital part of your site's technical SEO , alt text helps search engines gain further information about the content on your page. It can also let your images rank for relevant image search queries.

Use video transcriptions




– text-based descriptions of your videos make video content accessible to a far broader audience.
 
While transcripts are beneficial to people with blindness or deafness, they also are an accessible choice for:
 
–       People prone to seizures triggered by flashing images
–       People with slow WiFi connections or low cellular data
–       People in public spaces without headphones
 
 
How does this benefit SEO?
Although Google has had a number of impactful algorithm updates over the last few years, it's still not able to listen to your videos and index what's said.
 
So, providing a transcription of interesting, engaging video content is a great way of getting search engines to rank that content and increase your ranking potential for those topics.

Add schema markup to your website




– schema (also known as structured data) helps search engines understand your site's content. It uses a unique semantic vocabulary in microdata format that qualifies pages for voice search and rich results.
 
Microdata are attributes to help browsers build out a machine-readable data structure. It arranges content for browser Reader Mode.
 
The fact that schema markup powers voice search is immensely beneficial to people with disabilities, as it helps simplify the search process. It also helps people who use various assistive devices. These devices often use different browsers to better understand information on a page and navigate through content.
 
There are many different types of schema. You don't need any coding skills to add schema markup to your website. You can use Google's Structured Data Markup Helper to get started.
 
Select the type of data/content on your page, for example:
 
·         Products
·         Articles
·         Local businesses
·         Restaurants
·         Movies
·         TV episodes and ratings
·         Book reviews
·         Events
·         Apps
·         Frequently asked questions

Use relevant anchor text




– anchor text, or link text, is the blue clickable text in your internal links; and it presents another opportunity to make your website more accessible.
 
Descriptive anchor text helps users with visual impairments who use screen readers navigate a site by skipping from link to link. It provides context about what the link points to, thereby helping users find the right information.
 
This is why best practice in writing anchor text dictates that it should accurately describe the information a user can expect to find on the linked page.
 
How does this benefit SEO?
When it comes to SEO, anchor text helps search engines rank a page in SERPs for the correct keyword, phrase, or topic. This is why internal links should always contain the specific keyword or phrase you're trying to rank the page for.
 
Stick to these web accessibility best practices, and your site will provide an experience that serves both your users and search engines alike.
Conclusion
Despite being two different disciplines, web accessibility and SEO are mutually beneficial and they do overlap. Beyond the obvious ethical reasons, there are many SEO-related benefits. The better experience your website provides users, the better it will serve search engines, too. This is why website accessibility should be a top priority in your 2022 SEO strategy.
If you need help in optimising your website for greater SEO results in 2022, get in touch.