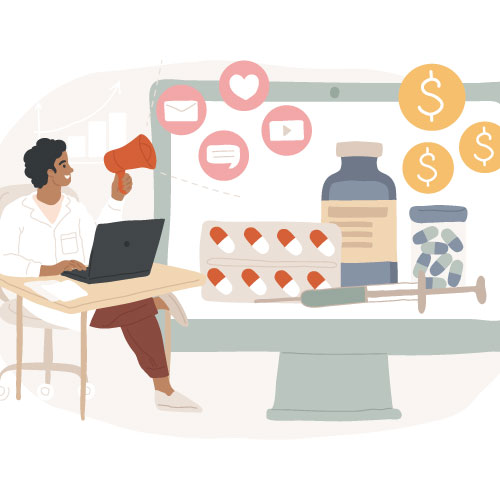 PPC for Pharma
What is PPC for Pharma?
PPC, or pay-per-click, for pharma is a targeted online marketing strategy that allows you to display ads to potential customers when they search for relevant keywords or phrases. These ads appear prominently on search engine results pages (SERPs) and other online platforms. An effective B2B PPC strategy will present your pharmaceutical products and services to a tailored audience.
 
At Robot-TXT we utilise the latest B2B PPC trends, which guarantee optimal visibility and extended reach. Through meticulous keyword selection and ad optimisation, pharmaceutical companies can drive online traffic to their websites, foster lead generation, and ultimately increase conversions.
Key Benefits of Our Pharmaceutical PPC Services
Precision Targeting:
We understand the unique nature of the pharmaceutical industry. We craft our PPC marketing campaigns to reach potential customers who are actively seeking pharmaceutical solutions.
We make sure your message connects with the right people by targeting them accurately and creating interesting ads.
Maximised ROI:
Our data-driven B2B PPC strategies ensure that we optimise your ad campaigns for the best possible ROI. With a good Quality Score on your Google ads, we aim to lower cost per click (CPC). We also focus on driving relevant traffic that's more likely to convert.
Quick Results:
Unlike some other marketing approaches, paid search yields rapid results. Your pharmaceutical brand can enjoy increased traffic and engagement almost instantly.
Qualified Leads:
Through extensive keyword research and audience segmentation, we identify the most lucrative and relevant target groups within the pharma industry. Highly targeted PPC campaigns generate qualified leads and drive conversions.
What Our PPC for Pharma Services Include
Customised Campaign Strategies:
We create tailor-made PPC strategies that align with your pharmaceutical company's goals and target audience.
Keyword Research:
We conduct extensive keyword research to find relevant terms for your PPC ads. This ensures that your ads reach users who are actively searching for pharmaceutical solutions that are relevant to your offerings.
Campaign Setup:
To capture your target audience's attention, we need to properly set up your PPC campaigns. The initial steps needed to launch a successful campaign include the consideration of ad extensions, audience targeting, bidding strategies, budget allocation, ad placement, conversion tracking and negative keywords.
Compelling Ad Copy:
Our experienced copywriters develop persuasive ad copy that not only informs but also compels potential customers to take action.
Landing Page Optimisation:
We design or optimise existing landing pages to provide a seamless experience for users. We want to guide them towards the desired actions, whether it's making a purchase or requesting more information.
PPC Optimisation:
We also analyse and optimise your PPC ad campaigns. We fine-tune targeting parameters, adjust bidding strategies, and enhance ad content to boost effectiveness. Our all-inclusive method for optimising PPC guarantees that your ad campaigns yield a greater return on investment.
Monitoring and Reporting:
We keep an eye on campaign numbers, study how well things are going, and give you regular PPC reports filled with helpful information. These reports help us make smart data-driven decisions to improve performance. This ensures your PPC advertisements always give you the best possible results.
What Sets Robot-TXT's PPC for Pharma Services Apart?
When it comes to our B2B PPC Services, we make use of a cyclical "flywheel methodology" that comprises 3 phases:
Discovery – during this phase, we thoroughly study your competitors and their keywords. This information shapes our strategy for getting the most out of your PPC efforts.
Optimisation – we fine-tune your list of keywords, narrow the focus of where your ads will appear, and put into action thoughtful budget and bidding strategies. We also review your landing pages to boost the Quality Score of your ads.
Analysis – We gauge how well your campaigns are doing and give you detailed reports. Looking at the results helps us find ways to adjust and do better. After that, we go back to the Discovery phase.
What Do B2B PPC Agencies Charge?
The cost of PPC services can vary depending on factors such as the scope of your campaigns, the competitiveness of your keywords, and the size of your target audience.
Robot-TXT offers transparent PPC packages tailored to your specific needs and budget. Our aim is to deliver cost-effective solutions that align with your business objectives.
Drive Qualified Leads
In the pharmaceutical industry, staying ahead of the digital curve is essential. Our pharmaceutical PPC services will empower your brand to connect with potential customers effectively and drive more qualified leads.
Experience real results with our tailored pharmaceutical PPC services. Partner with us today to elevate your brand's online presence and increase ROI. Contact us to find out more.