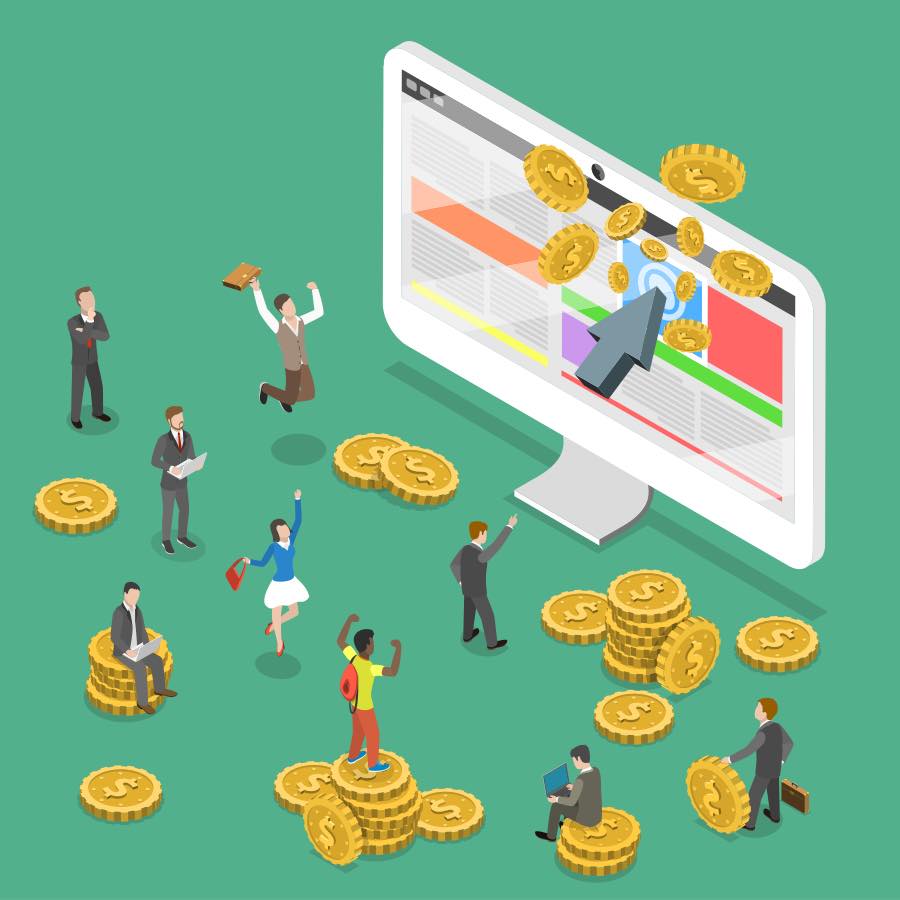 What Sets Robot-TXT's PPC Specialists Apart?
When it comes to our PPC Services, we make use of a cyclical "flywheel methodology". It's a results-driven work method that consists of three phases:
Discovery – during the initial stage we review your targeted keywords, location and landing page.
Optimisation – based on the information gathered, we do keyword research, analyse the keywords based on your targeted locations and further refine your keyword list. We also craft your ad copy to ensure it's compelling and relevant.
Analysis – we look at how your paid search and display campaigns are performing against key metrics and optimise accordingly. We then return to the Discovery phase to determine where we can further improve.
How You Can Benefit from Professional Paid Search and Display Campaign Setup and Ad Creation Services
With PPC advertising, you're only paying for the interactions your ads get, which means you have greater control over your ad budget. But if your Google ads haven't been set up correctly, and if the ad copy lacks, they could potentially cost more than they should, resulting in ad spend wastage.
This is why it's important to consider best practices when setting up your Google ad campaigns. By getting the professionals to take care of this for you, you'll quickly find the sweet spot between your ad budget and return on ad spend (ROAS).
What Our PPC Campaign Setup and Ad Creation Services Include
It doesn't matter if you are interested in PPC for business-to-business (B2B) or PPC for business-to-consumer (B2C), search engine marketing is a great way to earn more leads and boost conversions.
However, there are certain rules and best practices that will determine how successful your paid search ads are. After all, not all PPC campaigns are created equal as there are many moving parts.
Here are the main points we focus on when it comes to campaign setup and ad creation:

You supply a targeted location, targeted keywords and a landing page
To get started, we need to know which location (or locations) you want to generate business from, as well as the keywords you consider to be
for your business.
The landing page (the page where your ads will be clicking through to) is another important aspect. This will give us a better understanding of your objectives and the type of conversions you're after, as well as the type of keywords we should target.

We do keyword research based on keyword and landing page relevancy
The success of your pay-per-click Google ads is directly related to your ads' Quality Score. Google's Quality Score is a diagnostic tool that gives you a sense of how well your ad quality compares to other advertisers at the keyword level.
Relevancy is one of the factors that determine your ads' Quality Score, which is why it's important that your ad is relevant – both to users searching for your keyword, as well as to your landing page.
In order to get this right, we do keyword research based on the content (and keywords) of your landing page. This will help us find relevant keywords to include in your ad copy, which means that your ads will match the users' search intent more closely.
By increasing your ads' relevancy, we can help you:
• Get a higher click-through rate (CTR)
• Offer a better landing page experience

We do keyword analysis based on your targeted locations
In order to create highly targeted PPC campaigns and get more traffic and business from nearby, we customise your keyword selection based on the locations you wish to target. Our tracking tools allow us to track keyword rankings based on your targeted locations, across desktop and mobile. This helps inform our keyword selection, as well as the bidding strategy.

We refine the list of targeted keywords
By refining keywords, we can group ideas based on the attributes of your product or service.
While short-tail keywords (typically made up of one or two words) are important, it's just as important to focus on long-tail keywords. Long-tail keywords have a lower search volume and are therefore less competitive, making them cheaper to bid on. They're also more closely targeted and can help you focus more closely on niche markets and narrow down your audience.

We consider negative and ambiguous keywords
Negative keywords are words and phrases you can apply to your paid search campaign to prevent your ads from being shown in any search queries that include them. Considering negative keywords in your paid search ad campaigns will ensure your ads only run against relevant queries. This helps improve CTR while reducing the number of wasted clicks, which, in turn, will increase the proportion of high-quality, relevant users that click on your ad.
In addition to negative keywords, we also consider ambiguous keywords. The basic principle is to avoid generic terms with multiple meanings. By removing ambiguous keywords, we can help you filter out all of the traffic that will be of little or no use.

We write compelling ad copy and select ad extensions
It doesn't matter how well your PPC audience targeting and PPC competitor analysis is done, if your ad copy is lacking, you're not going to see a good return on ad spend (ROAS).
That's why your paid search ad copy, together with the selection of the right ad extensions, is such an important part of your ad creation. We follow best practice in writing your PPC ad content, which include our five powerful PPC copywriting tips. This ensures that your ads are not only relevant, but compelling, which means you'll earn more clicks and make more profit.
Paid search and display ads remain one of the most effective methods for businesses to put themselves in front of potential new customers. If you want to publish click-worthy PPC ads, contact us today. With our PPC campaign setup and ad creation services your ads will not only be displayed more often, but you will also have a lower cost per click (CPC), resulting in a higher return on ad spend.