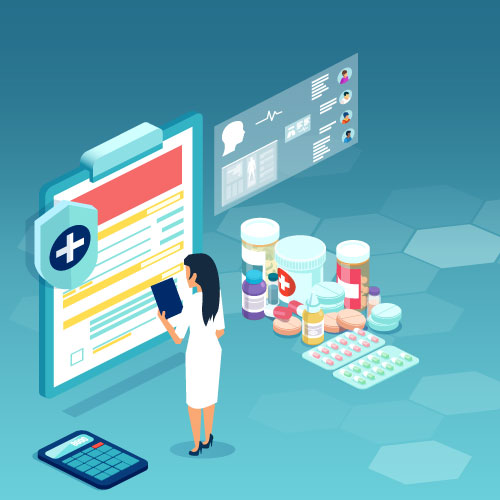 SEO for Pharma
What Sets Robot-TXT's Pharma SEO Apart?
Our team of seasoned professionals excel in crafting tailored B2B SEO strategies that address the distinct requirements of pharmaceutical companies.
 
We know that the one-size-fits-all approach is inadequate in this complex environment. This is why our strategies are carefully curated to align with the ethos of pharmaceutical brands and to resonate with their target audience effectively.
 
We have a results-driven approach. That's why we make use of a cyclical "flywheel methodology" that comprises 3 phases:

1. Discover – in our initial consultation, we delve into the realms of your business, identifying the knowns and unknowns. This includes understanding your competitors, gauging keyword performance, and pinpointing content gaps.
 
Armed with these invaluable insights and data gleaned from an SEO site audit, we proceed to craft a tailored B2B SEO strategy for your pharma website.

2. Optimise – we meticulously work through the tasks outlined in the SEO strategy. This spectrum of tasks may include a diverse range. From fine-tuning your website's structural framework and code optimisation to crafting top-tier, value-rich content.

Within the optimisation process for your pharmaceutical site, we hone in on five pivotal dimensions:

–       Brand authority
–       User experience
–       Local SEO
–       Mobile SEO
–       Expert content

3. Analyse – armed with an optimised framework, we meticulously gauge your site's SEO performance against a set of key metrics. This analysis serves as a navigational compass guiding us back to the "Discovery" phase. We then chart a course for further enhancements and refinements.
What is SEO in Pharma?
In essence, pharma SEO revolves around optimising a pharmaceutical brand's online presence to enhance its visibility and ranking on search engines. This multifaceted approach involves a meticulous mix of conducting targeted keyword research, crafting quality content, and ensuring a seamless user experience. The goal is to captivate and engage the intended audience effectively.
 
In the highly competitive world of pharmaceuticals, pharma SEO acts as a helpful guide. It lights up the way for your brand's message to reach the right people exactly when they need it. At Robot-TXT, we go beyond regular SEO and adjust our strategies to match the unique traits of the pharmaceutical industry.
How SEO Differs for Pharma Brands
The pharmaceutical industry has a lot of rules and guidelines that control how information is shared. This affects how SEO strategies are implemented for pharmaceutical brands.
 
For example, when we look for keywords, it's more complicated. We have to consider not only search volume but also the compatibility of terms with industry regulations.
 
In addition, creating content is like an art, balancing being helpful with following the legal boundaries.
 
At Robot-TXT, we're really good at developing pharma SEO strategies that handle these challenges well. Our experts know a lot about pharmaceutical marketing. This enables us to create content that is both useful and follows the rules.
 
If you want your pharmaceutical company to stand out in organic search, contact us today to enquire about our pharma SEO services.
Why is SEO Important for Pharmaceutical Companies?
In today's digital world, having a strong online presence is really important, even for pharmaceutical companies. People who might become patients, healthcare experts, and others who care about your company are looking for information on the internet. If your brand doesn't show up when they search, you could miss out on chances.
 
A good pharma SEO plan doesn't just make your brand visible; it also makes your brand look trustworthy and helpful. This can make more people trust your brand and want to use your products.
 
With Robot-TXT helping you, you can use search engine optimisation to connect with the people you want to reach and build lasting relationships with them.
How Do Pharmaceutical Companies Benefit from SEO?
Enhanced Visibility
Pharma SEO ensures that your brand's content takes a prominent position in search engine results. This increases the likelihood of catching the attention of your desired audience.
 
Credibility and Trust
Content that ranks high is often perceived as trustworthy, adding to your brand's reputation. In addition, you can increase your website's Expertise, Authoritativeness, and Trustworthiness (E-A-T) by showcasing in-depth knowledge and understanding of your industry or niche with expertly written content.
 
Precise Audience Targeting
SEO empowers you to tailor content to specific keywords. This allows you to engage an audience actively searching for information related to your products or services.
 
Cost-Effective Marketing
Unlike traditional marketing methods, SEO provides a cost-effective avenue to generate organic, unpaid traffic to your pharmaceutical website.
 
Unlike paid advertising, where you pay for each click or impression, the traffic generated through SEO comes without a click cost attached. As your website climbs the search engine rankings, it becomes more visible to users actively seeking relevant information. This means that your brand's visibility continues to increase even after the initial investment in SEO efforts.
Pharma SEO Checklist
1. Keyword Research
When it comes to pharma SEO, the foundation lies in understanding the right words people use to find what they need. This process, known as keyword research, involves identifying relevant phrases that align with your pharmaceutical offerings.
But it's not just about the words themselves. It's about striking a balance between attracting your target audience and complying with industry regulations. By choosing keywords that connect with potential customers and aligning with regulatory boundaries, you lay the foundation for a winning B2B SEO strategy. This approach ensures your content captures the attention of the right audience.
2. Quality Content Creation
Crafting SEO content that captivates and informs is an art that shouldn't be underestimated. In the pharmaceutical landscape, where accuracy and clarity are paramount, quality content creation becomes even more crucial.
It's about creating pieces that not only provide expertly written information but also resonate with your intended audience. Your content should address their concerns, answer their questions, and establish your brand as a trustworthy source of information. By striking this balance, you not only engage your audience but also bolster your credibility in the industry. This helps to increase your website's E-A-T.
3. Optimised Website
Your website serves as the digital storefront of your pharmaceutical brand. Ensuring that it is optimised for both desktop and mobile users is a foundational step in pharma SEO.
A well-structured website with fast loading times and an intuitive user experience enhances visitor satisfaction and encourages them to stay longer. In a world where attention spans are fleeting, a website that provides a seamless experience can significantly impact how users perceive your brand and content.
By acknowledging the diverse ways users engage with your content and the significance of mobile SEO, you can enhance your brand's online presence.
4. Brand Authority
In the competitive world of pharmaceuticals, establishing your brand's authority is essential. It's about showcasing your expertise, knowledge, and unique perspective.
Building brand authority involves consistently delivering valuable, accurate, and insightful content that resonates with your target audience. When your brand is perceived as a trusted and reliable source of information in the pharmaceutical industry, it enhances credibility. This, in turn, attracts and nurtures a loyal audience.
5. Regulatory Compliance
The pharmaceutical landscape is characterised by stringent regulations, and your online presence is no exception. Navigating this complex web of rules while creating content that adheres to industry guidelines is a delicate balancing act.
Pharma SEO takes into account the need to present accurate and compliant information while maintaining your brand's unique voice. By weaving regulatory compliance into your SEO strategy, you create a space where informative content meets industry expectations.
6. Local SEO
In a global industry, local presence still holds immense value. Local SEO focuses on amplifying your visibility in specific geographical areas.
Optimising for location-specific keywords ensures that your brand's message reaches individuals who are seeking pharmaceutical solutions within their vicinity.
Additionally, ensuring that your business information is accurate and up-to-date across various platforms reinforces your brand's reliability and makes it easy for potential customers to find you.
7. Link Building
The connections you build online extend beyond your website. Link building is about fostering authoritative backlinks that not only enhance your website's credibility but also boost its search engine ranking.
When other reputable websites link back to your content, it signals to search engines that your content is valuable and trustworthy. However, link building isn't just about quantity; quality matters. Building relationships with authoritative sources in the pharmaceutical industry can significantly impact your SEO efforts.
8. Mobile SEO
With the rise of mobile devices, optimising your pharmaceutical site for mobile users is a necessity. Mobile SEO ensures that your website is easily accessible and functional on smartphones and tablets.
Mobile-friendly design and fast loading times contribute to a positive user experience. This in turn influences your site's search engine ranking. Ignoring mobile SEO can result in missed opportunities to engage with an increasingly mobile audience.
9. Analytics and Monitoring
In the ever-evolving landscape of pharma SEO, it's not enough to set and forget your strategies. Continuous monitoring and analysis are key components of a successful SEO campaign.
By keeping a close eye on the performance of your efforts, you can identify trends, understand what's working, and pinpoint areas that need improvement.
Data-driven insights enable you to make informed decisions, refine your strategies, and ensure that your SEO endeavours are aligned with your brand's goals.
In the dynamic world of pharmaceutical SEO, these strategies collectively pave the way for a robust online presence. It can help your brand resonate with its target audience, adhere to industry standards, and ultimately experience growth.
By implementing these tactics, you can position your pharmaceutical brand as a trusted source of information, forging connections and enduring relationships within the digital landscape.
Conclusion
In today's world of technology, pharmaceutical companies can't ignore the power of SEO. Robot-TXT's pharma SEO services are made just for you. It can help your brand shine online while tackling industry challenges.
With our help, your pharmaceutical brand can become strong online, share important information with your audience, and navigate the digital world confidently. The future of pharmaceutical marketing is bright with Robot-TXT's foolproof SEO strategies. Get in touch today to start your journey to digital success with our pharma SEO services. Let us guide your brand to new heights!