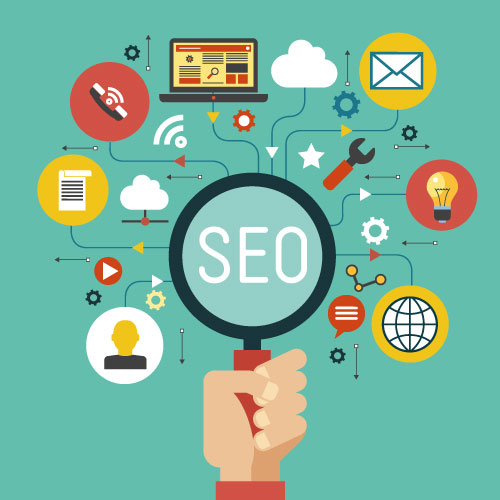 B2B SEO Strategy
Does SEO matter for B2B?
Yes, SEO does matter for business-to-business companies. When it comes to B2B search marketing , establishing a strong online presence is paramount.

Gone are the days when potential clients solely relied on personal connections or word-of-mouth referrals. Today, decision-makers in B2B companies turn to search engines to find the products or services they need.

A well-crafted B2B SEO strategy ensures that your business appears prominently in search results. This allows you to capture the attention of your target audience and drive qualified traffic to your website.
What are the Benefits of Having a B2B SEO Strategy?
Increased Online Visibility:
A robust B2B SEO strategy enhances your online visibility, making it easier for potential clients to find your business. By optimising your website and content, you improve your chances of appearing in organic search results. This, in turn, increases brand exposure and attracts relevant leads.
Targeted Traffic:
B2B SEO allows you to target specific long-tail keywords that align with your products or services. By focusing on these industry-specific keywords, you can attract highly targeted traffic. These visitors are more likely to convert into qualified leads and customers.
Enhanced User Experience:
SEO goes beyond optimising for search engines; it also accounts for user experience. By optimising your website's navigation, loading speed, content framework and internal linking, you create a seamless and user-friendly experience. This positively impacts engagement metrics, such as bounce rate and time on site, ultimately improving conversion rates.
Authority and Credibility:
Ranking high in search results establishes your B2B company as an industry authority and boosts E-A-T (Expertise, Authoritativeness and Trustworthiness). When potential clients see your business consistently appearing in relevant searches, they develop trust in your expertise. This means they are more inclined to engage with your products or services.
Cost-Effectiveness:
Compared to other marketing channels, B2B SEO offers a cost-effective long-term strategy. Once your website is optimised and ranking well, your organic traffic can provide a steady stream of leads.
10 SEO Strategies for B2B Success
1. Comprehensive Keyword Research:
Conduct thorough keyword research to identify the high-volume keywords relevant to your target audience and industry. Also, focus on long-tail keywords that reflect specific search queries and search intent. Incorporate these keywords strategically into your content, including landing pages, blog posts, and product descriptions.
2. Competitor Analysis:
Conduct thorough competitor analysis to identify your competitors' SEO strategies, keywords they are targeting, and backlink profiles. Gain insights into their strengths and weaknesses to inform your own SEO approach. Identify opportunities to set your business apart and develop unique value propositions that set you apart from the competition.
3. Quality Content Creation:
Creating content that is informative and engaging is vital for B2B SEO success. Develop content that addresses the pain points faced by your target audience. Publish blog articles, whitepapers, case studies, and industry reports to establish thought leadership and attract organic traffic.
This not only attracts organic traffic but also positions your brand as a trusted resource and thought leader in your industry.
4. On-Page Optimisation / Technical SEO:
Optimise your website's technical aspects to enhance its visibility to search engines. This includes optimising metadata, URLs, and internal linking structures. Additionally, ensure your website is mobile-friendly, as mobile usage continues to rise and search engines prioritise mobile responsiveness.
5. Link Building:
Establishing high-quality backlinks from reputable websites is crucial for B2B SEO. Focus on building relationships with industry influencers, guest posting on relevant blogs, and engaging in strategic content partnerships. These strategies help increase your website's authority and improve search engine rankings.
6. User Experience Optimisation:
Prioritise user experience by ensuring your website is easy to navigate, and provides a seamless browsing experience across devices. Improve page loading speed, optimise site structure and layout, and enhance overall usability. This will keep visitors engaged and encourage longer site visits.
7. Local SEO:
If applicable, invest in local SEO and optimise your online presence for local searches. Claim and optimise your Google My Business listing and encourage online reviews. Also ensure consistent NAP (name, address, phone number) information across directories.
8. Mobile SEO
With the increasing use of mobile devices for internet browsing, optimising your website for mobile is crucial. Ensure your website is responsive and mobile-friendly, providing a seamless experience across different screen sizes. Optimise page speed, improve mobile navigation and prioritise mobile usability to enhance user experience and capture mobile search traffic.
9. A/B Testing for SEO
A/B testing for SEO allows you to experiment with different elements of your website to determine what works best. Test variations of page titles, meta descriptions, calls-to-action and landing page layouts to identify the most effective optimisations. By running controlled experiments, you can make data-driven decisions to refine your SEO approach. This way, you can continuously improve your website's performance in search results.
10. Data Analysis and Continuous Optimisation:
Implement robust tracking and analytics tools to measure key metrics, such as organic traffic, conversions, and keyword rankings. Regularly analyse your B2B SEO efforts to track performance and identify areas for improvement. Monitor key metrics such as organic traffic, bounce rate, and conversion rates. Use this data to refine your SEO strategy, make data-driven decisions, and stay ahead of the competition.
What Sets Robot-TXT's SEO Professionals Apart?
At Robot-TXT, our team of SEO professionals possesses expertise in B2B SEO. We understand the unique challenges faced by B2B marketers. We go beyond basic optimisation techniques and tailor our strategies specifically for B2B companies.
Our B2B SEO services employ a cyclical "flywheel methodology" that focuses on delivering results. This approach comprises three distinct phases:
1. DISCOVER
Gaining a deep understanding of your search environment, business objectives, and competitors is vital for building an effective SEO strategy.
We follow a meticulous process to collect data that informs your strategy, including:
Your current search engine rankings for relevant terms.
Digital audience personas and their purchase life cycle.
Visitor demographics and psychographics on your site.
Your online assets, such as social media and business accounts.
Your analytics and tracking tools.
Your site's indexation status and any crawl errors.
Online competitors and their keyword rankings.
Keywords that are essential for your rankings.
Topics relevant to your target audience that your site currently lacks.
Your site's internal linking structure.
Your backlink profile and link hygiene.
2. OPTIMISE
Following SEO best practices, we take action on the deliverables outlined in your strategy. We do this to enhance your site's visibility in search, attract the right audience, and drive conversions.
Our optimisation process includes:
Resolving any technical errors identified on your site.
Optimising existing page content and metadata by using relevant keywords.
Creating new content based on topics identified through our Content Gap Analysis.
Conducting Search Experience Optimisation (SXO) to enhance your site's page speed, responsiveness, and mobile performance.
Optimising your site's internal linking structure.
Identifying reputable high-authority sites for potential backlink opportunities.
Removing spam links from your backlink profile.
Implementing local SEO strategies, if applicable, to improve your local online visibility.
Implementing international SEO, if applicable, to ensure your website(s) rank well for each country you operate in.
3. ANALYSE
We take a comprehensive outcome-based approach by monitoring performance against key conversion points. Using data-driven insights, we continuously optimise and test your site to meet agreed business objectives and reporting requirements.
During this phase, we:
Monitor your site's performance on an ongoing basis.
Provide regular performance reviews, keeping you informed of your SEO progress, opportunities, and areas requiring attention.
Deliver SEO reports with performance dashboards and alerts.
Benchmark your SEO performance against key metrics to determine the need for strategy adjustments.
Our systematic approach to formulating and executing SEO strategies ensures optimal results. Contact us today. Let us enhance your business's visibility in SERPs, increase click-through rates, improve user experience, and boost conversions.
With our industry knowledge and innovative approach, we ensure that your B2B SEO efforts deliver exceptional results. This way, you can drive sustainable growth and maximise ROI.
How Much Do B2B SEO Agencies Charge?
The cost of hiring a B2B SEO agency can vary depending on a number of factors. These may include the scope of work, the competition in your industry, the specific needs of your business, and the level of expertise required.
At Robot-TXT, we offer customised SEO packages for small, medium and large enterprises. We have transparent package structures and work closely with our clients. By doing this, we deliver value-driven solutions that align with our clients' business objectives. With our flexible package options, you'll find a plan that's tailored to your specific needs and budget.
Unlock Your B2B Potential
In the competitive B2B landscape, implementing a well-crafted SEO strategy is crucial for unlocking your business's full potential. Harness the power of B2B SEO. Increase online visibility, attract targeted traffic, enhance user experience, establish authority, and drive sustainable growth.
Partner with Robot-TXT's team of SEO professionals for a B2B SEO strategy and propel your business towards unprecedented success. Contact us today to unlock your B2B potential through a powerful SEO strategy and take your business to new heights.