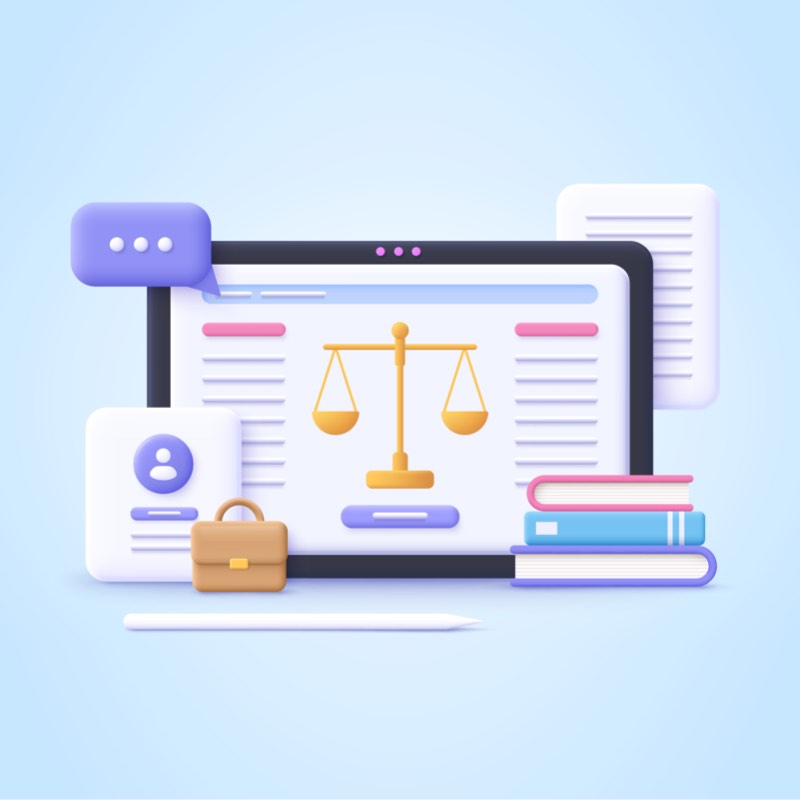 SEO for Law Firms

What Sets Robot-TXT's SEO for Law Firms Apart?
At Robot-TXT we make use of a results-driven, cyclical "flywheel methodology" that comprises 3 phases:
Discover – during our initial consultation, we look at what we do and don't know about your business. This could include competitors, keyword performance and content gaps. Using these insights, together with the data from an SEO site audit, we tailor an SEO strategy for your law firm.


Optimise – we execute the list of tasks as defined by the SEO strategy. This could range from ensuring your website's structure and code is correctly optimised, to creating high-quality content.
We focus on 4 main areas in optimising your law firm's site:
• Domain authority
• Brand authority
• Location authority
• Mobile SEO


Analyse – we measure your site's SEO performance against key metrics. We then return to the Discovery phase to see where we can improve more.

What Does SEO Mean in Law?
Law firm search engine optimisation (also referred to as legal SEO or lawyer SEO) involves the use of proven tactics to obtain first-page search engine rankings. It is a digital marketing strategy used to drive organic traffic to a website by improving its search engine rankings.
Law firm SEO range from creating content that positions you as an expert in your field, to technical tasks such as optimising your website's structure and code.
A successful SEO strategy for law firms will consider the unique needs and challenges of the legal industry. For example, because law firms are often local businesses, it is important to focus on local SEO tactics, such as claiming and optimising your Google My Business listing.
In addition, because the legal industry is highly competitive, it is important to focus on SEO strategies that will help you stand out from the crowd. This might include creating targeted content for your target audience or building high-quality backlinks from other websites in your industry.
By taking the time to develop a comprehensive and targeted SEO strategy, you can unlock your firm's potential.

How Do Law Firms Benefit from SEO?
Most people who need legal services, look for an attorney on search engine results pages (SERPs). According to a Google Consumer Survey, 96% of people seeking legal advice use a search engine.
According to another research report focused on the legal sector, organic search has the second-highest conversion rate of all digital marketing efforts. This is second only to email.
SEO is a long-term marketing strategy that can help law firms in several ways:
For one, it can increase visibility for the firm by helping it rank higher in search engine results pages (SERPs). This can help attract more visitors to your law firm's website, which in turn can lead to more potential clients learning about your law firm.
Another benefit of utilising law firm SEO services is that it can help increase brand awareness for your business. As more people see your website and learn about your law firm, they'll be more likely to remember your company when they need legal assistance in the future.
Furthermore, it can help your firm stand out from the competition. There are thousands of law firms competing for clients online. So, it's important that you take steps to stand out from the crowd in search results. By utilising effective SEO strategies, your website will rank on Google's first results page when prospects search for services like yours. This will give you more standout in a competitive market.
Additionally, SEO can help build trust and credibility with potential clients, as well as establish the firm as an authority in its practice areas. This can be achieved by publishing expertly written blog articles that add value to users.
Finally, SEO can also help generate leads through click-throughs to the firm's website and contact forms.
SEO can help law firms grow their businesses in all these ways, which is why it's such a crucially important part of any law firm's digital marketing strategy.
If you want your law firm to stand out in organic search, contact us today to enquire about our law firm SEO services.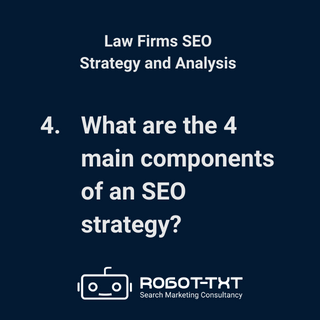 What are the 4 Main Components of an SEO Strategy?
A tailored approach

Anyone can hire an SEO agency to drive random traffic to their site. However, there is no point to getting hundreds of site visitors if they are not qualified visitors who are looking for the type of service you offer.

We solve this problem by gaining insights into your business and current web performance. Using the data of an SEO site audit and keyword research, we develop a content- and SEO strategy that's tailored for your firm, your niche and the potential clients in your local market.

Optimise for mobile

As smartphones have become the most popular way to access the Internet, Google now indexes mobile sites first. This means that if you want your law firm to be successful, you need to optimise your website for mobile.

Here are some of our mobile SEO checks:

Responsive design – many mobile users lack the time or patience to put up with a site's tiny buttons, links that require endless scrolling, and confusing form fields. This friction creates a roadblock to conversion and often leads them to abandon it altogether. A responsive design will let your website automatically adjust to fit any screen size, making it easy for mobile users to navigate and view your content, and to get in touch.

Mobile-friendly content – a mobile screen has less physical space to display content. Mobile content should therefore be concise. This means keeping paragraphs short and easy to read, using bullet points or numbered lists where possible, and using large and easily-clickable buttons or links.

Improved site speed – page load speed is a critical factor in mobile SEO. It influences how likely a visitor is to stay on the page. Google's research indicates that when loading times increase from one to three seconds, the chance of bouncing increases by 32%.

Here are some of the ways in which we improve your law firm's site speed:
• Reduce redirects
• Compress and optimise images so they load quickly on mobile
• Cache your web pages and enable browser caching
• Minifying CSS, JavaScript and HTML
• Leverage a content delivery network (CDN)
• Eliminate unnecessary plugins

Structured data – also known as featured snippets, are appearing more and more in mobile search results. Positioned at the top of the search results page, they are brief, actionable answers to searchers' questions.

If your website appears in a featured snippet, it means that Google considers your site to be a valuable source of information for mobile searchers. Because they're prominently displayed on mobile devices, optimising your content for featured snippets can help you reach mobile searchers who are looking for legal service. This not only helps to drive increased clicks, but adds to your firm's authority in its field.

High quality content

SEO copywriting is a crucial part of any SEO strategy.

Well-written, insightful content presents three opportunities:
• The possibility to rank for more keywords.
• The opportunity to increase your authority and credibility, and position your law firm as a leader in your field.
• The potential for natural link building to occur.

Local SEO for law firms

Location authority is critical, especially for the legal industry as it's the driving force for your law firm to get found in specific geographic markets. Many clients prefer lawyers in their area, which is why it's not uncommon to see the top three law firms for any local search getting the majority of the clicks and phone calls.

To get your local SEO up to speed and help you win location-specific traffic for your niche, we do two things:
• Verify and optimise your Google My Business listing.
• Distribute your local business data across the most authoritative local business directories and resources relative to your business category.

How to Choose the Right SEO Service Provider
When it comes to choosing an SEO service provider, there are a few things you should keep in mind.
First, you want to find a provider that has experience working with law firms. There are a lot of moving parts to an effective SEO strategy, and you want to make sure your provider understands the unique challenges and opportunities that come with marketing a law firm.
Second, you want to find a provider that offers customised services. One size does not fit all when it comes to SEO, so you want to make sure your provider is willing to work with you to develop a tailored strategy that meets your firm's specific needs.
Finally, you want to find a provider that is transparent about their process and results. A good SEO service provider will be able to show you concrete examples of the results they have achieved for their clients. They should also be able to explain their process in detail so that you can understand how they will help you achieve your goals.

Conclusion
As a law firm, you need to make sure that your website is being seen by potential clients. That's why it's so important to have an effective SEO strategy for your law firm.
Get in touch to find out how SEO can effectively drive more organic traffic, enquiries and business for your law firm.