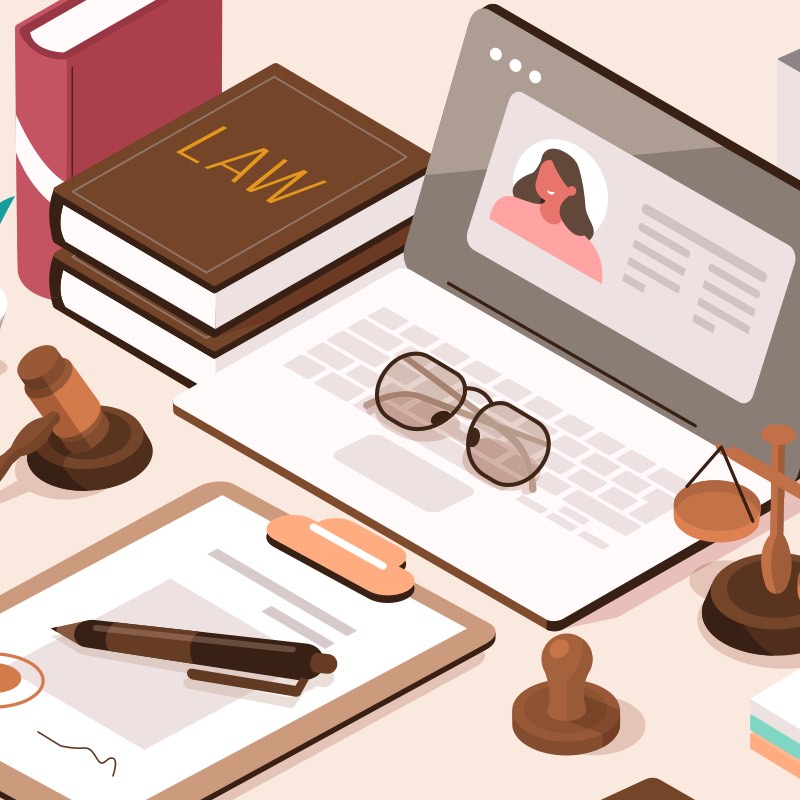 PPC for Law Firms

What Sets Robot-TXT's PPC for Law Firms Apart?
When it comes to our PPC Services, we make use of a results-driven, cyclical "flywheel methodology" that comprises 3 phases:
Discovery – during our initial consultation, we gather information about your business. This could include competitors and the keywords they are using, keyword performance, location-based insights, business objectives, etc. We then perform keyword research to identify search terms to target for your PPC campaigns.
Optimisation – we refine your keyword list, narrow down your targeting and make budget and bidding strategy recommendations. We also evaluate your landing pages to see if we need to make adjustments to improve your ads' quality score.
Analysis – we measure how your PPC campaigns have performed against key metrics and compile a report for you to review. We then return to the Discovery phase to see where we can improve.

What is PPC for Law Firms?
PPC (pay-per-click) for law firms is a type of digital marketing that allows you to pay for ads that appear on search engine results pages (SERPs). Legal businesses can use B2B paid search to promote their services to other businesses, as well as individuals needing legal advice. It's a great way to get your law firm's website in front of potential clients who are actively searching for legal services.
PPC can be an effective way to generate B2B leads and grow your law firm. However, it's important to work with an experienced PPC agency, like Robot-TXT Search Marketing Consultancy. We specialise in legal marketing and can help you create targeted ad campaigns that reach your ideal clients.
If you're looking for a PPC agency to help grow your law firm, contact us today. We specialise in legal marketing and would be happy to help you create a customised PPC campaign that meets your needs and budget.

What are the 3 Types of PPC?
Pay-per-click (PPC) marketing is a great way to get more visitors to your website and increase leads for your organisation.
PPC has three main forms: Search ads, display ads, and social media ads.
Search ads
PPC search advertising is highly sought after due to its auction-style framework. Ads are placed either above or below organic search engine results when users input certain keywords.

Targeted keywords should be relevant to the ad and its relevant landing page. This affects the ad quality score, which is a major factor for determining cost-per-click (CPC). Ads with higher scores will have lower CPC.
Display ads
Display advertising is a form of branding, rather than direct lead generation. Banner ads or other graphical ads may appear on websites or apps, and can be static or animated. Such tactics, when correctly targeted to users based on their interests or demographics, can help raise awareness for your law firm.
Social media ads
Social media advertising involves any type of sponsored content that appears on popular social media channels such as Facebook, Twitter, LinkedIn, and Instagram. Like display ads, these are mostly created to increase awareness or broaden reach rather than producing direct leads. Nonetheless these ads can be highly specific and generate considerable engagement.

Do Google Ads Work for Law Firms?
Google ads are a powerful marketing tool for law firms. When used correctly, they can help you reach your targeted audience and generate leads in a relatively short period of time.
However, like any other marketing campaign strategy, there is no guarantee that your ads will be successful. To ensure you get a good ROI, consider working with a PPC agency that specialises in legal marketing. They can help you create targeted ad campaigns and optimise your landing pages to lower cost-per-click (CPC) and convert more visitors into leads.

The Benefits of PPC for Legal Businesses
PPC can be an extremely effective marketing strategy for legal businesses of all sizes. Here are some of the key benefits of using PPC to market your legal business:
PPC can be a very cost-effective way to generate leads for your business. You only pay when someone clicks on your ad, so you can control your budget and get a good return on investment.
PPC allows you to target with precision and reach potential clients who are actively searching for legal services. By targeting specific keywords, you can make sure that your ads are seen by people who are most likely to need your services.
You can also target your ads specifically to the demographics that are most likely to use your services. For example, you can target your ads to people in a certain geographic area or who have searched for specific keywords related to your practice area or specialty.
PPC is a flexible marketing tool that allows you to adjust your campaigns in real time, based on results. You can easily change your keywords, call to action, ad copy, and PPC budgeting to get the best results from your campaigns.
PPC data can provide valuable insights into the needs and wants of potential clients. By tracking clicks and conversion rate, you can learn a lot about what people are looking for when they search for legal services online. This information can help you adjust your marketing strategies to better meet the needs of your target audience.

PPC as a Form of Lead Generation for Law Firms
PPC can be a great lead generation strategy for law firms. As a top-of-funnel marketing tactic, it can be highly effective in broadening your pool of potential clients at the start of your customer journey.
By bidding on keywords that potential clients are searching for, you can ensure that your firm's website appears at the top of the search results, making it more likely that they will click through to your site.
There are a number of strategies you can use to generate leads for your business using PPC ads:
Create buyer personas and craft your marketing communication to tie in with each audience segment. By defining your target audience, you will be able to filter out search terms that are not closely related to your service, while at the same time finding others that are more suitable with relevant search intent.
Use non-branded keywords to target the 71% of B2B prospects who start their online research with a generic search for services within a field, as opposed to a specific brand or company.
Use USP (unique selling points) in your ad copy that are unique to your business. These help to distinguish your firm from your competitors and show prospects what you offer which others cannot.
Optimise your landing page to be relevant to your search ad. This will help to improve your ad's quality score, which means you get more clicks at a lower cost.
Only ask for the information you need on lead forms. Complex forms can be intimidating to potential clients, while a straightforward one increases the chances of them completing it.
Use a call-to-action that adds value. Lead generation forms are a great way to bring prospects in, but one of the most important pieces is a call-to-action (CTA).
Rather than using something like "Buy Now!" or "Click Here", create a CTA that adds value such as "Download Free", "Watch Now" or "Get Insights". This will help you stand out in today's world where consumers are constantly bombarded with marketing messages and ensure that prospects have direction on what to do next.

How to Choose the Right PPC Service Provider
When it comes to finding a PPC service provider that is right for your legal business, there are a few key factors to keep in mind.
First and foremost, you want to make sure that the provider has experience working with businesses in your industry. This will ensure that they understand the unique needs and challenges of your sector, and can tailor their services accordingly.
Additionally, you'll want to look for a provider with a strong track record of success in helping businesses achieve their desired results with PPC campaigns. Be sure to ask for case studies or references from past clients so you can get an idea of the quality of work they are capable of.
Finally, don't forget to consider price when making your decision. While you shouldn't necessarily choose the cheapest option available, you should be sure to get quotes from multiple providers so you can compare rates and find an affordable option that meets your needs.
We can help you get instant web traffic and quality leads at the best rates. Check out our PPC packages.

What is the Best Form of Advertising for a Lawyer?
When it comes to marketing a law firm, there are many different options to choose from. But what is the best form of advertising for a lawyer?
There are several factors to consider when choosing the best form of marketing for a lawyer or law firm. The first is the type of law practice that you have. Different types of lawyers have different marketing needs. For example, if you are a personal injury lawyer, you will want to focus on marketing that will reach individuals who have been injured in an accident.
Corporate and commercial lawyers, on the other hand, may focus on generating leads from large companies or businesses, which will need a B2B marketing approach.
Another factor to consider is your budget. Some forms of advertising can be very expensive, while others are relatively affordable. You'll need to decide how much you're willing to spend on marketing, and then choose the option that fits within your budget.
Finally, you'll need to think about your goals for your marketing campaign. What do you hope to achieve with your advertising? Do you want to increase brand awareness? Drive more traffic to your website? Generate more leads?
Once you know what your objectives are, you can choose the form of advertising that will help you achieve them.

What Business Objectives are Met by PPC Advertising?
PPC advertising can help your legal business meet a variety of objectives, from increasing brand awareness to generating leads. Here are some specific objectives that can be met with PPC:
Increase brand awareness: With PPC ads, you can reach a large audience of potential customers who may not be familiar with your brand. By targeting relevant keywords and creating compelling ad copy, you can increase awareness of your brand and drive traffic to your website or landing page.
Generate leads: PPC ads can be used to target potential customers who are interested in your services. By directing them to a landing page with a lead capture form, you can generate leads that you can then follow up with.
Build customer loyalty: PPC ads can also be used to keep existing customers coming back for more. Using PPC remarketing to retarget them with relevant offers and discounts, you can keep them engaged with your brand and encourage repeat business.

Conclusion
The Internet has changed the way that people find and connect with businesses, and law firms are no exception. More and more potential clients are using search engines to find the legal help they need, which is why an effective PPC campaign is essential for any law firm looking to generate leads and grow their business.
Are you looking to increase traffic and leads for your law firm through PPC advertising? Get in touch to find out how you can use PPC to effectively drive more revenue for your law firm.