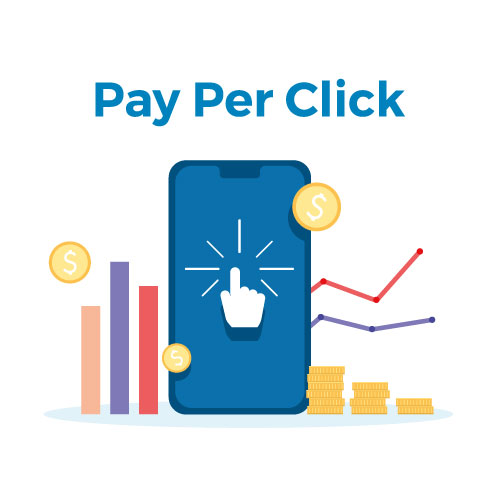 PPC for FinTech
What is PPC for FinTech?
PPC, or pay-per-click, in the finance technology (FinTech) industry is a digital advertising model where advertisers pay a fee each time their ads are clicked by online users. It is an effective B2B PPC strategy that financial companies use to promote their products and services to a targeted audience.
 
Through B2B PPC campaigns, financial services companies can display their ads on search engine results pages and relevant websites. Leveraging the latest B2B PPC trends ensures maximum visibility and reach. By strategically selecting keywords, and optimising ads accordingly, finance companies can drive website traffic, generate leads, and ultimately increase conversions.
Key Benefits of Our PPC for FinTech Services
Enhanced Brand Visibility and Awareness:
Our B2B PPC strategies for FinTech ensure your brand stands out from the competition. Through precise audience targeting and compelling ad copy, we help build brand awareness and establish your authority in the financial sector.
Increased ROI:
Our team of PPC experts continuously monitor and optimise campaigns to maximise your return on investment (ROI). By optimising landing pages and implementing effective call-to-action techniques, we help boost click-through rates and conversion rates.
Generate Qualified Leads:
With our PPC for FinTech services, we ensure your ads reach the right audience at the right time. Through extensive keyword research and audience segmentation, we identify the most relevant and lucrative target groups within the financial services industry. Precise PPC audience targeting increases the likelihood of generating qualified leads and driving conversions.
Measurable Results and Performance Tracking:
At Robot-TXT, we understand the importance of data-driven decision-making in FinTech marketing. That's why we carefully track and analyse your campaigns. We provide you with comprehensive reports on key metrics such as click-through rates, quality scores, and conversion rates. Our PPC analytics and reporting allow us to make informed adjustments and continuously improve campaign performance.
What Our PPC for FinTech Services Include
Customised PPC Campaign Strategies:
We develop tailored PPC strategies that align with your unique business goals and target audience. Our team conducts extensive research to identify the most effective keywords and ad placements. This ensures your search and display ads reach the right people at the right time.
Campaign Setup and Ad Copy Creation:
To capture your target audience's attention, we need to properly set up your PPC campaigns and write compelling ad copy. We do all the groundwork. This includes keyword research, analysis and refinement. We also consider negative keywords. After this, our copywriters craft persuasive and engaging ad content that drives clicks and conversions.
Ad Campaign Optimisation:
To maximise the impact of your PPC campaigns, we employ a comprehensive approach. We align landing page content with the ad copy and ensure clear call-to-action elements. This helps create a seamless journey for visitors and increases the likelihood of turning clicks into valuable leads.
Additionally, we analyse and optimise your PPC ad campaigns. We refine targeting parameters, adjust bidding strategies, and optimise ad copy to maximise performance. Our integrated approach to PPC optimisation ensures that your landing pages and ad campaigns generate a higher ROI.
Monitoring and Reporting:
We track campaign metrics, analyse performance and provide regular PPC reports that offer valuable insights into the effectiveness of your campaigns. These reports inform data-driven decision-making and help us identify opportunities for further optimisation. This ensures your PPC campaigns consistently deliver optimal results.
What Sets Robot-TXT's PPC for Financial Services Apart?
When it comes to our B2B PPC Services, we make use of a cyclical "flywheel methodology" that comprises 3 phases:
Discovery – in this stage, we conduct a comprehensive analysis of your competitors and their keyword strategies. By examining their tactics, we gain valuable insights that inform our approach to maximise your PPC success.
Optimisation – building on our analysis, we optimise your PPC campaigns. We refine your keyword list, narrow down location targeting, and implement strategic budget and bidding strategies. Additionally, we evaluate your landing pages to make any necessary adjustments that enhance your ads' quality score.
Analysis – we measure the performance of your campaigns against key metrics and provide detailed reports. Analysing the results allows us to identify areas for improvement and guide our strategies. We then return to the Discovery phase for further enhancements.
What Do B2B PPC Agencies Charge?
The cost of PPC for financial services can vary depending on various factors. At Robot-TXT, we offer tailored and affordable PPC packages specifically designed for the financial sector. Our pricing structures are transparent, and we work closely with our clients. Our aim is to deliver cost-effective solutions that align with our clients' unique business objectives.
 
Trust Robot-TXT to provide you with comprehensive PPC solutions tailored to the specific needs of your financial services business.
Maximise Your ROI
Don't miss out on the potential of PPC advertising for your FinTech business. Partner with Robot-TXT's PPC experts to leverage our industry knowledge, experience, and data-driven strategies to maximise your ROI.
Let us help you build brand awareness, drive targeted traffic to your website, and increase conversion rates. Contact us today to unlock the full potential of PPC for FinTech and propel your business towards success.