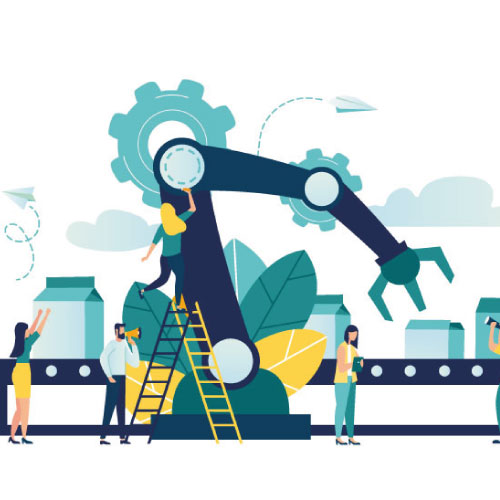 SEO For Manufacturing
The basics of SEO
SEO or Search Engine Optimisation refers to the process used to enhance a website. Using this process increases the likelihood that your web page will be found. 
In simple terms, it's how we can increase your website's visibility on search engines like Google, Yahoo and Bing. Visibility on the Search Engine Results Page (SERP) is key for a successful manufacturing business.
Increased visibility means customers will more easily find you. This directly impacts the bottom line of your business.
What are the 4 types of SEO?
There are 4 main subcategories of SEO, on-page; off-page; Local and Technical.
On-Page SEO:
This is a simple way to boost your site's visibility and includes optimising certain elements.
Adding keywords to meta descriptions can help customers find you. A meta description is a short summary of your webpage. An optimal URL format is also helpful. Lastly, ensure your content is of good quality and original.
Off-Page SEO:
These SEO activities occur off your website and can be thought of as an online version of referrals.
This indicates to humans and search engines that your website is trustworthy and relevant. This type of SEO can benefit your brand in several ways. It can increase your brand reputation through online reviews. It can also drive website traffic, as well as improve your ranking on the results page.
Local SEO:
This is important for businesses with a physical storefront.
It involves tactics to help the business appear in local searches. Include your name, address, and phone number on every page of your website. Additionally, maintain a Google Business Profile. These actions will help you to appear in regional search results.
Technical SEO:
This can be used to optimise your business website.
Increasing your page speed is one way to do this. Avoiding duplicated content is another. Ensuring your site is mobile-friendly is a third.
These are foundational methods. It is also important to monitor the site in order to fix errors. Search marketing consultants can be a great help and timesaver across the subvariants of SEO.
Why is SEO important for manufacturing companies?  
There are several benefits to SEO, one of the most enticing being long-term return on investment (ROI). When a successful strategy is executed, the result is increased organic search traffic and higher rankings. This leads to a higher quantity of quality leads and in turn an increase in sales. 
Users will start to recognize your brand. This is an added benefit. As it appears more and more in industry-related searches, recognition will increase. 

As brand awareness grows and trust is built, your authority on a topic increases. Producing content that is valuable and relevant boosts its visibility in search engine rankings. This, in turn, leads to increased trust and authority. 

The more time you invest in an effective search engine optimization strategy, the more rewards you will reap. In short, SEO should be viewed as a long-term strategy that is kickstarted by short-term actions. 
How to Boost your SEO Efforts as a Manufacturing Company

Step 1: Build a Tailored SEO Strategy 
Randomly driving visitors to your site won't get you the qualified leads that you need. Robot-TXT solves this problem by gaining insight into your current web performance and an in-depth understanding of your business. 

Step 2: Mobile Optimisation 
Since Google indexes mobile sites first, your manufacturing business website needs to align with the mobile web. It is essential to create a website that is optimized for mobile searches. This can be done by implementing schema markup, compressing images, and removing Flash. Doing so will help generate leads. 

Step 3: Create High-Quality Content 
Using SEO copywriting is a vital part of any effective SEO strategy. Producing content that's well-written presents you the opportunity to rank for more keywords and increases your credibility and authority. Using insightful articles that have been optimised by specialists can position your manufacturing company as a leader in your industry. 

Step 4: Learn from Your Results 
We use the latest SEO tools to analyse metrics and implement solutions that are appropriate to your industry. This can help you to rank on the first page and drives sales exponentially. SEO is a crucial part of marketing for any industrial manufacturing company. At Robot-TXT, we understand the importance of SEO for manufacturing. 
How to Boost your SEO Efforts as a Manufacturing Company
Contact us to enquire about our SEO services for manufacturing companies.