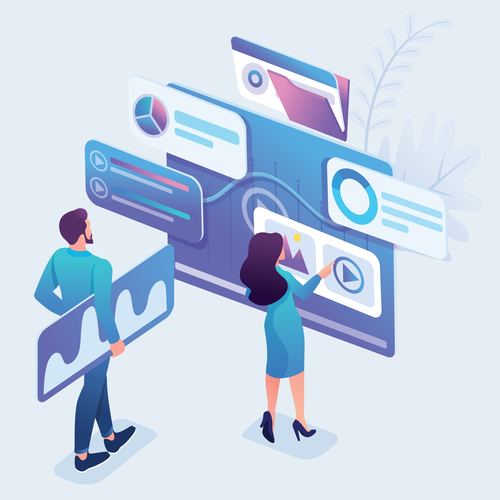 As a leading SEO agency, we specialise in optimising HubSpot sites for search engines to help businesses get more organic traffic. Contact us today and we'll put together a free costing for a results-driven HubSpot SEO strategy that will increase your organic search rankings and help you attract new customers.
What Sets Robot-TXT's Team of HubSpot SEO Specialists Apart?
At Robot-TXT we make use of a results-driven, cyclical "flywheel methodology" that is made up of three phases:

1. Discover – we start off by guiding you through an onboarding process that gives us insights to your strategic business objectives. This allows us to tailor your HubSpot SEO strategy for your business.

We then perform an SEO Site Audit. The audit helps us identify the technical modifications that need to be made on your HubSpot site to boost your rankings in search engines.

Using the insights gathered from our audit, we develop a HubSpot SEO strategy. This includes both easy-to-fix items that will make the biggest ranking impact in the shortest period of time, as well as long-term SEO objectives.

2. Optimise – during the optimisation phase we start actioning your SEO strategy. Our HubSpot SEO specialists ensure that technical updates are made – from the basics such as metadata, to optimising your site's internal linking structure and building structured data for featured Google results. Based on your individual requirements, we may also create and add new SEO content to your site.

3. Analyse – by analysing your optimised HubSpot site, we get a 360-degree view of its SEO performance. Monthly SEO reports help us provide a benchmark for success, measure improvements and identify areas that still need attention. This takes us back to the Discovery phase.
Why do You Need an SEO Agency for HubSpot?
HubSpot offers many tools and functionalities to improve SEO, but for even the most tech-savvy it can be a steep learning curve. If you don't have the time or resources to master SEO for HubSpot, you might not be getting maximum return on your marketing investment.

By getting an agency on board that specialises in HubSpot SEO, you can harness your site's full potential to rank well in organic search results. Robot-TXT's SEO specialists not only have expertise in making HubSpot websites rank well, they are also well versed in Google's most current algorithm updates. This means that you get a holistic approach to your SEO – over and above from what HubSpot offers.

By partnering with us, you can leverage HubSpot's incredible power to your advantage. Contact us today and let us help you win more organic traffic and convert more prospects into customers with our proven SEO strategies.
How to Enhance Your HubSpot SEO
SEO Keyword Research

To get the best SEO results for your HubSpot website, we make sure that the search terms we choose have enough search volume, are relevant to your business and don't have too much competition. To take advantage of easy wins, we also consider long-tail keywords with low competition when developing your content strategy.

Google Search Console & HubSpot integration

This allows us to bring data from Google Search Console into HubSpot SEO tools. You'll get insights about where your content appears in Google's search results and how often organic visitors are interacting with your site. Aside from providing data on clicks, impressions and page rank, Google Search Console also gives insights into keywords or phrases people are typing into search engines when your site appears on the results page. Using these insights we can continue improving your SEO and take advantage of popular search trends.

Technical HubSpot website modifications

We look at technical SEO factors that play an important role in crawling and indexing. We also optimise any technical process meant to improve search visibility such as security, sitemaps, meta tags, JavaScript/CSS indexing, linking and redirects.

HubSpot load speed optimisation

– page load speed is an incredibly important metric when it comes to bounce rate (when the visitor leaves right away). In fact, according to Google research, the probability of a bounce increases by 32% when loading times increase from one to three seconds, and a loading time of five seconds can push that probability to 90%.

To optimise your site's loading speed, we do the following:

• Compress and optimise images
• Reduce redirects
• Cache your web pages
• Enable browser caching
• Minify CSS, JavaScript and HTML
• Leverage a content delivery network (CDN)
• Eliminate unnecessary plugins

On-going content plan and content creation

Search engines reward websites whose content is organised by topics and those that publish new content on a regular basis. By combining insights from HubSpot's SEO tools with our own Content Gap Analysis, we will discover and organise the topics that matter most to you and your customers.
Based on your content strategy, our SEO copywriting team will create engaging, search-engine-friendly content for each topic within your HubSpot site that will boost rankings and increase traffic.

Link building / link profile management

Content that answers your target audience's questions and that search engines can understand will not automatically rank well. To outrank your competitors, you have to establish authority, which can be accomplished by earning links from authoritative websites. Links are the currency of the Internet. The foundation of acquiring earned links is almost always through creating quality content that people want to reference.

Sometimes websites might refer to your brand or a specific piece of content you've published without linking to it. We can reach out to those publishers on your behalf to see if they'll update those mentions with links.

Conversion rate optimisation

This is the practice of increasing the percentage of users who perform a desired action on your website. These actions can include various things, like clicking "add to cart", purchasing a product, watching a video, signing up for a service, downloading an eBook, filling out a form, etc.

These are some of the best practices we look at when optimising conversion rate:

• Use a strong colour for all CTA (call-to-action) buttons
• Place CTAs above the fold
• Use urgency to drive sales (e.g. time-limited offers)
• Use testimonials
• Use fewer fields on forms

URL optimisation and updates

URL optimisation helps search engine crawlers understand a web page topic and increases the chances of that page getting found on relevant searches. We optimise URLs by including focus keywords and by making the structure more clearly defined and easily understandable to both search engine crawlers and to users.

Detailed monthly SEO reports

Measurement and reporting is key. Our detailed monthly SEO reports give you an in-depth analysis of your HubSpot website's performance and quick access to essential KPIs – all set out in a single place. From basic metrics like users, sessions and bounce rate, page- and keyword performance, to conversion data at each step of your sales funnel.
If you need a HubSpot SEO agency to optimise your site to drive more traffic and conversions, contact us for a free costing. We know what works best to boost HubSpot search engine rankings.