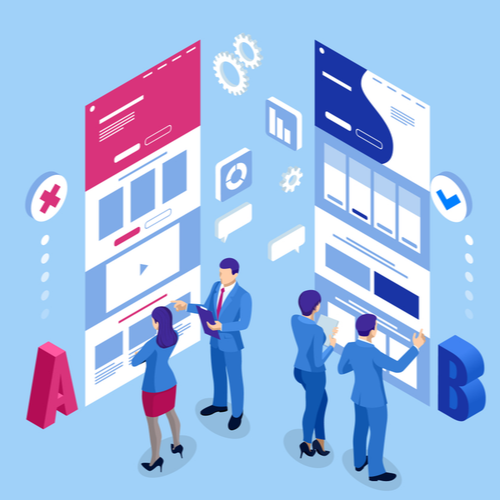 What is A/B Testing for SEO?
A/B Testing for SEO (or split testing) involves comparing a control page against a test page (or various pages in a test set) to analyse data collected in the way performance is impacted based on changes made. The types of modifications can range from simple (different meta descriptions or call-to-action buttons), to more complex (page experience features like carousels).

A/B Testing for SEO gives us insights to:
1. What users want from your site and how they react to the content on your pages. These insights guide us in experimenting with ways to increase conversion rates and user experience (UX).
2. How search engines react to content changes. This can impact how well your pages rank for certain keywords.
What Sets Robot-TXT's A/B SEO Testing Process Apart?
In order to identify, test and analyse the metrics that matter most to your site, we follow a proven SEO methodology, which includes three steps:

1. Discover – to identify the elements we need to test, we analyse your website with an SEO Site Audit. Based on the size of your website and the data gathered, we'll develop an SEO testing strategy.

2. Optimise – we use our A/B SEO test results to implement changes to your site that will have the best impact on your site's UX and rankings.

3. Analyse – we continue testing and analysing results, which takes us back to the Discovery phase.
Why is SEO Testing Important?
Any website has room for improvement. A/B SEO Testing is a great way of unlocking your site's full potential to provide a great user experience, be highly profitable and rank well.

Here are some of the reasons you might consider SEO split testing:

Avoid potentially costly mistakes – A/B Testing for SEO is important, especially since the slightest change to your site can negatively affect conversion rate, which could end up costing you thousands in revenue each month. By proving a hypothesis, we can permanently implement the tested changes on your site and be confident that it will have a positive impact.

Higher conversion rate – insights into barriers in your users' conversion journey allow us to create a seamless user experience. This is especially important when it comes to your checkout process and conversion rate.

Reduce bounce rates – A/B testing can help us pin down the combination of elements that helps keep your visitors on your site longer. The more time visitors spend on your site, the more they'll engage with your content and the likelier they'll convert.

Reduce form abandonment – A/B testing can help find the optimal combination of tweaks to your lead capture and onboarding forms that will improve usability and ease, and that will get users to complete the action.

Improve organic rankings – search engines want to direct visitors from their search engine results pages (SERPs) to sites that will provide them with a positive, seamless experience. A/B split testing helps us better understand how users engage and interact with your website, which allows us to optimise your site for the best possible user experience. A great UX helps reduce bounce rates, increases return visitors and time spent on site, all of which are important ranking signals for Google.
How do we do A/B Testing for SEO?
Anything can be A/B tested on websites. For SEO purposes, however, there are certain site elements that are more likely to result in keyword rankings improvements, simply because of the weight they carry in Google's algorithm.

For that reason, we prioritise the following elements for SEO A/B tests.

Title tags – testing title tags is important as small changes can have a large impact from a rankings perspective. This is because they directly influence click-through-rate (CTR). Since Google has a normalised expected CTR for searches, landing pages that continually fall below the mark will have a lower chance of ranking well. By testing different keyword usage in title tags we can increase your CTR and your chances of being more visible in search results.

Meta descriptions – like title tags, meta descriptions directly impact CTR, and improving them can result in significantly more clicks and thus better rankings. If your website already has a lot of keywords on page one and therefore getting lots of impressions, A/B testing meta descriptions can be really beneficial.

Internal links – getting internal links right can produce dramatic keyword ranking improvements, since they communicate site architecture to Google and distribute PageRank across your website. For larger websites with thousands of landing pages, header and footer links can be tested, while for websites with product pages, we can use A/B testing to find the best anchor text for your internal links.

New content – adding quality long-format content to your landing pages is always beneficial for SEO because longer content implies topical depth. With a well-thought-out SEO Copywriting strategy we can create truly comprehensive, helpful content for your users, which we can then test to measure whether Google positively responds to those quality signals.

Schema markup – having correctly implemented schema is not always necessarily enough to win the rich snippets feature in SERPs. In trying to win answer box features, for example, we can A/B test the quality of your answers, as well as the on-page content.

Page experience features – certain information architecture elements such as jumplinks and carousels work well in improving SEO. Testing these elements lets us better understand the impact and value of adding these features to your web pages.
Contact us and discover how SEO split testing can improve your user's overall experience, increase your conversion rate and eventually boost your organic rankings.